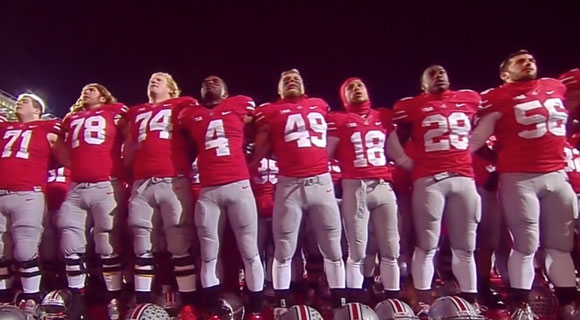 COLUMBUS – Christian Bryant walked, Carlos Hyde trudged, Braxton Miller dove, and the Ohio State Buckeyes powered their way to a school-record 23rd consecutive win. Now, focus turns to That State up North – first Michigan, then Michigan State.
| | | | | | |
| --- | --- | --- | --- | --- | --- |
| | 14 | 14 | 7 | 7 | 42 |
| | 0 | 0 | 0 | 14 | 14 |
When the Big Ten expanded in the summer of 2010, many believed Ohio State would take up permanent residence in Indianapolis the first week of December. But it hasn't gone according to plan for the Buckeyes.
First came a scandal-ridden season followed by a postseason ban, thus why Leaders Division-champion Ohio State didn't appear at Lucas Oil Stadium last season. That will change in two weeks after a resounding 42-14 win over Indiana. Urban Meyer will worry about the Spartans when the times come. For now, his attention is aimed elsewhere.
"It's time to get ready for the rivalry game," he said.
In a setting that looked more like a snow globe than Ohio Stadium, the third-ranked Buckeyes asserted their dominance early, scoring on their first two possessions and using a smothering defense to hold the Hoosiers in check.
"It was a great performance all the way around and not even close to last year," Meyer said, alluding to the 52-49 shootout in Bloomington. "Effort, as one point, was a problem in last year' game.  Since that day, effort hasn't been a problem."
Gusty winds and steady snowfall forced Ohio State to keep the ball on the ground, not that it complained. The Buckeyes rolled up 311 yards rushing – 144 from quarterback Braxton Miller – and four rushing touchdowns.  The highlights were a 37-yard touchdown run from Miller culminating with a somersault into the end zone followed by a five-yard score on a reverse with Guiton playing quarterback. Once again, Miller went head-over-heels for the touchdown.
The play is called "Jazzy," a Tom Herman creation, according to Meyer.
"We've been practicing it for a while and we were happy we were able to execute," Guiton said.
Before the game, Herman walked onto the field and sensed that it would be a run-heavy game plan after he realized the intensity of the swirling winds. The Buckeyes ran 39 times compared to 17 pass attempts. Miller completed 11 passes for 160 yards and two touchdowns – one to Dontre Wilson (24 yards) and one to Devin Smith (39).
The flexing of offensive muscles came late in the first half when Ohio State used its hurry-up offense to travel 69 yards in four plays lasting 52 seconds. Hyde scored from five yards out to give the Buckeyes a 28-0 halftime advantage.
Regardless of the weather, Hyde was going to get his 1,000 yards, becoming the first Ohio State running back since Beanie Wells in 2008 to do so. Hyde entered the game needing just 53, but it took him nearly the entire first half to reach that number. On a seven-yard run through the heart of the offensive line, Hyde became Meyer's first 1,000-yard running back.
"I kind of chuckled," Hyde said. "It starts with those guys up front. When they have success, I usually have success. As long as my offensive line's doing a good job, it doesn't matter where the [opposing] defense is."
Hyde's day of work concluded with 117 yards, his sixth consecutive game of at least 100, and two touchdowns. Ohio State has established itself as a power-run team with a backfield duo that can stack up against any team in the country, making snow flurries nothing more than a fly to swat out of the way. Indiana's 122nd rank total defense had no answer. By halftime, scores of fans were already filing out of the Horseshoe.
"We wanted to come out and prove to everyone that Ohio State has a great defense, and I feel like we accomplished that," junior defensive lineman Michael Bennett said.
Not much went right for the Hoosiers. They turned the ball over, couldn't convert third downs and even kicker Mitch Ewald, who was perfect on fields this season, doinked both field goal attempts off the upright. Another special teams blunder came when Bradley Roby emerged untouched at the feet of punter Erich Toth. Ron Tanner returned the block to the Indiana 8-yard line before Miller scored on the end-around.
Indiana became acclimated with Ryan Shazier. The junior linebacker recorded 20 tackles – 16 solo – five tackles for loss, a sack, forced fumble and pass breakup. It was the most tackles but a Buckeye in nearly a decade, dating to 2004 when A.J. Hawk had the same number of stops against Wisconsin.
"He's the best linebacker in the nation," Hyde said. "Every week in and out, that's how he plays. I'm proud of him."
The school record for wins stood for 44 years. From 1967-69, Ohio State won 22 straight games, including two over Michigan and a national championship. A loss to Michigan in 1969 ended a golden era and sparked the Ten-Year War.
Another record that fell Saturday was the single-season scoring mark. It was set over the 12-game 1998 season. The Buckeyes needed only 11 games to surpass the 504-point threshold.
"Right now, this team is something special," Hyde said. "I'm blessed to be a part of something like this."