Wednesday marked the final day of the early signing period, if pledges choose to sign a National Letter of Intent.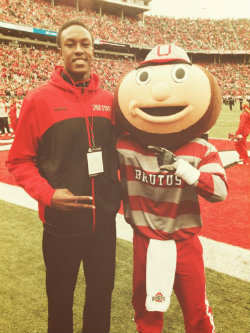 Only three recruits in 247Sports' composite top 25 remain uncommitted. Ohio State is still in on a top-five talent, but he scheduled an official visit to another school.
A 2015 target is following in the footsteps of Andrew Wiggins, and one 2016 recruit is traveling to Columbus, this weekend.
Plus, we revisit the most memorable moment of the past week – and perhaps even longer.
Turner schedules another official visit
Ohio State isn't the only OSU after five-star center Myles Turner.
Monday, SNY.tv and ESPN reported Turner will be visiting Oklahoma State, Dec. 6, when they play South Carolina in the Big 12/SEC challenge.
Stillwater, Okla. will be his second official visit – he's allowed to take up to five – and his first since he traveled to Columbus in October. Turner has not currently scheduled another official visit, although the family is still trying to work out a suitable time to check out Kansas (he was forced to reschedule a previous visit due to USA Men's National Team obligations).
Five-star big men Cliff Alexander and Jahlil Okafor are heading to Kansas and Duke, respectively. What may surprise some people is how the Jayhawks and Blue Devils are still held in such high regard, despite the recent commitments. Myles Turner's father, David, told SNY.tv about his son's potential fit under Duke coach Mike Krzyzewski.
"Jahlil and Myles could coexist," David Turner said. "In fact, I think they make a pretty formidable 4/5 combo."
Although Myles Turner has a solid back-to-the-basket game, his perimeter skills have rapidly improved in the past year. It's one of the main reasons why his stock has soared since the spring. It may not be an ideal situation, but he has the face-up abilities in the high-post that allow him to play alongside low-post bruisers.
gill-Caesar takes over for fellow canuck
The stream of Canadian prep hoops stars does not end after Andrew Wiggins.
His former teammate is Ontario native and Buckeye target Montaque Gill-Caesar, who is currently a five-star prospect in the class of 2015.
The 6-foot-5-inch, 200-pound wing is the go-to scorer for Huntington Prep (W.Va.). Gill-Caesar has the opportunity to reclassify to 2014, which his coach might encourage.
"He and I had the discussion to be a '14 or '15 and my advice to him was that if the offers on the table for 2014 weren't what he wanted, that'd be the only reason to come back," coach Rob Fulford told the Herald-Dispatch. "If you have the top three schools offering, I'm not sure it gets any better than that."
In addition to Ohio State, Gill-Caesar has offers from Baylor, Illinois and Michigan State, among others. Kentucky has also shown interest.
For now, he's focused on leading his powerhouse high school squad. Huntington Prep is ranked no. 3 in the country in the USA Today Super 25 poll, one spot behind future Buckeye D'Angelo Russell's Montverde Academy team.
visitor news
Garner Road (N.C.) AAU Director Dwayne West announced 2016 guard Cory Gensler will be visiting Columbus this weekend.
Gensler is a 6-foot-4-inch wing from Cary, N.C., with the potential to be a high level prospect. Phenom Hoop Report's Jamie Shaw compiled one of the few scouting reports on the high school sophomore.
"Cory has good size, a quick release, and [is] great from range," Shaw wrote. "He has a great understanding of the game."
BasketballElite.com's James Blackburn wrote Gensler is "automatic from the three-point line" and was the best shooter in his AAU league. 
The Gensler family is also open about their Ohio State fandom, which, presumably, plays a role in the upcoming visit.
Around the B1G
Last Friday, Illinois pledge and four-star guard Quentin Snider swiftly de-committed and signed on to play for Louisville. Five hours later, courtesy of Deadspin, here's what happened next:
With the accompanying reaction video, it's the schadenfreude-iest thing to happen since I started covering basketball recruiting [pours one out for the Illini brethren, even though you huddle around the TV en masse to watch a 17 year old lift a hat and say a total of 10 words].