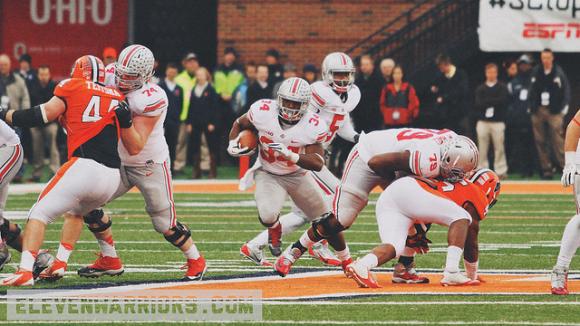 The 105,000 fans that pack Ohio Stadium on Saturday will erupt when Carlos Hyde and Kenny Guiton run through the tunnel for Senior Day festivities. Hyde is a yardage- and touchdown-producing monster, while Guiton is the likable backup who's standing reached legendary status after proving he could handle the pressures of playing major college football.
There are four seniors, however, whose value to the team cannot be overstated. But when you play offensive line as opposed to a flashy skill position, anonymity is almost certain. Head coach Urban Meyer won't let that happen, though. Not with Jack Mewhort, Corey Linsley, Andrew Norwell and Marcus Hall. Those four players have directed Ohio State's two-year renaissance.
"I would take that offensive line against anybody, anywhere," Meyer exclaimed. "I love who they are. I love who they've become. If I was a college kid, that's who I would hang out with. They're sincere, great people who work their tails off."
Last week, that group – plus sophomore left tackle Taylor Decker – orchestrated a record-setting rushing day. The Buckeyes averaged 10.5 yards per carry, the most in school history, and Hyde's 246 yards tied for the third-best output. Only Eddie George and Keith Byars have rushed for more yards in a single game. In the current three-game onslaught that includes 179 points, Ohio State has gained 1,194 yards on the ground.
"I think [fans] really get enamored with skill position players," offensive coordinator Tom Herman said. "They forget about or aren't educated on how you win football games. You win football games up front on both sides of the football."
That's long been a truth of football. Controlling the opposition has not been a constant for the Buckeyes. Talent on the offensive line fell off in the final years of the Jim Tressel era. When Ed Warinner was tabbed by Meyer to resurrect the O-line, no one, not even Meyer, knew just how exceptional the unit would be.
Along with coaching, sculpted bodies and a new scheme, Mewhort said an attitude adjustment served Ohio State well. They became leaders, which led to a new culture inside the locker room. 
"We did a lot of growing up, as far as maturity goes," Mewhort said. "I think when Coach Meyer got here we realized that we were the older guys now and we had to assume some responsibility and not just take a back seat and watch other guys do it. Coach Meyer put a lot of pressure on us to do that and we accepted that, and that's when we started to see guys thrive."
All the production in the backfield prompted Meyer to admit the Buckeyes are a power-run team. The identity is not that of a traditional spread offense. Proof can be found in game film and stat sheets.
"The offensive line and Carlos Hyde have proven over and over again they can take over games," Meyer said. "That's who we are."
"Coach Meyer gives us all the praise in the media and gives us praise after the game. Coach Warinner is the guy who keeps us level headed and keeps us working and grinding," Linsley added, with a smile.
Despite a three-game suspension to begin the season, Hyde is just 53 yards shy of 1,000, which would make him the first running back under Meyer to accomplish that feat.
"I give all credit to my offensive line and my receivers," Hyde said. "They [do] a great job."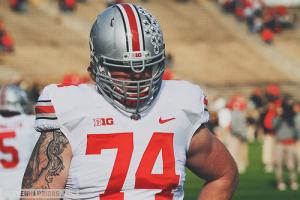 The line's worth is obvious, but it becomes all the more apparent when one of them is missing. Their impact was evident Saturday when Mewhort departed after the Buckeyes built a 28-point first-half lead. Earlier in the week, he hyper-extended his knee, so Meyer felt it was necessary to get him out of the game. The scoreboard made the decision much easier.
But when Mewhort exited, the Illinois defense began penetrating the offensive line. Ironically, it was Mewhort's high school teammate, Tim Kynard, who benefitted most from his appearance on the sideline. Kynard finished with a sack and fumble recovery.
When Mewhort returned in the second half, Ohio State went back on the offensive, running over and through the Illini. Meyer took blame in his postgame press conference for taking Mewhort off the field, going as far as declaring him the best offensive player on the team.
"That's my fault," Meyer said. "Not just that he's a pretty good player, but he's the man. He's the rallying point. He's the leader."
Senior Day against Indiana will be Mewhort's 36th consecutive start. The last time he didn't trot out for the Buckeyes' first offensive snap was Nov. 27, 2010, when the Ohio State defeated Michigan 37-7 in Columbus.
Players often talk about the rush they experience the first time they run onto the field. The memory is also lasting for the final journey, but for different reasons. Mewhort said he's trying to think about only the Hoosiers this week, not the series of lasts he'll endure.
"It's going to be a pretty emotional thing. But it's been a great ride," he said. "I owe who I am to this university and this program. So it's going to mean a lot to me. I'm going to be taking it all in and looking forward to it."
Meyer isn't always emotional on Senior Day, but he said he will be this year because of how much the class has accomplished and their meaning to Ohio State. At the top of that list is Mewhort.
"He's one of my all-time favorite players I've been around," Meyer said. "He's playing at an extremely high level, but that's just part of it. It's just the leadership value he brings and the 'esprit de corps' that he is a part of."
But that quartet will play its final game in the Horseshoe Saturday. While fans worry about Bradley Roby, Ryan Shazier and Miller's pro prospects, the graduation of four offensive linemen will have a far bigger impact on the 2014 Buckeyes.
"We are a really close-knit group of guys. Passionate, I would say. Really caring," Mewhort said. "I've seen guys change over the past three years and really become selfless people. That's something that's really special. Seeing guys transform from 'me' guys into 'team' guys."
Said Hall: "Honestly, I'm not really trying to think about that. It's been a long run road – five years. I really don't want to see it come to an end. But you know what they say, all good things come to and end."