CHAMPAIGN, Ill. – On a wind-swept afternoon under skies that were fifty shades of gray, Ohio State fashioned a blitzkrieg offense that bewildered a weary Illinois defense playing out yet another forgettable season. Despite the Silver Bullets sleepwalking through the final three quarters, the Buckeyes' 60-35 win is memorable and historic.
| | | | | | |
| --- | --- | --- | --- | --- | --- |
| OHIO STATE | 21 | 14 | 9 | 16 | 60 |
| ILLINOIS | 0 | 14 | 7 | 14 | 35 |
They're now victors in 22 consecutive games, tying the program record set from 1967-69. The Big Ten record – 29 – is more than 100 years old, established by Fielding Yost's point-a-minute Michigan squads from 1901-03. Illinois, meanwhile, has lost 20 straight Big Ten games and the Illibuck for a sixth consecutive year. 
It took three plays and 36 seconds for the discrepancy in talent to become evident. Braxton Miller kept the ball on a read-option, dashed untouched through the Fightless Illini defense and 70 yards later the Buckeyes led 7-0.
Most thought the 32-point spread wouldn't be enough for four quarters. Early on, it looked like Ohio State would only need one half to equal Vegas' projection. But an afternoon fit for style points evolved into a bizarro world appropriate for a windmill and clown's mouth.
Illinois head coach Tim Beckman and offensive coordinator Bill Cubit engaged in tomfoolery on the sideline, nearly coming to blows, 30-mph wind gusts were the norm and the third-ranked Buckeyes' undermanned defense was forced to use a walk-on linebacker. All of that couldn't top a 28-0 Ohio State advantage dwindling to just 12 points in the fourth quarter until Carlos Hyde saved the Buckeyes with 51- and 55-yard touchdown runs. 
"In my head, I was just thinking, 'Man, we could've done this the whole game,'" Hyde said. "That last run, I had energy and I feel like we could have that momentum the whole game. I try to provide juice for the offense. Being a leader, I want to get everyone going."
There was cause for concern prior to kickoff as Ohio State was missing two starting linebackers and word surfaced that Hyde wouldn't be starting. But those fears were put to ease quickly – at least temporarily. Then Jack Mewhort (hyperextended knee), whom Meyer referred to as the team's top offensive player, and Joey Bosa (strained neck) suffered injuries.
| PASSING | Cmp/Att | Pct | Yds | TD | Int | Rat |
| --- | --- | --- | --- | --- | --- | --- |
| Braxton Miller | 13/29 | 44.8 | 150 | 2 | 0 | 111.0 |
| Kenny Guiton | 0/1 | 0.0 | 0 | 0 | 0 | 0.0 |
| RUSHING | Att | Yds | Avg | Lng | TD |
| --- | --- | --- | --- | --- | --- |
| Carlos Hyde | 24 | 246 | 10.2 | 55 | 4 |
| Braxton Miller | 16 | 184 | 11.5 | 70 | 1 |
| Dontre Wilson | 1 | 7 | 7.0 | 7 | 0 |
| Kenny Guiton | 1 | 4 | 4.0 | 4 | 0 |
| RECEIVING | Rec | Yds | Avg | Lng | TD |
| --- | --- | --- | --- | --- | --- |
| Corey Brown | 7 | 49 | 7.0 | 12 | 1 |
| Chris Fields | 2 | 58 | 24.0 | 47 | 0 |
| Carlos Hyde | 2 | 26 | 13.0 | 18 | 1 |
| Evan Spencer | 1 | 7 | 7.0 | 7 | 0 |
Curtis Grant missed the game with a sprained ankle, while Joshua Perry fell victim to Ohio's first snowfall, slipping in Columbus and conking his head on the pavement. Hyde did not start due to a "class issue," but played on the first series. It would materialize into a career day.
"I give all the credit to my offensive line and to my receivers," Hyde said. "They did a great job. They made it easy for me today."
Hyde rushed for a career-high 246 yards – third-most in school history – scored five touchdowns and averaged more than 10 yards per carry. Braxton Miller finished with 324 total yards and three touchdowns. The Buckeyes ran for 470 yards and averaged a program-record 10.5 yards per rush.
Hyde scored on an 18-yard swing pass midway through the first quarter before Bradley Roby returned an interception 63 yards for a touchdown. In its past three games, Ohio State has outscored the competition 63-0 in the opening quarter.
The Illini's deficit grew to 28 points after the Buckeyes' second three-play scoring drive of the day, culminating in an 11-yard touchdown pass to Philly Brown. But just as soon as some 15,000 Buckeye supporters in venerable Memorial Stadium got fat and happy, Illinois mounted a comeback that put a slight tremble into the scarlet-and-gray-clad masses. More than anything, though, it put doubt in voters' minds how Ohio State stacks up against the nation's elite.
Of all things, it was the punt unit that provided Illinois with its biggest spark. Cameron Johnston boomed a high arching 63-yard punt toward Glenville grad V'Angelo Bentley. Instead of pinning the opponent deep, Johnston outkicked his coverage. Bentley caught the ball at the Illinois 33 and cut straight up the field. A spin move allowed him to elude Armani Reeves and it was off to the races.
"Our special teams are a little bit of a mess right now," head coach Urban Meyer said. "Some of the guys playing right now, quite frankly, haven't played at all. As a result, we just have to coach better. I can't wait to get back to work tomorrow."
Recent weeks has given way to a newfound dominance for the Buckeye defense. Saturday was a detour in the blueprint. Injuries to Christian Bryant, Grant, Perry and Bosa seemed to catch up with an already short-staffed unit.
The Illini came into the game averaging 30 points and possessing the 23rd-ranked passing offense in America. They finished the day with 420 yards of offense, almost every single one of them from Scheelhaase. The four-year starter threw for 288 yards, two touchdowns and two interceptions and ran for an additional 46 yards and a score.
"I'm a big fan of No. 2," Meyer said. "I told him after the game that I think he's a great player. I thought he was hard to defend today. We were playing a quarterback that created plays."
Perhaps the biggest sequence in the game came late in the third quarter. With Ohio State holding a 35-21 lead, Illinois was pined inside its own 10. On second down, Tommy Schutt made an athletic play, corralling Scheelhaase in the end zone and forcing him to throw the ball away. Scheelhaase's helmet came off, which sent him to the sideline for a play. For Illinois, it was calamitous.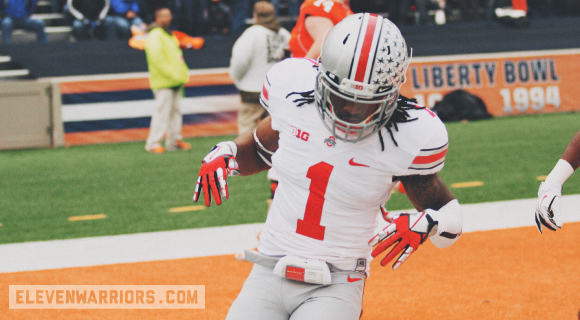 First came a false start penalty making it 3rd-and-14, then backup Reilly O'Toole was sacked by Ryan Shazier in the end zone and fumbled. The only saving grace for the Illini was recovering the fumble so Ohio State didn't get a touchdown. But the safety gave the visitors all the momentum and even caused heated exchange between Beckman and Cubit on the sideline. The two coaches could be seen being restrained by fellow coaches.
"I feel like that [play] was a big turning point," Shazier said.
It took the Buckeyes four plays to score on the ensuing drive – a one-yard run by Hyde. In a similar move, though, Ohio State's backup quarterback was thrust into the game after Miller was level by Illinois linebacker Jonathan Brown. Miller returned on the next series.
Scheelhaase's performance could have served as a metaphor with the gray skies hovering about the stadium, clouding the Buckeyes' placement in the BCS. Alabama, Florida State, Baylor and one-loss Stanford continue to win with flair and eye-popping numbers.
"Let's just coach and get better," Meyer said. "We're down to week 11. Let's get our 11th win."