It's Friday: the champagne of weekdays.
IT JUST PUTS A JINGLE IN YOUR STEP, DOESN'T IT?
Today's life-hack is to tell your boss YAIN'T DOING NOTHING BUT BLARING TRAP MUZIK AND EATING FLAMIN' HOT CHEETOHS. 
URBAN MEYER CALL-IN SHOW. Urban Meyer had his call-in show yesterday. It was your typical illuminating affair peppered with grown men acting like teen girls talking to Justin Bieber:
Ohio State is using 45 players due to injuries and some players not developing on pace.
The offensive playbook is wide open this season. Very limited last season due to personnel and limited knowledge.
Meyer crediting offensive line with Carlos Hyde's production. Said it will be painful when four of five starers leave after season.
Run/pass ratio on first down last season was 70-80/30-20. Improved to 55/45 this year, which is Meyer's preference.
On Tim Beckman: "He's a great coach who took over a tough situation."
Meyer sends out personal invite asking Buckeye fans to turn Memorial Stadium scarlet and gray come Saturday. Pointed out it'll be warm day.
Taylor Decker has looked strong in practice this week.
Meyer says there will be no wiping the field. "I've got news, I love Evan Spencer but he ain't that good, I'll tell him if he is."
Cameron Johnston has yet to hit his stride.
Ezekiel Elliott arrives at team meetings 15 minutes early and is always asking questions, scribbling down notes.
On Carlos Hyde: "I like where he's at right now and how he's handling himself."
LET'S WATCH A MICHIGAN FAN CRY OVER SPILLED MILK. Yesterday, Michigan lost out on the #1 recruit in the nation, Da'Shawn Hand, a defensive end from Virginia. I trolled through people tweeting at Da'Shawn and captured the best Michigan reactions so you didn't have to. (Hint: they weren't pretty.) 
For the sake of time, let's just examine one isolated case. Let's travel back in time to yesterday morning, when there were still people who thought the #1 defensive end in the country would choose a program that has lost eight games in 1.75 years: 
@TheHand54 happy birthday from Michigan

— Jonathon foster (@Jfost44) November 14, 2013
Now let's move an hour ahead:
@TheHand54 I hope michigan plays you so Derrick green runs your bitch ass over!! #hailtothevictors

— Jonathon foster (@Jfost44) November 14, 2013
Hey, Creepy Guy Tweeting at Teenagers:
Derrick Green can't even run over Fitz "1.1 YPC" Toussaint on Michigan's depth chart.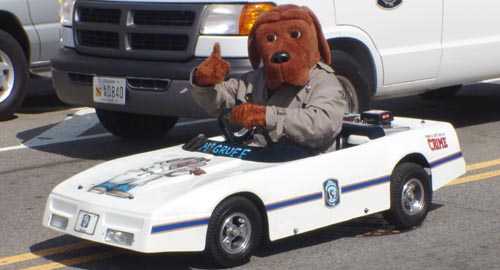 MCGUFF ON THE RECRUITING TRAIL. One Ohio State program that has underachieved the last few years is women's basketball. Kevin McGuff was hired last summer to change that.
While McGuff wasn't the first choice, he's already bringing in talented recruits. Per an OSU release:
COLUMBUS, Ohio – Kevin McGuff, Ohio State head women's basketball coach, today announced the signing of five of the premier prep prospects in the country to National Letters of Intent to play for the Buckeyes in 2014. The class, which includes one five and three four-star recruits, is ranked has high as No. 2 by ProspectsNation.com and Blue Star Basketball.  The group includes four ESPN Top 100 prospects, including four from the state of Ohio and one Michigan native.

Headlining the class is the third-ranked overall player in ESPN's Top 100 in Kelsey Mitchell, a 5-8 point guard from Princeton High School in Cincinnati, and sister Chelsea Mitchell, a 5-11 forward. Joining the Mitchell's is 6-2 forward Makayla Waterman from Fairmont High School in Kettering, Ohio, who is ranked No. 69 overall by ESPN and the 14th best at her position. Rounding out the class is 5-7 point guard Asia Doss out of Detroit Country Day, ranked the 22nd best point guard in the country and 92nd overall, and Alexa Hart, a 6-3 forward from North Ridgeville, Ohio and Columbus Africentric, who is ranked 82nd overall by ESPN and the 16th best at her position.

"I'm incredibly excited to welcome such a wonderful group of young women to our program," McGuff said. "I believe we've added the right pieces to a growing program that will allow us to fulfill our goal of competing at the highest level of women's college basketball. This class is extremely talented, deep and full of young women with great work ethic and high character.
So does this mean the women's basketball team can contend for a title this year? Because it'd have been pretty cool to have won a women's basketball title yesterday.
RYAN DAMN SHAZIER IS FASTER THAN YOU. War Damn Shazier lacks for no fans in these parts; this much is known. Yet, according to Shazier, he's one of the greatest athletes in the world:
Ohio State junior linebacker Ryan Shazier is the Buckeyes' leading tackler with 73, which puts him ninth in the Big Ten in that category. Speed is the reason for his production, he says.

"I feel every running back I've faced this year, I've been faster than them," Shazier told the Cleveland Plain Dealer.

Shazier (6-foot-2, 230 pounds) told the newspaper he runs a 4.35 40-yard dash. That's probably hyperbole, considering that the time would be blazing fast for a wide receiver or cornerback, much less a linebacker. Still, there is no doubt Shazier is one of the fastest linebackers in the nation.
HOLY MOLY, does Ohio State have a permit for that thing?
In seriousness, I don't doubt Shazier has been faster than every running back he's faced this year, but if a 6'2" 230 pound man is running a 4.35 40-yard dash.. then it might be time to quit athletics for a generation or two. Otherwise, these guys are getting too freakish and eventually a some poor walk-on is going to be turned into red mist by one of these mutants running down hill. 
THE HELL IS GOING ON IN TALLAHASSEE? The plot is thickening. *said in my Dick Tracy voice* As you've probably heard, Jameis Winston has been under investigation for an alleged sexual assault stemming from an incident last December. (A decision to charge him is reportedly weeks away.) Jameis has exercised his Constitutional right to not speak about the incident with police investigators.
Yesterday, however, TMZ reported the Tallahassee Police Department is covering things up for Florida State's star quarterback:
There's evidence Tallahassee cops tried to sweep the sexual assault investigation targeting Florida State University QB Jameis Winston under the rug to protect the team and its star player ... and ONLY took aggressive steps after TMZ Sports started asking questions.

Sources in the State Attorney's Office tell us they never even knew about the investigation until Tuesday ... JUST ONE DAY AFTER TMZ Sports began making calls to cops about the alleged assault.

Our sources in the State Attorney's Office say ... it was highly unusual cops wouldn't have filled them in about the case until this week.  The sources say cops would have typically notified them when the investigation was completed, and Winston's lawyer reportedly says cops told him it was completed in February.
Well, after the Penn State/Montana incidents... I guess nothing can be ruled out. So until the facts of this case are known, here's my reaction to the idea of forming any #hot #take on the matter:
THOSE WMDs. Five of George Orwell's greatest essays... American football logos as European football club crests... Matt McGloin has replaced Terrelle Pryor as the Raiders' starting quarterback... #whoopipics... Y'all gotta chill... THE BUS IS LIVE TONIGHT (NSFW)... An Iraq War Vet's TED TALK from Marion Correctional Institute... FBI is assisting Marion police with drug raids... This is what raw McRib looks like... Lead or die...