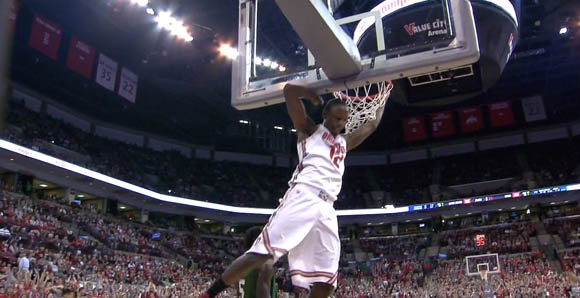 Same lineup, similar result. Or at least it appeared it would be that way.
Thad Matta said he could use several different starting lineups this season, but Game 2 against the Ohio Bobcats produced the same five – Aaron Craft, Shannon Scott, Lenzelle Smith Jr., LaQuinton Ross and Amir Williams – that debuted in 10th-ranked Ohio State's 89-50 season-opening win over Morgan State.
The quintet built a 9-0 lead in the early going Tuesday that eventually stretched to 24-7 before the rhythm was stalled due to a plethora of fouls – 25 in all during the first 20 minutes. The new defensive rules couldn't stump the Buckeyes forever, though, as they eked out a closer-than-expected 79-69 victory over in-state foe Ohio.
Ohio State had four players finish in double-figures scoring with Craft leading the way with 18 points, four rebounds, four assists and three steals. Craft's point total came on just two field goals. Williams recorded his first double-double of the season, finishing with a career-high 14 points and 10 rebounds, Sam Thompson provided 12 points off the bench and Ross had 10 points.
But the story was the constant sound of whistles. There were 55 fouls called in 40 minutes – five Bobcats fouled out. Fourteen of Craft's 18 points came at the line and Ohio State scored nearly half of its 79 points from the charity stripe (38). The Buckeyes attempted 51 free throws and 44 field goals.
"We have to continue to adjust," Matta said. "Our biggest thing is going to be continuing to adjust defensively."
Ohio State only connected on 18-of-44 shots from the field and 5-of-18 three-point attempts. It led 40-28 at the half, but let OU creep back into the game. The Bobcats trailed by as few as five points in the final four minutes.
"Down the stretch we made some big plays, I was happy with the things we did right," Matta said.
With the Buckeyes building a substantial lead in the first half, Matta was liberal with his bench use. Thompson, Amedeo Della Valle and Trey McDonald entered the game before five minutes had past in the first half. Freshman Marc Loving was inserted not long after. Combined, they chipped in with 20 bench points.
Ohio State never trailed. Its lead did not dip below 10 points in the first half and grew to as much as 17 points. But the constant stoppages in play appeared to affect both teams, as the final 10 minutes of the half were stagnant and produced sloppy basketball. 
"I personally do not feel as though Ohio University did anything to stop our game,." Smith said. "We stopped trusting our system and doing the things that put points on the board for us. We struggled a little bit down the stretch and, unfortunately, we were not doing what we needed to do."
In both games this season, the Buckeyes have lived up to their billing as an elite defensive team. OU shot less than 45 percent from the field and made just five 3s.
Despite the two schools' campuses being located just 81 miles apart, Tuesday night's game was the first between Ohio State and OU in 19 years, when the Bobcats beat a rebuilding Buckeye squad that would only win six games that season. Ohio State is now one of the nation's premier programs, making deep NCAA Tournament runs a yearly tradition and sending players to the NBA each June.
The battle for state supremacy pitted family and friends against one another. Scarlet and gray, and green and white could be spotted throughout Value City Arena, often worn by people sitting side-by-side. In an interesting twist, Clark Kellogg, an Ohio State basketball great and member of the university's Board of Trustees, was wearing an Ohio University shirt. His son, Nick, a senior, had a game-high tying 21 points.
"It was nice to come back to Columbus," Nick said. "There was no trouble. I'm his son, so he's going to root for me."
The Buckeyes play at No. 17 Marquette on Saturday.