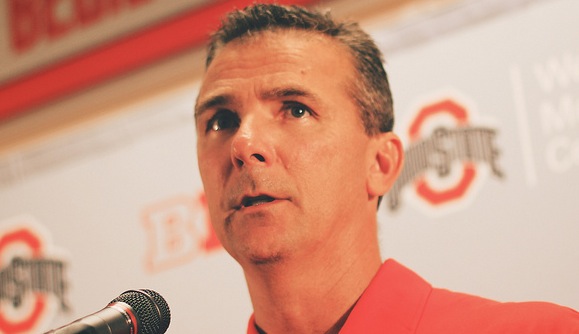 Bye weeks usually don't reveal much in the way of news. But this week hasn't been the normal off week for Ohio State. On Tuesday, the Sun Sentinel reported defensive coordinator Luke Fickell interviewed for the vacant Florida Atlantic job. Urban Meyer said Wednesday night that Fickell "absolutely" did not interview.
And then comes the other dominating story of the week: games that will impact Ohio State's fortunes. Meyer made it clear Tuesday that he'll be watching the Thursday night games intently. Asked if he'll be watching on the couch drinking a brew, Meyer responded with a gem.
"The last time I called it a 'brew' I was 19," he said.
Meyer said he'll spend Friday recruiting and Saturday watching the Florida Gulf Coast volleyball team. The goal is for all the players to keep clear of any trouble.
"The chase is on, man. It's real," Meyer said. "Our goal is to get to November and be competing for something. You come back five pounds overweight, you act like a jerk over the weekend and do something wrong, then you're not part of the chase. That person won't be back."
Notes:
Meyer said the Taylor Decker injury was a horrible blow. It occurred during the third quarter. With a 70-man travel roster, Meyer said it's hard to get people out of games, even during blowouts. As for Decker, he's ahead of schedule, according to Meyer. Corey Linsley said he will play at Illinois.
"My wife sent me a text asking if Luke interview. He did not interview. He better not have." -Meyer
Meyer said the protocol is for the AD to call the head coach and then the assistant asked when the right time to interview is. The main thing, according to Meyer, is not to disrupt the team.
"There's absolutely no interviewing going on during this time. No chance." -Meyer
Meyer said J.T. Moore is one of the most valuable players on the team. He's a special temas ace and leader. Meyer also raved about his work in the classroom.
"Are we a really good team? I can't compare us to the other three or four teams because I really haven't seen them." -Meyer
The team is much better than last year's, Meyer said. On offense, he said the unit is actually playing. On defense, he said they're improved even after losing eight starters. He said the kicking game and offense are light years better than last year.
Meyer said politicking is not enjoyable, but he has no choice because he works for the players.
Braxton Miller said all the Buckeyes can do is play and win.
Coming off the last bye week, Miller said he's been a stronger and healthier player, which has led to good performances. He only rushed once last week and he said it felt foreign to him after running so much throughout his career.
Games come easy, according to Miller, after practice against the first-team defense during the week.
Miller said he never had an "aha moment" where everything clicked. He said it just gradually happened by working with Tom Herman.
Linsley said the offense isn't smoke and mirrors because the effectiveness and physicality of the run game shines through. If it were smoke and mirrors, the running game wouldn't be near as efficient.
The final few weeks of the season are a four-horse race, Linsley said. He'll be watching al the games this weekend that could impact the Buckeyes.
Style points are a topic of conversation, according to Linsley, because the team cannot allow anyone to jump them.
Michael Bennett said he wants to be an All-American. He said he feels like he should never be blocked.
The defense had 10 tackles for loss last week at Purdue. Bennett said they have no set number, just that they want to dominate and hold teams to zero rushing yards. He said they did well for the most part against the Boilermakers.
Bennett said the BCS rankings aren't frustrated because Ohio State has no control over the outcome, other than trying to win games.
When he practices against the offense and sees them in games, Bennett said it's obvious Braxton is a more confident quarterback this season.
The defense has been a completely different unit since halftime of the Iowa game. Bennett said it's because they decided in the locker room that they'd start going for it. The mindset changed and they stopped thinking too much on the field.
"Create a new line of scrimmage and throw people in the backfield." -Bennett
Ryan Shazier said he believes the bye week is coming at a good time because there are so many bumps and bruises on the team.
Shazier said he wants to watch Baylor's offense Thursday. He said a good defense can stop any offense.
Asked who he's rooting for this week, Shazier said he'd be lying if he said he didn't want teams ranked ahead of Ohio State to lose.