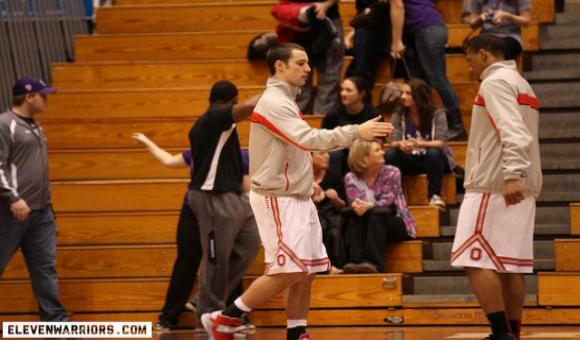 In the summer of 2010, Aaron Craft and Lenzelle Smith Jr. arrived on the campus at Ohio State University as part of a recruiting class ranked third in the nation. But the ranking didn't have a huge part to do with Craft and Smith's prowess. Both were fine players, but Jared Sullinger and Deshaun Thomas were the big fish.
Three years later, Craft and Smith are the only players that remain from that six-man class. Sullinger, Jordan Sibert And J.D. Weatherspoon left following a trip to the Final Four their sophomore season – Sullinger to the NBA, Sibert to the University of Dayton and Weatherspoon to Toledo – and Thomas took his talents to Europe after leading the Big Ten in scoring his junior season.
All Craft and Smith have done is been part of a Final Four, four Big Ten championships, three NCAA Tournament runs and 94 wins, within reach of David Lighty's all-time Ohio State record of 129.
"It's crazy, it's exciting, it's a lot of emotions," Craft said. "We've been in this for the long haul."
Said Smith: "I don't believe it. It went past too fast. I knew the day was going to come one day, but I didn't think it would be here [this soon]."
Along the way, Craft has become the preeminent defender in college basketball, someone all opposing fans love to hate and at the same time one of the most popular players in program history. He's also a heartthrob on campus, eliciting marriage proposals from eager co-eds. But above all else, Craft has become the face of a university that's long been a football school.
"It's an extremely humbling experience to be in the position I am in," he said. "To be able to represent what the university stands for is huge."
Smith is a dependable defender and streaky shooter that piles up rebounds for being a guard. He's a glue guy that provides leadership both on the court and in the locker room. 
As the duo enters their final season at Ohio State, they aren't quite ready to get sentimental. A possibility of 40 games is in front of them, meaning a Monday night finish in April, the only game Craft and Smith haven't played in.
The selfless senior leaders, on a team predicted to finish third in the Big Ten and currently ranked 10th in the country, represent a welcome change for Matta and the Buckeyes. Not since the duo's freshman season has Ohio State had multiple seniors and so many experienced players on the roster.
"You become a senior and some things are just patented in you," Smith said. "No more nervousness, no more jitters. You're a senior, you should know these things, you've got to do these things because you know what it takes. You've been in every possible situation there is to be in at this point, especially Aaron and me.
"We've been humiliated and humiliated other teams. We've had the privilege of being on each end of the spectrum. I think our poise at this level as seniors is right where it needs to be."
Highs and lows dot Craft and Smith's resumes and those experiences have shaped a calm demeanor but also a steely reserve that makes them hardnosed competitors in a rugged Big Ten.
When they were skinny freshman, Craft and Smith didn't stick out in a crowd. Craft became a defacto starter during the Big Ten season but still didn't attract much attention in public, while Smith played only sparingly due to an injury. But it may have been the most important season for both players.
They witnessed how a team becomes great – through practice, defense, togetherness and leadership. Lighty, Jon Diebler and Dallas Lauderdale acted as the model for what Craft and Smith would strive to match.
"I learned a lot," Smith said. "We had some great guys in our program. Those guys were leaders everyday. That really stuck with me my freshman year. I always remember making a statement that when I was a senior I wanted to be that type of leader. It's time. I have a chance to do something special. I don't want to break my own goals."
Now it's Craft and Smith who are showing the ropes to true freshmen Marc Loving and Kam Williams, as well as Amadeo Della Valle and upperclassmen such as LaQuinton Ross and Amir Williams.
With the core of the team returning, there's little reason why Ohio State can't make a run in the NCAA Tournament. It could be Matta's best defensive teams, Ross is expected to lead the scoring effort and there's no shortage of leadership.
"I want to see our first road game when we face adversity. Do we crack or do we come together as a team like I was able to see my freshman year?" Smith said. "Those guys never cracked, they kept their composure and stayed poised. That's the type of team I'd like to be this year. Those are the teams that go far in the tournament."
Urban Meyer says Kenny Guiton is a coach on the field. Well, Craft is an extension of Matta on the basketball court. He might be 22-years-old, but Craft has the basketball IQ of a lifelong coach. He's a floor general in every sense of the word who's equally as talented in the classroom, carrying a 3.9 GPA and still bristling at the lone B he received in chemistry his freshman year.
Smith, meanwhile, is the lighthearted court jester likely to play a prank. Tense moments become lighter with him around. But when Smith needs to be serious, his game face is on. His knowledge of the game is broad and he makes up for any lapses with a work ethic that Matta would like to trademark.
With their final season opener Saturday afternoon, Craft and Smith briefly pondered their legacies, which currently remain open ended. But peer down the long, narrow tunnel and they see the finality of the moment.
"If anything I'd much rather have our team have a bigger legacy," Craft said.
"I've never given much thought to the legacy I was leaving," Smith said. "At the end of the day, if I can be remembered as a guy who did whatever he could to help his team win, that's good enough for me."
Winning has become the norm during their three seasons in Columbus. There's little reason to imagine the fourth will differ from that trend. Even if it did, Craft and Smith's contributions wouldn't be lessened.
"They've won two regular season championships and two conference tournaments, that's an incredible feat with what we've lost," Matta said. "Ohio State currently has the longest draft streak in college basketball – seven straight years an Ohio State Buckeye has been drafted.
"For these guys, their legacy is not that they continued the program but that they elevated the program."