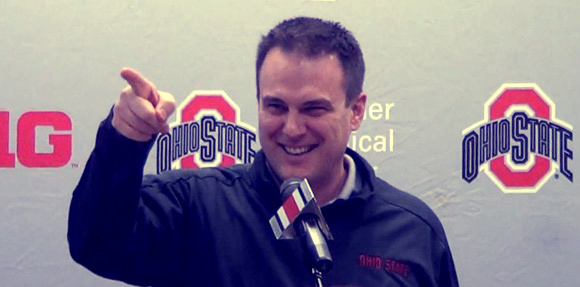 Tom Herman woke up this morning and traveled to the Woody Hayes Athletic Center, not The Ohio State University Medical Center, the presumed venue for Tuesday, Nov. 5. That was the day Maverick Joseph Herman was supposed to arrive. But for Herman and wife, Michelle, births don't always go as planned.
Maverick is child No. 3 for the Hermans and the second that has entered the world at an inopportune time for the football family. The middle child, a son named Maddock Thomas Danger – T.D. for short – came during the summer when Herman was coaching at Rice. Problem was fall camp had already commenced. An Aug. 8 due date would not suffice.
"That was right during two-a-days so we induced him on July 31," Herman said.
Eldest child, daughter Priya, had no such interference. The 33 percent rate is not an ideal number for an offensive coordinator and quarterbacks coach. The Hermans even had a play call drawn up for Maverick. With Ohio State's bye week looming, the game plan was for Maverick to be induced today, clearing a path for Herman to be in the press box for the Purdue and Illinois games. Even the doctors' own scouting reports called for a Nov. 5 kickoff.
"I wasn't aiming period," said Herman, drawing hearty laughs from reporters. "It was not an oops. It was not an accident. We were trying to have another one, but we didn't realize it would happen so quickly after we had made the decision to try. Obviously that put the due date at a really inopportune time.
"All of a sudden Wednesday night he decided he was not waiting, he wanted to come out and watch the game."
What Maverick saw was his daddy orchestrate another 600-yard offensive performance in the Buckeyes' 56-0 rout at Purdue. And Herman did it all on little to no rest.
After pulling an all-nighter Wednesday, he was back at the WHAC Thursday, albeit briefly. Herman worked less than 10 minutes before players shooed him out the door to the hospital, where Maverick was born later that afternoon.
"I had to dock him a day's pay," head coach Urban Meyer joked. "I was actually going to put a form letter on his desk about him being docked, but I thought it would be in our best interests not to do that."
Herman's estimates put him at 12 hours of sleep from Wednesday until Saturday morning prior to Ohio State's game in West Lafayette. Seven of those came on Friday night at the team hotel. Who says the early to bed, early to rise theory can't be broken.
"Adrenalin works wonders," Herman said.
Apparently.
All Herman's offense did on Saturday was score 42 points in the first half for the second straight week and pile up 600-plus yards for the eighth time in two seasons. The Buckeyes did that three times in the decade Jim Tressel coached Ohio State. But it's been that kind of year for Herman and the Buckeyes.
Both personally and professionally, all seems golden for Herman at the moment. The birth of a son and Ohio State's chase for a national championship represent from the best of both his lives. You don't have to be a Mensa member to understand the significance. The same can be said about Herman's influence for an offensive unit that's risen from the depths of college football, where it resided just two seasons ago.
"We coach at the best place to coach at in the entire country. We live in a great city. We work for a guy who's unbelievably understanding of families. It's been great."
There's been no messing around, no early horseplay from the Buckeyes. They're outscoring opponents 171-38 in the first quarter. The past four games have presented unique matchups in which Ohio State had to deal with challengers having an off week to prepare. It didn't much matter considering the Buckeyes outscored Northwestern, Iowa, Penn State and Purdue 193-68. On the season, they've scored over 50 points in four games and are, of course, 21-0 in their past 21 games.
"The quarterback's playing very poised," Herman said. "That's where the engine starts. I'm in a good place. My family's extremely happy. We coach at the best place to coach at in the entire country. We live in a great city. We work for a guy who's unbelievably understanding of families. It's been great."
Herman said he occasionally wakes up in the middle of the night to jot down notes or a play. Some might accuse him of scribbling down baby names in a haze. However, he assured that there's a purpose in the distinctive words.
"The translation of [Maverick] is someone who doesn't conform to society, someone who blazes their own trail," Herman said. "I want to make sure my son has a nice strong name that means something – and one of the best characters in movies of all time."
That's a reference to the 1980's classic, "Top Gun."
"Iceman, Goose, Viper, Merlin, none of them really stuck," Herman said. All resonate with generations of moviegoers.
"My older son's middle name is Danger so he could grow up and tell people his middle name is Danger and when they call him out on it pull out his I.D. and actually confirm that," Herman said. "We have fun with their names. There were a few I threw out there that she wasn't thrilled about – Thor, Leonidas, Rocky."
Said Meyer: "Maverick is a future Buckeye and he's welcomed, a great part of our family now."
Baby Maverick weighs eight pounds, five ounces. Virtually the same amount as the Waterford crystal football that accompanies the national championship trophy, another baby Herman covets.