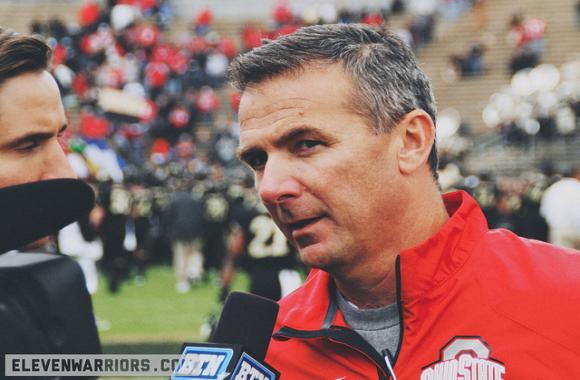 WEST LAFAYETTE, Ind. – A year ago, Braxton Miller left the Ohio State-Purdue game in an ambulance. In came Kenny Guiton to lead an exhilarating comeback victory. One year later, Miller and Guiton were once again front and center against the Boilermakers, but for vastly different reasons.
The Buckeyes won 56-0 on Saturday at Ross-Ade Stadium. It was the most points ever scored by an opponent in West Lafayette, breaking a two-month old record held by Northern Illinois (55). The margin of victory was the largest in the history of the 96-year series with Purdue and tied for the worst loss in school history.
It was the second straight statement win for Ohio State, a program that's won 21 straight games but still finds itself on the outside looking in at the national championship game. Miller and Guiton accounted for 397 yards of offense and all seven Buckeye touchdowns.
But tight end Jeff Heuerman one-upped them with a performance not seen in three decades. Heuerman's 116 yards receiving and a touchdown represented the most yards by an Ohio State tight end since John Frank in 1983 and the first 100-yard game dating back to Rickey Dudley in January, 1996.
"We just go out in practice every day and work hard. My job is easy," Heuerman said. "It trickles down with good play-calling, the good protection of the offensive line and the good throw from the quarterback. All I have to do is catch the ball."
And that's exactly what he did. All five receptions came in the first half, including one that ended with him attempting to hurdle two defenders. Miller didn't appreciate his tight end going airborne for fear of him being injured.
"I'm going to tell him to cut that out. He's too big for that," Miller said.
"A lot of guys have been coming after my legs, so I just gave it a little jump trying to get a few extra yards," Heuerman said.
Ohio State talked all week about respecting Purdue, remembering the past and not overlooking anyone, even an opponent with one win. Well, during pre-game the Buckeyes may have gone away from that line of thinking.
"I just didn't like what I saw in pregame," Meyer said. "So we brought [Mickey Marotti] in here and kind of rattled it up a little bit and made sure we woke up. What's the proper word? Demonstrative?"
… Marotti said he did a lot of yelling and screaming.
"You take a look two years, [Ohio State] lost. Last year, we could've lost to the same team. This year, we played at a much high level," Meyer said. "I know the history. We actually had a great discussion about it. Jack Mewhort brought it up. These players are very smart. They understood it and came out and took care of business."
Carlos Hyde only had eight carries Saturday afternoon, but it didn't limit his production at all. For the fourth consecutive game, he cracked the 100-yard mark. In the second quarter, Hyde had a season-long rush of 42 yards.
"I feel like at any minute something explosive is going to happen," Hyde said. "You just have to wait your turn. Coach is going to call your number and when he does, you have to make a play."
The Silver Bullets had another stout performance. The past 10 quarters have yielded superb results, similar to the latter half of last season. Purdue had barely more than 100 yards for the game and just 10 first downs.
"I think we're coming together," said defensive end Noah Spence, who finished with two sacks and forced fumble against Purdue. "Coaches are telling us to just play football. We've stopped thinking and it's worked out or us."
What set the tone was Doran Grant's interception return for a touchdown less than a minute into the game. It put Ohio State up 7-0 in a quarter that would end with the Buckeyes holding a 28-point advantage.
"I'm going to give the credit to Coach Coombs," Grant said. "We watched film on Thursday and said it was going to be the backdoor slider. I missed it during the Iowa game and got it this game.

"It meant a lot to me, but it meant a lot more for the team. It got the team going."
Perhaps the most satisfied person with the defense's newfound swagger was Meyer. His goal is to play for championships in November and the defense's effectiveness is paramount in that objective.
"Any time we play pass defense like that we have a chance to become a really good team," Meyer said. "The way we kick-started the game with Doran Grant with the interception return, that's a good sign that we're playing much better. There were a lot of positives, but the most important positive that I can think of is that we've taken a weakness, which was pass defense, and I don't think it's a strength yet, but it's much improved – very much improved."
Defensive coordinator Luke Fickell echoed much of what Meyer said.
"We have a good group," Fickell said. "We have confidence that we can be more aggressive, whether they have a freshman quarterback or not. We're not going to slow down."
Mistakes were the No. 1 culprit in the eyes of Purdue head coach Darrell Hazell.
"Anytime you go out and play a good football team, you can't go out there and spot them the way we did," Hazell said. "You can't throw interceptions for touchdowns."
Offensively, the past two weeks have been almost unprecedented for the Ohio State Buckeyes. Hyde and Heuerman summed it up with different viewpoints on what has spurred Ohio State.
"We're just playing Ohio State ball," Hyde said. "I expect this out of the offensive group. Just come out and be explosive all day and put points up and put up yards. That's what I expect from us."
"We knew we had to come in here and make a statement with our win," Heuerman said. "We have a real focused team right now, and it's really special. Coach Meyer talked about it all week. When a team is playing with a purpose and with such focus, it's a hard team to beat. I think that's where we are right now."
The catalyst of it all is offensive coordinator Tom Herman, who welcomed a newborn son, Maverick, into the world earlier in the week.
"I had to dock him a day's pay," Meyer joked. "He actually came in for seven minutes, and I really was going to put a form letter about him being docked. I thought it was in the best interest not to do that."