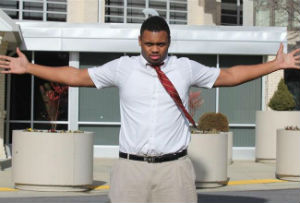 Welcome to another edition of the Ohio State football recruiting notebook.  We'll wrap the week up for you and give a preview of what's coming up next.
While the Buckeyes were dominant on the field against Penn State, recruits lined the sidelines to take in the atmosphere.  We'll take a closer look at a few of the key visitors who were in attendance and see where the Buckeyes stand with them.
One target picked up an offer from Ohio State, we'll take a look at his recruitment and where the Buckeyes stack up.
One of Ohio State's top targets for the 2014 class set his announcement date, we'll take a look at the Buckeyes chances of landing him and how his recruitment could change between now and his announcement.
Three 2014 Ohio State linebacker recruits were named semi-finalists for a prestigious award this week.  We'll look at the future of the position at Ohio State.
The Dream 14 continues to shine on the high school gridiron, we'll check in on the future Buckeyes as they wrap up their seasons.
THE WEEK THAT WAS
Another primetime game, another huge recruiting weekend for the Buckeyes.  The visitor list was headlined by Raekwon McMillan, but a few other huge prospects made visits to Ohio State as well.  Top 2014 prospects Josh Malone and Tony Brown were in attendance, while the Buckeyes also received surprise (at least to us) visits from Solomon Thomas and Malik McDowell.  Be sure to check out Birm and Jordan's updates on the visitors here, and here if you haven't already.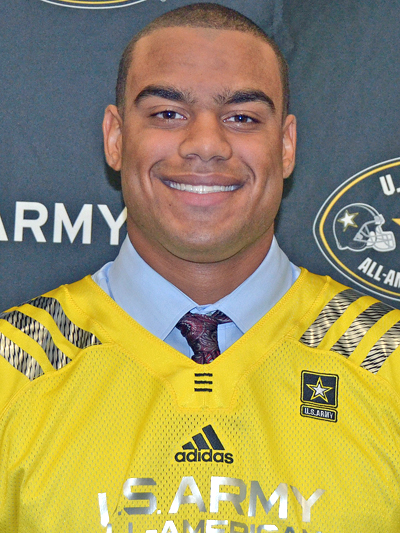 First, a little more info on Solomon Thomas.  As Birm wrote, this was his second unofficial visit to Ohio State, which shows some serious interest on his behalf.  Thomas' family actually made the flight to Ohio State with Dontre Wilson's family, during which they had a great opportunity to gain some insight into what Ohio State is really like.  Wilson's family was obviously very high on Urban Meyer and the coaching staff, particularly how supportive the coaches are of the players and their families.  While on campus, Solomon got a chance to spend some time with Mike Mitchell and Dontre Wilson as well.  Ohio State's network in Texas is continuing to grow, and having players like Dontre experience early success continues to have a positive impact on recruiting.  Thomas' family was also blown away by Ohio State's facilities and the support of Buckeye Nation.  Thomas currently also is planning to make a third visit to Ohio State following the season.  I had felt that Thomas was probably Stanford-bound for quite some time but, while reluctant at first, have also changed my prediction for him to Ohio State.  My rationale is that he has built pretty good relationships with the coaching staff and current players, he will have visited Ohio State three times by signing day, and Ohio State blew his family away, something that is incredibly important when a player is thinking about going as far away from home as he is.  I think that spending time with Dontre Wilson's family will make the Thomas family more comfortable sending him to Ohio State as well.  Stanford and Texas remain huge players as well, but for now I like Ohio State's chances of landing Thomas.
As discussed here, Raekwon McMillan had another great visit and the recruiting process is beginning to wind down for him.  He is planning on making a decision in late November, announcing his decision in early December and enrolling in January.  He is currently scheduled to take official visits to Alabama (11/8), Clemson (11/23) and Florida (11/29).  Yes, Clemson and Florida are getting the final visits before he announces, but I don't think that will affect him as much as it may affect some recruits.  McMillan is not one to over-react to a particular visit and has done a good job of doing his homework on each school.  One more visit to each of his finalists will help him finalize his decision and then he will announce.  McMillan is getting tired of talking about recruitment, but we will do our best to gather as much information about him as we can as he moves towards a decision date.
Speaking of decision dates, Damian Prince recently announced that he will be making his announcement on Valentine's Day, 2014 to honor his late grandmother on her birthday.  It's not too much of a surprise that his recruitment would go through signing day, but now he has set a date.  Prince is planning on taking official visits after his season is over, most likely starting with the Florida-Florida State game.  Ohio State is sitting in a pretty good position but will need to get him on campus for an official visit.  Maryland, Florida State and Florida are also near the top of his list, with Florida recruiting him very hard recently and making a push to move up his board.  I still like Maryland for him at the moment, but Florida State and Florida could also be tough to beat.  While I think Ohio State is in a good position, I don't currently see him being part of the Buckeyes class, though plenty can change between now and signing day.
Another pretty interesting tidbit from this past week was three potential future Buckeyes being named semi-finalists for the High School Butkus award.  Dante Booker, Kyle Berger and Raekwon McMillan were among the 12 selected for the prestigious award.  Ohio State linebacker play this year has been improving but continues to lack depth and this is further affirmation that help is indeed on the way.
One last big piece of news from this weekend was 2015 4-star defensive end Hale Hentges picking up an Ohio State offer during his unofficial visit.  Hentges is ranked as a top-12 weak-side defensive end nationally, and holds offers from the likes of Nebraska, Wisconsin, Missouri, Arkansas, Tennessee, Ole Miss and Iowa among others.  The 6-4, 230 pound product from Jefferson City, Missouri also plays tight end in high school, and has a good combination of toughness and athleticism.  Missouri will make a very strong effort to keep Hentges in-state, though he has already also visited Nebraska and Arkansas this season, and will be visiting Wisconsin this coming weekend.  Right now it's way too early to tell where Hentges will end up, but this weekend's unofficial visit and offer should certainly help the Buckeyes chances.
High school football preview
| Position | Player | School | Opponent | Comment |
| --- | --- | --- | --- | --- |
| QB | Stephen Collier | Lee County (Ga.) | at Columbus Northside (Ga.) | Won 44-7.  18 of 25 for 342 yards and 4 TDs, also had 61 rushing yards and a rushing TD. |
| WR | Parris Campbell | St. Vincent-St. Mary (Ohio) | at Youngstown Ursuline (Ohio) | Won 40-7 last night to finish season 10-0.  130 rushing yards on 12 carries, 80 yard kick-return TD. |
| WR | Terry McLaurin | Cathedral (Ind.) | Zionsville (Ind.) | Won 54-26 in opening round of playoffs.  311 rushing yards on 18 carries, 4 TDs. |
| OT | Jamarco Jones | De La Salle (Ill.) | at Crystal Lake Central (Ill.) | Won 56-0. |
| OT | Kyle Trout | Lancaster (Ohio) | Newark (Ohio) | Lost 32-8. |
| OG | Marcelys Jones | Glenville (Ohio) | Cleveland John Hay (Ohio) | Won 40-0. |
| OG | Demetrius Knox | All Saints Episcopal (Texas) | Houston St. John's (Texas) | Won 42-6 to remain undefeated (9-0) on the season. |
| DE | Jalyn Holmes | Lake Taylor (Va.) | at Norfolk Granby (Va.) | Won 57-0. |
| DE | Dylan Thompson | Montini Catholic (Ill.) | Chicago Morgan Park (Ill.) | Won 47-0 to complete perfect regular season (9-0). |
| OLB | Kyle Berger | Ignatius (Ohio) | Canada Prep Football Academy (Canada) | Lost 13-10. DNP (ACL).  Named semi-finalist for Butkus Award. |
| OLB | Dante Booker | St. Vincent-St. Mary (Ohio) | at Youngstown Ursuline (Ohio) | Won 40-7 last night to finish season 10-0. Named semi-finalist for Butkus Award. |
| CB | Damon Webb | Cass Tech (Mich.) | Grosse Pointe South (Mich.) | Won 20-14.  Made 2 interceptions and 4 tackles in win. |
| S | Malik Hooker | New Castle (Pa.) | at Natrona Heights Highlands (Pa.) | 25-yard TD run in 42-21 victory. |
| ATH | Noah Brown | Pope John XXIII (N.J.) | at Flanders Mount Olive (N.J.) | Won 69-29.  58 yard rushing TD was the highlight of the game for Brown. |
| ATH | Sam Hubbard | Moeller (Ohio) | Louisville Trinity (Ky.) | Lost 45-42.  14 tackles (2 for loss) and a pass break-up in defeat. |
| ATH | Lonnie Johnson | West Side (Ind.) | Highland (Ind.) | Won 30-9 in first round of Indiana playoffs. |
| ATH | Curtis Samuel | Erasmus Hall (N.Y.) | Brooklyn Tech (N.Y.) | Won 28-0. |
| K | Sean Nuernberger | Oldham County (Ky.) | vs Louisville Jeffersontown (Ky.) | Lost 39-13.  Tied Kentucky state record with 57-yard field goal.  Also made a 20 yarder, 4/4 on touchbacks, 1/1 on XP. |
| OT | Chad Mavety | Nassau C.C. (N.Y.) | Globe Tech (N.Y.) | Ohio State-Florida State battle.  Visiting for Indiana game (11/22).  Visiting Florida State unofficially this weekend. |
| DT | Thomas Holley | Abraham Lincoln (N.Y.) | at Boys and Girls (N.Y.) | Ohio State-Penn State-Notre Dame battle.  Officially visited OSU and PSU thus far. |
| DL | Solomon Thomas | Coppell (Texas) | Ryan (Texas) | See above |
| ILB | Raekwon McMillan | Liberty County (Ga.) | South Effingham (Ga.) | See above |
| S | Mike Rogers | Campbell (Smyrna, Ga.) | Bye | Not a lot of news since he got his Ohio State offer.  Still committed to UCF but trying to make an official visit to Ohio State. |
| S | Erick Smith | Glenville (Ohio) | Cleveland John Hay (Ohio) | Won 40-0. |
| ATH | Marshon Lattimore | Glenville (Ohio) | Cleveland John Hay (Ohio) | Won 40-0.  Was scheduled to visit Alabama next weekend but has postponed it |
| ATH | Eric Glover-Williams* | Canton McKinley (Ohio) | Massillon Washington (Ohio) | Only played the first half of 47-0 win. Had a 16-yard TD run. |
Looking ahead
The Buckeyes don't have a home game for a few weeks, with the next and final home game on 11/22 against Indiana.  Chad Mavety (header picture) will be in town for that game, among others, as Ohio State will hope to make a lasting impression with him.
High School playoffs will be starting up here in the next couple of weeks, with several future Buckeyes beginning their quest for a state title.  
As for possible commitments, Raekwon McMillan should be making a decision in the next month or so, and Thomas Holley could be making his in the relatively near future as well.
Other key developments include Mavety's visit to Florida State this weekend, Mike Rogers setting up a visit to Ohio State at some point, and 2015 recruiting to continuing to pick up.