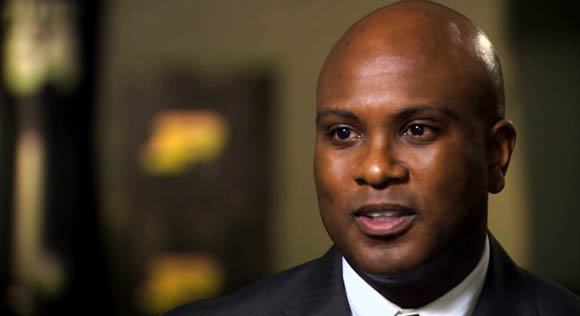 Tomorrow Ohio State will be staring across the field at a familiar face, and not for the first time. Though Jim Tressel understood the necessity of a cohesive coaching staff that sticks around for year after year, even he wasn't able to prevent several of his coaches from moving away from Ohio State and on to more lucrative positions.
Not that anyone really faults guys like Darrell Hazell and Mark Dantonio for doing this. First and foremost, coaching FBS football is a cutthroat business. If you're upwardly mobile, then you need to grab at opportunities when they come your way. Dantonio and Hazell both had aspirations of being head coaches, and when they were presented with that chance, they took it.
As much as Ohio State fans (or any fan of any team) might rankle at the idea of potentially getting beat by a former Ohio State coach, most of the time we root for these guys in their new positions because that makes the Buckeyes look good by proxy. Jim Tressel may not be coaching right now, but his coaching tree is, and that helps to cement his legacy.
Still, ultimately this is a high wire act for any assistant or coordinator to pull off, and now that Luke Fickell and Tom Herman are both staring down this particular tightrope, it might be a good time to see how their predecessors have done it and done it well.
It's weird now to think of Mark Dantonio as the coach of the University of Cincinnati Bearcats, but that is in fact a Thing That Happened.
Dantonio was hired by UC after the 2003 season, and for some it was a bit surprising seeing as how he was working for his old boss at Youngstown State, and would end up having to play said boss in his final year as the Bearcats' head coach (a game he'd lose somewhat handily). Dantonio was seen as a solid, predictably good hire, and then-athletic director Bob Goin put it this way:
"The university wanted a man that wanted us, one that will stay and build a solid program in the Big East"
Dantonio predictably left after his second year when Michigan State came calling, and his record since then has been up and down but it's hard to deny his talent as a head coach. Dantonio has led Michigan State to six bowl games in six years (in the previous six years Michigan State had been in just two), beaten rival Michigan with regularity, and most importantly, he has stepped out of the Jim Tressel shadow. He's not the best coach in the Big Ten, but a Mark Dantonio coached team has his stamp on it, characterized by poor offense, incredible defense, and an acute willingness to go for the gusto when the situation calls for it.
I think that's what Tom Herman wants for himself.
Dantonio and Herman are both Texas guys, Dantonio because he was born there and Herman by way of college and his first coaching jobs. Both also steadily worked their way up the ranks of college football, never spending too much time in any one place in an effort to move up in the world. As much as we remember Dantonio's 2002 Ohio State defense, that was only one of three seasons he was at Ohio State, and that was just as long as his layover in Cincinnati before moving on to coach Sparty.
Most people expect Herman to be gone after this season. It'll suck, given that he's one of the brightest minds in college football today, but it will also be incredibly predictable and as long as he stays out of the Big Ten, I wish that dude all the best.
Darrell Hazell has, to me, the more interesting story. Hazell had bounced around numerous college programs in the 90s, never landing a coordinator position with anyone. The tea leaves I'm reading says that this was an attempt to get that coordinator position that Dantonio eventually used to land a head coaching job, but Hazell never got that.
"If you really want to go places, it starts with a foundation of hard work, treating people the right way and always learning." – Darrell Hazell
He eventually ended at Rutgers under Greg Schiano, who in 2003 made him an assistant head coach. Hazell is a Jersey guy, and the connection made sense. It was considered a career move, then, when Hazell ended up at Ohio State in roughly the same position.
For some reason Hazell always struck me as a "cog" kind of dude, despite the obvious talent and upward mobility. I thought that maybe one day in the 2020s Hazell might take over for an elderly Jim Tressel at the tail end of the greatest coaching career in college football history but, uh, that didn't exactly transpire the way in which I thought it would.
Hazell made the jump to Kent State, where he immediately won over the college with his drive and enthusiasm. Hazell is almost 50 but seems 15 years younger, and in his second year at Kent State he coached the Golden Flashes to an 11-3 record and their first bowl appearance since the 70s. After Danny Hope's firing, he landed the job at Purdue and is currently guiding them through a miserable season that still isn't really indicative of Hazell's abilities as a head coach.
Hazell's experience should be instructive for Luke Fickell, who is now being presented with overtures from Florida Atlantic. Fickell's rise is a bit different then just about anyone's, of course; he actually has some (very weird) head coaching experience, and was respected enough by Ohio State writ large that Urban Meyer kept him on staff despite some reservations.
And honestly, I think this video makes my point better than words ever could:
Listen to the love that Luke Fickell gets at 1:56. That was Ohio State fans showing their appreciation for a dude who took on an impossible situation and did the best that he could, without complaint or any other issues.
Now, less than two years later, there's a ton of members of the Buckeye faithful wanting to push the dude out the door for perceived failure as a defensive coordinator. The screw turns quickly, whether we want it to or not, and we're all a part of it.
As college fans sometimes we can have this weird idea that a football staff is like family. This notion is reinforced by the sometimes incestuous or nepotistic nature of sports in general (for instance, Darrell Hazell was coached in college by Jim Heacock's younger brother Jeff), but Jim Tressel played a part in that by purposefully selecting coaching cabinet members that he knew would be unlikely to leave easily.
But college football is now more about transition than ever before. The era of Paterno-like reigns over a program for 30 plus years is all but over, and that's never more true than for coordinators and assistants. And in Urban Meyer's shark tank of a staff, it's doubly so.
Urban Meyer once fretted about losing staff members like Charlie Strong and Dan Mullen, but both he and us need to understand that this is a fact of life now. The only real solution is to enjoy coaches while they're here, and then crank the Supertramp.