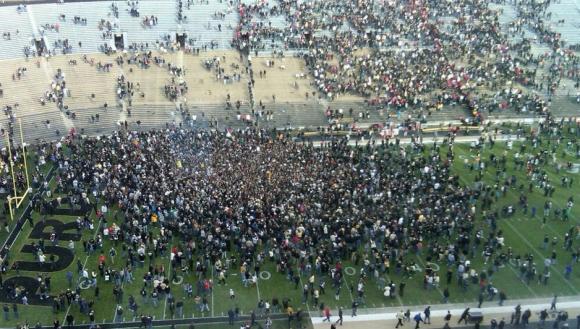 It hasn't always been this way. Prior to 2000, Ohio State had not lost to Purdue since the Reagan Administration. But Ross-Ade Stadium became a haunted house in late October of that year. The Buckeyes have since lost four times in West Lafayette.
Based on Purdue's wretchedness and general lack of talent, another defeat isn't expected. The veteran Buckeyes remember the past well, though. The 2011 season included several bad memories, and the topper was an overtime loss at Purdue.
"Our coaching staff does a great job regardless of who we're playing," tight end Jeff Heuerman said. "Going into Purdue, I was there my freshman year and it didn't turn out the way that we wanted it. I think there are a lot of guys on the team that remember that. This week is a big week for us. We have something to prove going back to Purdue."
Ohio State lost that day after a thrilling final-minute drive engineered by Braxton Miller, who orchestrated a game-winning drive against Wisconsin the previous week. But after Jordan Hall caught a touchdown pass in the closing seconds against the Boilermakers, Drew Basil's extra-point attempt was block, sending the game into overtime.
The two teams are not rivals and the series history is lopsided in favor of the Buckeyes. However, West Lafayette seems to stymie them, a curse of sorts that descends upon the entire roster. 
Heuerman made it clear he won't chair the board of the West Lafayette Chamber of Commerce following graduation after lobbing insults at the Northwest Indiana city.
"It's not quite Ohio State," he said. "There's not going to be 105,000 fans there. It's kind of a gray city. It's not the most beautiful city in the country. No one's there rooting for you. It's just like any other away game, everyone wants you to lose."
Then came a question about the visiting locker rooms, which are as barebones as any in the Big Ten – small, cramped quarters with dated lockers.
"Awful," Heuerman said.
The taste of losing to a middling program in a stale environment has stuck with the Buckeyes. There's no need for Meyer to motivate his group, even as the Boilermakers trudge in with a 1-6 record.
"There's always that one team that's always just out to get you," linebacker Curtis Grant said. "Purdue seems like that, since the last two years that I've been here. They're always out to get us. I'm not expecting anything less."
Purdue head coach Darrell Hazell has put a big emphasis on the month of November and how it can define a team's greatness. During his two seasons at Kent State, the Golden Flashes were 8-2 in football's most important month.
Jim Tressel might not be on the opposing sideline, but Hazell's still keen on what Ohio State's philosophies are and players' tendencies. Carlos Hyde's full attention is on the Boilermakers. He called the remainder of 2013 a one-game season.
"We can't take any opponent lightly because we're Ohio State, so people are going to give us their best shot," Hyde said. "That's what I expect. I don't expect teams to come out and just lay down. I feel like they're going to come out and give us their best shot, and that's what I want. I want teams to come out and give us their best shot, so when we win, we say we beat them with their best shot."
Hyde may want to be careful what he wishes for on Halloween weekend in West Lafayette.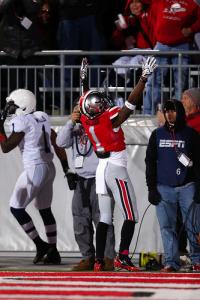 Wilson on the Verge
A few short weeks ago, Meyer did his best to provide motivational fodder for Dontre Wilson. In July, Wilson was already being hailed as an offensive savior, a playmaker who might score every time he touched the ball. While he's shown flashes of that dynamic ability, Wilson still hasn't had a breakout performance.
Meyer called for a better understanding of the offense, more blocking and other contributions from Wilson. He referred to the true freshman as a novelty, someone who was limited in his on-field ability. On Saturday night, it was clear Wilson heeded the advice. In Ohio State's 63-14 win over Penn State, Wilson finished with 96 all-purpose yards, including a 35-yard touchdown pass. But that wasn't all, as Meyer pointed out. 
"On one of our big plays, he was blocking," Meyer said. "That means he's learning to be a full-time member."
Wilson earned Big Ten freshman of the week honors for this performance and also graded out as a champion, according to the Ohio State coaches.
Meyer is happy with the progress, especially when it comes to Wilson's size. He's already gained 15 pounds with more muscle to be added in the offseason. It basically elicited a "you ain't seen nothin' yet" from Meyer.
"He's pretty lethal with the ball in his hand," he said. "Wait until you see him next year. We'll get him big and strong. He's one of those guys you have to have around.
"He's an energizer. I don't want to say I mandated it, but he'll be used more and more and more. He played very well. He carried the ball well and all that. But he did a lot of things well."
After recording 116 yards from scrimmage at Cal – the most of his still young career – Wilson disappeared. Meyer alluded to Wilson's limited skill set as being the reason why. So on the practice field and in meeting rooms, Wilson applied himself even more. He immersed himself in the playbook and became what Meyer calls "a great practice player."
In the second half, Wilson stepped up and sprung Jordan Hall loose for a touchdown. It was a maneuver you wouldn't have seen from Wilson as recently as a month ago.
"I'm going harder and harder at practice every week," he said. "Coach wants me to be a more complete receiver and that's what I'm doing. I'm getting a lot more opportunities to show everybody what I can do. I always went hard at practice, but lately I've been blocking a lot better."
Still, that breakout performance has stayed in the background. It took Ted Ginn Jr. time to burst on to the national scene, too, and Wilson believes his time is on the horizon.
'It's close," he said. "Every game I get a little more opportunities to make plays and [against Penn State] I got a lot of them."
Facing a young, inexperienced defense this coming Saturday, Wilson's time could come at high noon. Speed is not a hallmark of the current program in West Lafayette.
"I love scoring," Wilson said.
Demise of Defense Greatly Exaggerated 
They say history often repeats itself, and for the Ohio State defense that may very well be happening. The maligned unit struggled throughout the first half of last season before turning this around. Could the same story be written in 2013?
On Saturday night, the Buckeyes limited a Penn State team that had beaten Michigan the previous game and scored 40 points to 14 points and 357 yards of offense. All three facets – defensive line, linebackers and secondary – delivered noteworthy performances. For a secondary that's faced mounting criticism, rendering an All-Big Ten wide receiver irrelevant was a step in right direction.
"That gives you a lot of confidence," defensive coordinator Luke Fickell said. "We tell our guys football is a game of momentum. Where it comes from, who knows. At times you've got to create it yourself. The key is once you get it, you've got to keep it."
With Purdue and Illinois on the schedule before pass-happy Indiana, the secondary has a chance to regain its footing and instill poise into his demeanor. In their past two games, the Boilermakers have not taken a snap inside the red zone. The opponents' 24-yard line is the closest they've come.
"We haven't been able to finish drives all season," Purdue head coach Darrell Hazell said. "I think we're making strides, but we're not making enough plays."
Now comes an attacking defense that's chomping at the bit. Ryan Shazier is one of the top blitzers in the country, Noah Spence established his dominance last Saturday and the rest of the defensive line continued its stellar play. Also a component was Meyer's input in the defensive meeting room.
"I think it brings a lot to us," Fickell said of Meyer's presence. "The more ideas and minds in the room, the better, especially when it comes from someone with a different perspective. Sometimes coming from the offensive perspective gives real insight. It's tough at times, but the reality is it elicits conversation. We want it. We really enjoy it. Sometimes it's tough, but the reality is it makes us better."