Welcome to another beautiful Tuesday night around the 11W campfire, the night we talk recruiting and Ohio State and all the news that's new. If you're unaware, I have a propensity for rambling, my aimlessly meandering prose often unnecessary, but for the sake of brevity and increased question answering, I'm going to do my best to reel that in tonight. 
Let's get started, eh?
(Oh yeah, I didn't answer any questions about Raekwon McMillan in here, because as of now he's not talking about his trip to Ohio State yet. I'm hoping to hear from him this evening after he's been back home and settled. I promise, when I have actual news about his visit, I will talk about it, and knowing me, it will be at length.)
63-14 = Holley? - IDontSmellGood
As Lee Corso would say, "Not so fast my friend." Holley's mind, while not made up, is unlikely to be impacted by one game — and that goes for Penn State's emotional win against Michigan, too — especially one he was not personally attending. Holley, it appears, will be making a trip to Florida still before he makes a decision, but I'd expect this one to come down to Ohio State and Penn State in the end. Right now, I still think the Buckeyes have a slight edge over the Nits, but it's far from a done deal. 
What did you learn about Solomon Thomas' visit that made you pick him to commit to OSU? - Ahh Saturday
With Thomas, it's really not a matter of "I heard this or that," it's just an educated guessed, reading tea leaves and trusting implicitly in the product that Ohio State is selling and the men in charge of selling it. If you're a high school senior in Texas, who had already been to Ohio State once this year on your own dime, and you choose to make that trip again — and again on your own dime — it's a pretty good bet you're not just trying to get frequent flyer miles.
Combine that with Ohio State's desire to add another defensive lineman, Thomas' versatility at 6-foot-3, 260 pounds and the fact that he's said he still would like to make another — an official — visit to Columbus and it's impossible to dislike the Buckeyes' odds. Thomas is not a player that talks much about his recruitment, but the facts here indicate a keen interest in the Buckeyes. Trust Urban and his staff and good things will happen more often than not. That's why I moved my "crystal ball" pick on Thomas to Ohio State.
If you had to pick now, who do we end up with on NSD? - AlMurray10
I feel like each day the answer to this question is almost the same, but there's always a couple variables. As of today, right now, I think you write down Marshon Lattimore and Erick Smith in pen, Raekwon McMillan, Thomas Holley and Chad Mavety in pencil, and then you hope a magic marker brings you Solomon Thomas, Tony Brown, Josh Malone, etc. I do think six more commitments will happen, but if any of those first five guys go elsewhere then things change again for the last time.
What is going on with the OL recruiting? What is the OSU hierarchy of the offensive line recruits? - Ethan
What's going on is simple: Chad Mavety needs to decide what he's doing, and we're a few weeks away from that happening. He will visit Florida State this weekend when the 'Noles take on Miami and this weekend goes a long way towards figuring things out. Ohio State is in a good position with Chad and still has his official visit at the end of November, so I like where they sit. After Mavety, I think it's a scramble to the next best option, whether that's Avery Gennesy, Frank Ragnow or a local kid like Brady Taylor is anyone's guess. I personally would like Taylor to be the next guy after Mavety, because I think his upside is tremendous, but is committed to Virginia Tech.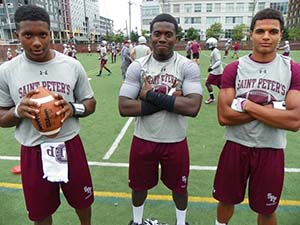 Who do you see as the next commit for the 2015 class? What is the timeline for that commitment? - Mirror Lake Jump
My current selection for the next 2015 commitment is Jamel Dean, the nation's 17th-ranked cornerback in 2015. Dean is from Cocoa, Florida and has been to Ohio State twice since July. He is very enamored with Ohio State, has a Buckeye offer and told me recently he's not even really looking at or thinking about other schools. If Ohio State is willing to accept his commitment, I think he's the next one and I think it could happen soon, maybe even before December.
Thoughts on Tony Brown? - Zebiraross
Brown made an unexpected official visit to Ohio State last weekend and I know from talking to a couple of people (not Brown himself, I've not been successful in getting him on the line) that he really did have a great time in Columbus and that the Buckeyes made a move up his list. That said, there's a number of issues preventing him from easily heading north, including some family issues that will likely keep him closer to home.  LSU is the leader here, with Texas A&M on their heels from what I understand. The Buckeyes have coveted him for a while, and he's a personal favorite of defensive backs coach Kerry Coombs. I wouldn't expect him to end up in Columbus, but I wouldn't expect the Buckeyes to back off here until signing day, either. 
It seems like a couple recruits were close to committing during their visits this past weekend.  What two or three prospects (2014 or 2015) would you classify as being on the verge of committing to OSU? - ATXBucknut
I already named one above in Jamel Dean, but the other two that came across as the most impressed were St. Peter's Prep (New Jersey) teammates Brandon Wimbush and Minkah Fitzpatrick. I truly believe that were this not their first visits (anywhere) for a game, they might have each pulled the trigger for the Buckeyes. I think Ohio State put themselves in really great shape for each of them, as well as Kennesaw (Ga.) quarterbacked Lorenzo Nunez. 
With you changing your prediction of Johnnie Dixon to Alabama, does that mean there is a different wide receiver you feel confident about us landing? Maybe a kind of surprise like Malone, Smith, or Rudolph? - NorthwestOhioBuck
My feelings on Dixon haven't really changed, but I think the priorities have for Ohio State. Dixon has been at the top of their wide receiver wishlist for a while, but as numbers tighten they will have to make some difficult decisions. Dixon has a lot of family and friends pulling for him to stay a bit closer to Florida, so despite Ohio State wanting him and the fact he has an excellent relationship with the staff at Ohio State, I think ultimately he chooses Miami or Alabama, where he's yet to make an official visit. Ohio State has options at wide receiver, but I think it's a position that is the least important when it comes to remaining targets, especially with Terry McLaurin, Parris Campbell, Curtis Samuel, Noah Brown and Lonnie Johnson all in the fold.
Do you think CJ Conrad gets an offer before the summer? - BeCool12
I do, actually. Conrad is a prototypical Ohio State tight end, big bodied and capable of catching the ball in traffic and helping in the running game as an extra blocker. The current Buckeye staff handles in-state recruiting much differently than the Tressel staff did, and Ohioans looking to play football at Ohio State will have to adjust their expectations. The Buckeyes may very well look to add two tight ends in 2015, and Conrad is a good fit. I think, as long as he stays patient and doesn't let the perception that he's being "overlooked" put a chip on his shoulder, he'll get an offer in the spring or at an early summer one-day camp. 
What are the early predictions and outlook for our 2015 QB?  Is it Nunez, Wimbush, Gibson, and in that order? - Knarcisi
From the outside looking in, Wimbush and Nunez are running neck-and-neck right now, each of them has an offer and each of them is very high on Ohio State. They run similar offenses to what the Buckeyes run and the Ohio State staff has evaluated them both in person before they were offered. Either candidate is worthwhile and I'd be flat out stunned if the Buckeyes didn't get one of the two, despite a long ways to go before they are able to put them names on the dotted line.
Torrance Gibson, as I've said before, might be the most talented athlete in the country for 2015 and in my opinion would be the best wide receiver prospect in the class if he'd allow himself to be convinced to play the position, but he's not. He wants to be a quarterback and while he could be a good one under center, it depends on what Ohio State is willing to tell him, what compromises are made about his future. He's a good enough player that you say "Hey, just come here and we'll figure it out," but he's also smart enough to know that people are going to try that. 
There are other options at quarterback, and I think the Buckeyes will try and take two for 2015, whether it's two "pure" quarterbacks like Wimbush/Nunez or one of them and an "athlete/quarterback" like Gibson, Kai Locksley or Jauan Jennings, who also visited this past weekend and had a good visit. I'm a real big fan of Kentucky's Elijah Sindelar, as well. I think he's a viable second quarterback option.