Well that was fun, wasn't it? What a show by the Buckeyes offense, defense — and of course TBDBITL — last night at Ohio Stadium. Ohio State couldn't have picked a better time to have their most complete performance in years as the eyes of the nation, as well as dozens of the nation's top recruits, were fixed along the banks of the Olentangy.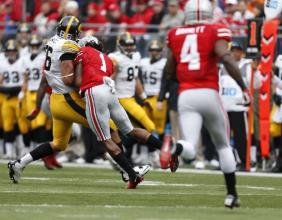 With so many recruits and so little time, we'll cut the cute and jump to the goodies. We'll do this a bit different than a normal Sunday due to the large number of prospects in attendance.
THE UNEXPECTED VISITORS

When you're playing a huge game on national TV at night, you're almost always going to get some unexpected last minute attendees, and for the Buckeyes and Penn State, a couple of the nation's premiere defensive ends in the 2014 class were among the late deciders, Coppell (Texas) native Solomon Thomas and Detroit Southfield High School star Malik McDowell. 
What to make about these two arriving on campus without the usual week-long hype? With Thomas it's actually pretty encouraging, he's long been worth "watching," but this was his second unofficial visit to Ohio State and the rumors are that he will still return to campus for an official visit down the line. The Buckeyes, as well as Stanford and Texas, are the front-runners for Thomas, who is about as interested in talking to media types as I am in wearing high heels for a weekend run. Outlook: Positive
Malik McDowell is the state of Michigan's top player according to 247Sports.com and his visit to check out Ohio State has been in the works for a while as the Buckeyes' coaching staff has not given up their pursuit of the 6-foot-7, 290 pound lineman. McDowell is another player that doesn't talk much, but it's clear he's still interested in Ohio State despite Michigan being the clear-cut leader here. Outlook: Not Likely
Tony Brown from Ozen (Texas) was another late-week addition to the huge recruiting weekend at Ohio State, and he's a player that the Buckeyes have been chasing hard after for a long, long time. While LSU and Texas A&M are the teams to beat, the Buckeyes chased Dontre Wilson to the end a year ago when there was "no chance" he'd up anywhere but Oregon, remember? 
Brown being on campus is a huge step in Kerry Coombs' chase for him, and the Buckeyes accomplished that this weekend. If Brown were to go away from home a bit, Ohio State is a possibility, but that's not likely. Outlook: Not Likely, but not because he doesn't like Ohio State
2015 ON TAP

If you looked at our recruiting visitors list last week, then you're aware of how many Buckeye targets were in attendance this weekend, including a number of major 2015 prospects from all over the country. Four Buckeyes quarterback targets, including two with scholarship offers, Georgia's Lorenzo Nunez and New Jersey's Brandon Wimbush, were at the top of that list. It was a memorable trip for each of the signal callers and it's a weekend that could pay big dividends down the road for Ohio State.
"It (committing) definitely was lingering in my mind," Wimbush told 11W after his trip. "It was awesome, I had a great time there. It was everything overall, the way they treated all the recruits, everything. This was actually the first game visit experience I've had this year and it will be the biggest one I'll attend this year."
Of course, for a player of Wimbush's caliber, there are other things to focus on for him and his St. Peter's Prep teammates. 
'I'm just going to get through this season but I could definitely see myself playing in that Ohio State offense. It is very, very similar to the offense I play in now."
Nunez, who had been to Clemson, Tennessee and Georgia already this fall, had an equally enjoyable trip, according to the Kennesaw native's father.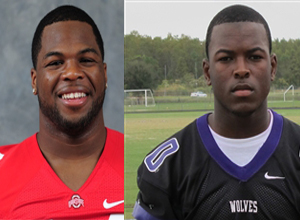 "Lorenzo was really impressed by the pregame speech by Urban Meyer to the players," Del Nunez said. "The fans at Ohio State seem so educated about the complete football experience, from knowing recruits to dressing up in costumes, they have Ohio State football in their blood. The fans at Ohio State were 'all in,' the cops on the street even knew who Lorenzo was. I think that Clemson's atmosphere is a bit more 'intimate' because the stadium is smaller, but they were both real loud."
Of course, there's more to recruiting than the crowd, recruiting is all about relationships and the Buckeyes' staff was in early on Nunez and it's an effort they've been maintaining.
"We really talk to (Ohio State quarterbacks coach) Tom Herman a lot. We really like him," Nunez said. "He seems like a really great guy and we liked watching him interact with the players, he is genuine and truly friendly. You can tell he's a good family man as well."
With reports surfacing that Nunez has the Buckeyes at the top for his services, the 6-foot-3 quarterback's father wouldn't quite say Ohio State is the team to beat, but there's reason for Buckeye fans to be optimistic.
"Well, I don't think we want to speak to that, exactly, we're not trying to alienate any (schools), however we're here (Nunez, his mother and father) on our dime, so that has to stand for something. We enjoyed the trip."
BABY CARLOS

It appears that Jacques Patrick, the 6-foot-2, 220 pound mega-monster at running back for Timber Creek (Orlando, Fla.) has a new nickname, bestowed upon him by the Buckeye coaching staff.
"I'm 'Baby Carlos,' to everyone up there," Patrick said following his visit. "They all told me that we look alike in the face and everything. It was a fun trip, I had a good time."
With scholarship offers from near 50 different schools, Patrick is among the nation's most sought-after 2015 prospects in the country, and like Hyde, is a Florida-native that could end up toting the rock in big games for the Buckeyes. Yes, the common perception is that Patrick will stay in the Sunshine State, but he continues to be impressed by what the Buckeyes have to offer.
"Ohio State is still among my top schools" Patrick added. "I kind of had an idea of how it was going to be up there, but the atmosphere was crazy. My favorite part of the trip was just the chance to spend time with Coach (Buckeye running backs coach Stan) Drayton.  This trip definitely made me more comfortable thinking about Ohio State. The way they run the ball in their offense looked great."
CONRAD CONTINUES TO LOOK FOR BUCKEYE OFFER

Lagrange (Ohio) Keystone tight end C.J. Conrad is the top talent at the position in Ohio for 2015 and he's made the trip to Columbus a regular one. He was back in the stadium Saturday night as the Buckeyes hosted the Nittany Lions and was once again impressed by the atmosphere. He was on hand for the Nittany Lions' big win against Michigan two weeks ago, but said to make a comparison between the two is hard to make.
"It's tough to compare because Ohio State had the game (in hand) by halftime so the crowd didn't really get into it much at the end," Conrad said. "But pregame and first half it was very similar. They are both crazy places to watch a game."
Ohio State is, as usual, moving slowly with in-state prospects and Conrad is no exception, despite his offers from a number of BCS-level schools. This past week they sent a request for Conrad's transcripts, a good sign for the 6-foot-5, 225-pound who hopes to eventually get a Buckeye offer. Ohio State is pulling no punches in their recruitment of Conrad and have let him know exactly what will happen next.
"(The visit) was good, I talked to coach Drayton a lot and he explained to me what my next step in the process was with them," Conrad said Sunday afternoon. "He said they're going to have me down for junior day, come watch me play basketball, and maybe a workout in the spring then we will go from there. Possibly a one-day camp in June."
Ohio State could possibly be adding two tight ends for 2015, and Conrad continues to be a primary target.
DEAN CONTINUES TO LIKE BUCKEYES
Cocoa (Fla.) 2015 defensive back Jamel Dean told 11W in July that Ohio State was at the top of his list of prospective schools following his visit for Friday Night Lights. With offers from Miami and Florida already to his credit, the Buckeyes being out in front should not be considered inconsequential. This weekend, Dean made a return trip to Ohio State and it appears things are still trending Ohio State's way.
"I loved being in that atmosphere," Dean told Eleven Warriors. "It wasn't even that cold, I could get used to that."
Dean was another prospect that had committing on his mind after the Buckeyes big win, but he decided it was best to take that feeling home and think it over.
"I thought about committing," he said. "The Buckeyes are still my favorite. I got to spend some a lot of time talking with Coach (Tim) Hinton, but I spent time before and after the game with the whole staff. I've been to other games, but there was nothing like Ohio State."
TINY TIDBITS

The names that are most known among Ohio State offensive line prospects have been rehashed here over and over: Mavety, Prince, Bookser. You can add another name to the list of possibilities as another of the nation's top JUCO talents, Avery Gennesy from East Mississippi Community College, made his official visit to Columbus and left putting Ohio State in his top two schools.
"It was probably the best (trip he'd been on) to be honest," Gennesy said of his Ohio State visit. "The people were great, the city was great. Just the whole nine-yards. The thought to commit did cross my mind a little bit, but I need to look at every option and make sure I am making the best choice for me. Ohio State is in the top two along with Texas A&M."
Gennesy, a 6-foot-5, 307 pound lineman, has already made visits to Ole Miss, Tennessee and Texas A&M. He will take one more official visit but says he's not yet decided where that visit will end up. He says he'd like to decide towards the end of November.
---
Bryce Love from Wake Forest (N.C.) is one of the nation's quickest all-purpose backs for 2015 and has been very anxious to see Ohio State since his offer from the Buckeyes about two weeks ago. He didn't waste time getting on campus and made the trip to Columbus this past weekend.
Love said that the Buckeye trip was "amazing," and that the visit would be hard to top for any other schools. There's a long way to go in his recruitment, but he's very high on Ohio State and is worth paying attention to.
---
Cincinnati Colerain 2014 linebacker Tegray Scales has offers from Oklahoma, Wisconsin, Boston College, West Virginia and more, but until recently Scales had not had much contact with the Buckeyes. Lately though, Ohio State has been making it known they are still interested in the 6-foot-2, 215-pound linebacker — perhaps as a failsafe in the event that Raekwon McMillan were to choose elsewhere — and they wanted him on campus this weekend but Scales was unable to make it, focusing instead on his Colerain team's schedule.
"Ohio State said they've been thinking lately about offering," Scales told 11W. "They want me up there for a visit, I have been there in the past." 
---
Brandon Wimbush made his visit with his high school teammate and fellow Buckeye offeree, defensive back Minkah Fitzpatrick. Another top 2015 prospect, the 6-foot, 185-pound Fitzpatrick is the nation's fourth-ranked cornerback for 2015 and picked up a Buckeye offer over the summer. He's been hearing regularly from Ohio State and like his teammate, the visit was the first for Fitzpatrick during the season.
"Yes, absolutely," Fitzpatrick said when asked if the visit lived up to the expectations. "It was real nice. I liked the stadium and fans but I think my favorite part was today talking with Coach Coombs. He's real focused and straight-forward; no nonsense. I like that a lot, it's really important to me." 
Fitzpatrick could be a key early pledge for the Buckeyes on his own merits, but the relationship between he and Wimbush does make things interesting. While there's not been much talk between the two of them about being the dreaded "package" deal, it's something that will inevitably be discussed.
"I promised my family a second visit anywhere I would think of committing to," Fitzpatrick said of any thoughts about committing this weekend. "When I commit that's it, I'll be done, but I will definitely be going back to Ohio State. I talked to the coaches and I plan on attending a practice in the early spring."
MORE TO COME

As we get more information from some other top recruits on campus this weekend (namely Raekwon McMillan and Richard LeCounte) we'll continue to update you in our forums. If you want to get a little immediate feedback from some of the prospects who we've touched based with, we've got a little running thread here. I also hope to have an update about Tennessee's Jauan Jennings and South Carolina quarterback prospect Kelly Bryant.