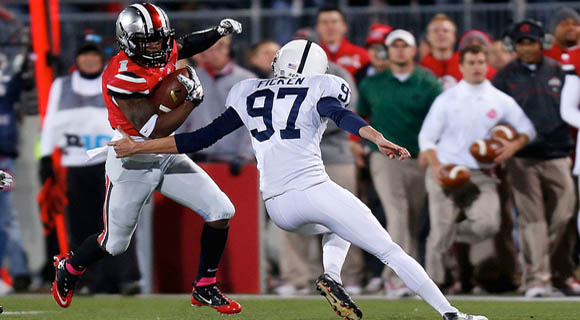 Ohio State partied like it was 1899 all over Penn State Saturday night, pushing the team's win streak to 20 games – and 21 for head coach Urban Meyer. Here are 20 GIFs to help you relive one of the better nights in Ohio Stadium history.
Ohio State received the ball first and just 90 seconds in, Braxton Miller found a wide open Devin Smith for 36 yards. The play was originaly ruled a touchdown, but Smith stepped out at the 1.
No worries. Carlos Hyde rumbles in two plays later to give the Buckeyes an early 6-0 lead.
DA BEARS
Corey "Pittsburgh" Brown recorded his first interception on the ensuing Penn State series, killing a promising drive for the Nittany Lions.
Ohio State was forced to punt on their next possession, but not before Marcus Hall killed a man.
On the Buckeyes' next possession, Miller takes it 39 yards to put Ohio State up 14-0.
Pennsylvania native Noah Spence had a monster game. Here he is recording one of his two sacks on the night.
On the very next play, Penn State quarterback Christian Hackenberg threw his second interception of the night, this time to safety C.J. Barnett.
Miller and the Buckeyes quickly capitalized on the turnover.
Ted Ginn, Jr. and Boom Herron take enjoying the evening.
After forcing yet another Penn State punt, Miller found a wide open Chris Fields for a 3-yard touchdown to put Ohio State up 28-0 four minutes into the 2nd quarter.
Penn State would get on the board, but Dontre Wilson returned the ensuing kickoff 49 yards to put Ohio State in business at the Penn State 45.
Two plays later, Hyde went 39 yards for his second touchdown of the night. 35-7, Ohio State.
The Buckeyes received the ball with 55 seconds remaining and quickly marched down the field. With nine seconds remaining in the half, Miller took the snap and found Philly Brown on a skinny post to make things a 42-7 affair.
Braxton pulled out the double gunz to celebrate the late score.
Urban Meyer liked what he saw, too.
The defensive line was in Hackenberg's face all night. Here's backup end Jamal Marcus blowing up a block, leading to a Ryan Shazier sack.
Midway through the 3rd quarter, Miller found Wilson for this 26-yard catch-and-run to put the Buckeyes up 49-7.
Ohio State didn't take the foot off the gas when the backups arrived. Here's quarterback Kenny Guiton getting his second touchdown of the night for Ohio State's final points.
The driveby handshake.
---
Want more GIFs from this game? Head to the Penn State GIF Overflow.
[Photo: Kirk Irwin Photography]