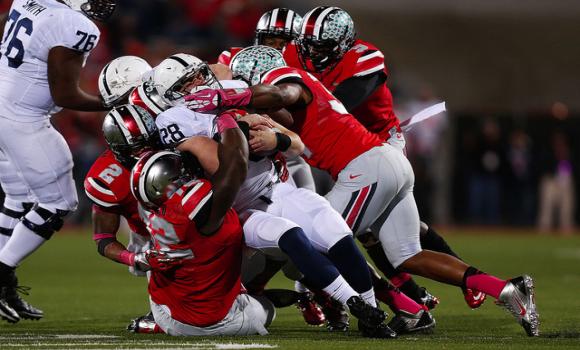 COLUMBUS – After the release of the initial BCS standings, the first reaction in Central Ohio was one of fury. How could undefeated Ohio State be so disrespected?
The fact was the Buckeyes just hadn't delivered a prodigious effort this season. Well, the lack of a statement win is over. Ohio State's 63-14 throttling of Penn State was historic on many fronts.
Week 2 of the BCS isn't likely to have much change. Oregon might jump Florida State for the No. 2 spot, but the Buckeyes will almost certainly stay stuck at fourth. The fun is just beginning, though.
Next weekend marks the beginning of November. In college football parlance, it's akin to the month of March and college basketball. Champions emerge and pretenders fade.
"We don't worry about it," safety C.J. Barnett said about the BCS rankings. "Honestly, we just focus on the task at hand and next week that will be Purdue. All the other stuff will take care of itself at the end of the season."
Head coach Urban Meyer knows from past experiences how important winning and winning big is. But that isn't the approach Ohio State took to the field.
"It helps," he said "But that was not certainly our mindset. Our mindset was to find a way to win this game against a very talented team that we have a lot of respect for that had a lot of momentum coming into this game."
Braxton Miller: "We've got to keep our foot on the pedal."
Devin Smith: "We wanted to make a statement."
Penn State had never given up 40-plus points in three straight game until Saturday. The Nittany Lions had not allowed 50 points since 1988, they hadn't surrendered 63 dating back to 1920 and they gave up the most yards – ever: 686.
"I take full responsibility for this loss," Penn State head coach Bill O'Brien said. "We didn't prepare them enough as a coaching staff and we did not play well enough. We have great kids and they never quit and we'll put this one behind us, learn from it and get ready for Illinois."
When you glance at the final score, it's hard to pinpoint one play where it all went back. But if anything, it was when Penn State drove down the field in the first quarter attempting to answer an Ohio State touchdown. But on third down from the Buckeye 12, Christian Hackenberg got greedy. It ended with a Pittsburgh Brown interception.
"I just saw the quarterback staring [tight end Adam Breneman] down," he said. "He threw the ball and I was just in the right position to make the play. I knew it was a big play for our defense and our team."
Everyone's been pining for more playing time from Dontre Wilson. Now they finally got it, and he responded with a 49-yard kick return and a 26-yard touchdown reception. Urban Meyer wanted Wilson to improve in other aspects, not just playmaking, and it sounds like Wilson heeded the message.
"As I continue to progress in practice I am beginning to see more playing time because I am working towards it," Wilson said. "I've started to block a lot better."
The entire defense had its best overall game of the season. It started up front and the return of Tommy Schutt has been a factor.
"We all want to stay healthy and make sure we all are doing well," he said. "We all can play and make plays. Everyone knows they can be called on at any time."
Whether voters are left impressed or not will be learned. O'Brien has seen Ohio State up close now and believes they're near the top of the nation.
"They're a good football team. No doubt about it," he said. "Ohio State has good speed, good athletes and coached better than us. Miller causes trouble when you let him get on the perimeter of the defense."
Ohio State 63, Penn State 14
Consider Meyer pleased.
"I like where we're at right now as a team," he said. "The most impressive part of the game to me was we caused turnovers and we hit the quarterback a little bit. We haven't been doing that."
Meyer on Miller: "I love where Braxton's at right now as a quarterback. Last year, I felt he was an athlete playing quarterback. Now, he's a quarterback."
"I feel comfortable in the passing game," Miller said. "It's just exciting to see the guys get the ball and do something with it."
---
[Photo: Kirk Irwin Photography]