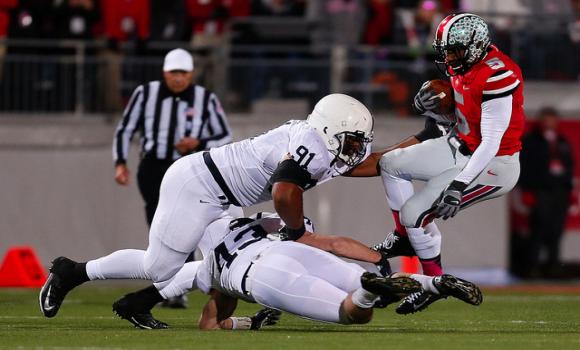 COLUMBUS — Mobile quarterbacks and Penn State don't mix.
Last season, Braxton Miller had one of the best showings of his career, and it came in a whiteout at Beaver Stadium, easily one of the most hostile environments in the country. It's as friendly to a quarterback as a great white shark is to a seal.
But Miller stood calmly and delivered darts to his receivers in between backbreaking runs. The topper was a stutter-step inside the 5-yard line and ensuing dive into the end zone. All told, he tallied 134 rushing yards and two touchdowns and 143 yards passing and a score – a 72-yarder to Jake Stoneburner.
On Saturday night, Miller one-upped himself in a 63-14 Ohio State victory. Full of confidence, he picked apart the Penn State defense and turned in his most complete game as a Buckeye. Miller completed 18-of-24 passes for 252 yards and three touchdowns, adding 68 yards rushing and two touchdowns.
"I love where Braxton's at right now as a quarterback," head coach Urban Meyer said. "Last year, I felt he was an athlete playing quarterback. Now, he's a quarterback."
In the Nittany Lions' last game out, they held Michigan running back Fitz Toussaint to a one yard rushing average, 27 yards on 27 carries. But the same couldn't be said for Devin Gardner. The quarterback ran for 121 yards and threw for another 240, totaling three touchdowns.
Before Blake Bortles led a second-half comeback at Louisville, he performed well in the Horseshoe in 2012. But the outing that got his name on the map and into Duante Culpepper territory was his embarrassment of Penn State. Central Florida amassed 507 yards of offense and had plays of 58, 49, 44, 36, 28, 26 and 21 yards.
Ohio's Tyler Tettleton – 371 total yards and two touchdowns – and Nebraska's Taylor Martinez – 171 passing yards, 104 rushing yards – also shredded a respectable Penn State defense.
Even with an extra week to compare, Penn State's defense was no match for the dynamic Miller.
"I feel comfortable in the passing game," he said. "It's just exciting to see the guys get the ball and do something with it."
The Nittany Lions' scholarship loses have made the linebacker position very thin. Depth on the defensive side of the ball has been a concern for Penn State dating to last season. In the second half, the defense has been noticeably tired. A heavy dose of Carlos Hyde didn't make it any less challenging for the Nittany Lions.
"We didn't prepare them enough as a coaching staff and we did not play well enough," Penn State head coach Bill O'Brien said. "We have great kids and they never quit."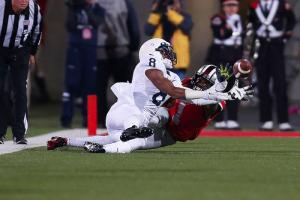 Roby-Robinson Stalemate
It wasn't the rematch because they didn't go against one another last season. Even on Saturday night, Bradley Roby and Allen Robinson weren't matched together exclusively. Doran Grant was also tasked with stopping the future NFL wide receiver.
Talent evaluators who watch film of Saturday night's game will be impressed by both Roby and Robinson – and Grant for future considerations. Robinson finished with 12 receptions for 173 yards, including a 65-yard touchdown. But a bulk of those yards came against the second-team defense.
In the Buckeyes' win in State College last year, Robinson tallied a modest five catches for 68 yards. Roby earned All-American honors for his lockdown ability at cornerback during Ohio State's 12-0 campaign last year. But his season has been forgettable up to this point.
First came a suspension over the summer that resulted in him missing the opener. He didn't start until Game No. 3 at Cal only to get torched by a true freshman quarterback. Ohio State allowed 34 points, 371 passing yards and three touchdowns through the air.
Two weeks later, Jared Abbrederis finished with a career night against Roby – 10 catches, 207 yards and a touchdown. Another so-so performance at Northwestern sounded the panic alarm. Then, Roby was ejected for targeting on Iowa's second possession last week. 
Roby has been out of position, beaten in one-on-one coverage and missed tackles. He entered the season as a first-round draft pick, but that stock has since tumbled. Prior to the Penn State game he had 32 tackles, two interceptions, and six breakups. Roby also blocked a punt and recovered it for a touchdown at Northwestern.
He tallied five tackles and two pass breakups against the Nittany Lions.
"It was an important game for me," Roby said. "I knew going into the game they had a good receiver on the other side and a lot of people would be watching our match up. I tried to make every opportunity when I went against him to come out on the winning side."
Robinson knew what awaited him. He called Roby instinctive and one of the top cornerbacks in the country.
"If he reads something, he's very aggressive with what he wants to do with it and how he plays out there, "Robinson said. "As a receiver, you have to make an extra effort to match his aggression."
What Can Brown Do For You?
Trailing 17-10 after a 30-minute slopfest last Saturday, the Ohio State locker room was not a happy place. Iowa had manhandled the defense and the offense had two drives stall, getting just three points out of them.
"It wasn't a pleasant halftime," Meyer said.
As the team was nearing its time to return to the field, a player stood up and spoke loudly and from his heart. That player wore No. 10, and he was someone Meyer wasn't too fond of a year prior: Philly Brown. But there was Brown rising up and being a leader in a time of crisis.
His message didn't include tears or resemble winning one for the Gipper. It was a simple and to the point – the Buckeyes were playing poorly and something had to change.
"I can't say the exact words that I used. There were some bad words in there," Brown said. "I told them what we looked like and what we needed to do. I promised the defense that we were going to score when we got the ball, and we did. I told them to get a stop, and we'd score again. That happened. I basically challenged everybody to come and execute the plan that I put in front of them, and they did it."
Ohio State's offense was never stopped by the Hawkeyes in the second half and the defense allowed only seven points.
It was a part of Brown that Meyer didn't know existed. Meyer said he would walk across the street to avoid Brown last year. When the message got back to Brown, he concurred. Coach and player didn't see eye-to-eye their first season together. Brown said it was a trust issue. Even though Meyer's track record was impressive, it's hard for someone to come in and immediately be embraced, Brown said.
Ohio State 63, Penn State 14
When Christian Bryant suffered a broken ankle in the waning moments of the Buckeyes' win over Wisconsin, it took a toll on Meyer. He loves his players and Bryant is near the top of the list. He's an emotional leader and a solid defender on the field. Who would fill the void?
"I keep looking for that next guy and I found him. It's No.10, Philly Brown," Meyer said. "He's 180 to where he was He's the absolute leader of this team, unchallenged, unquestionable. If you would have said that a year ago, we would have gotten into an argument because that's not who he was. But that's who he is no. He's all in."
But this isn't just a story about a guy who inspires teammates and urges them to get every last drop of talent. No, Brown is also an on-field producer. He was the team's freshman offensive player of the year and team leader in catches his sophomore and junior seasons. In 2013, he has a team-high 37 catches for 520 yards and seven touchdowns. He's also become a key blocker in the run game.
On Saturday night, Brown finished with four catches for 67 yards and a 25-yard scoring grab coming just before halftime. It was part of the new big-play Brown who's become a consistent receiver that's rounded out his skill set to be come a complete player.
[Photo: Kirk Irwin Photography]