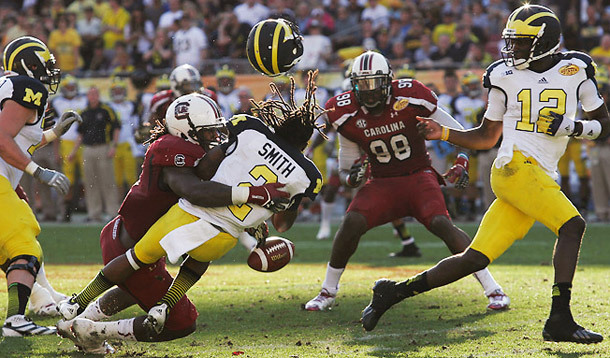 It's a hit that the average college football fan has seen tens of times. It's a hit that officially put South Carolina Gamecock Jadeveon Clowney on the map. Yet, not a lot of attention is paid to the unfortunate soul who ran into that unblocked freight train: Vincent Smith. From Yahoo!:
 During his time at Michigan, Smith and teammate Martavious Odoms came up with the idea to build community gardens back home after they graduated. The goal was to provide food to locals who needed it and sell the rest. It was a more sustainable form of the rabbit chase: instead of hawking skins for $2 a pop, they could sell produce and maybe create jobs.

... The mayor was all for it, and the first shovel hit the ground this summer, only a few weeks after Smith graduated. Walkes drove by the first garden recently and saw several people working on it. To him it's a shining example of what a college scholarship is worth not only to an athlete, but to an entire community.

"When you have good players, usually they leave the small communities and go off to big cities and they get soaked up by big city," says Walkes. "He didn't get soaked up. He came home. We're proud to have him. A lot of kids look up to him and want to be like him. They'll want to come back and build the community itself." 
Smith said he kept his chin-strap loose, which led to his helmet flying off when Clowney lowered the boom. He says it wasn't the hardest hit he's ever taken and has only seen the play "a few times." In all, it appears he's taken it in stride. (It's assumed he stopped watching SportsCenter for six months afterwards.)
The hit, while may have been a college career defining moment for Clowney, certainly doesn't apply to Vincent Smith. And despite his horrendous choice in colleges, it's good to see he's moved on to bettering his community.