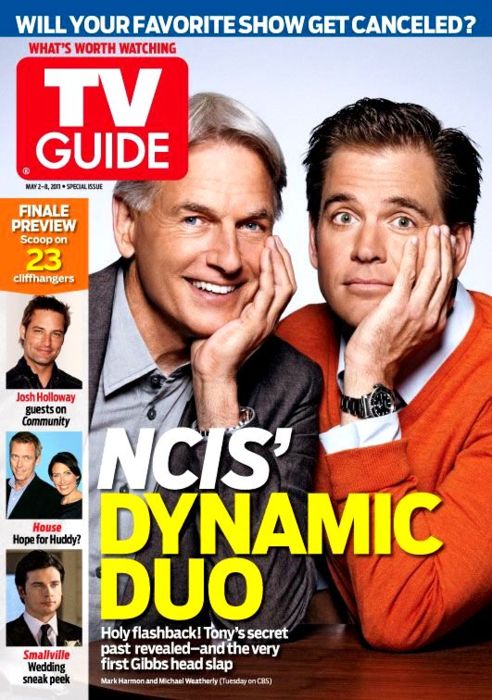 It's Week 9 in college football. The first BCS standings are out, and, unsurprisingly, Ohio State needs some help. Not only are voters unimpressed with Ohio State's accolades to this point, but the computers are not impressed as well.
Help may come in the form of Oregon dropping a home against UCLA this week. Help may also come in the form of Florida State, well, "Florida State-ing" it (HT: Rece Davis) this week against a hapless North Carolina State squad. If Tennessee wants to defeat Alabama in Tuscaloosa on Saturday, that would be cool too. However, all those things we need are unlikely to happen this week. All three teams are home favorites.
Importantly, Ohio State needs to take care of business with Penn State this weekend in what will be Ohio State's final night game of the season. Penn State enters Ohio Stadium with some pep in its step. Its last game was the four-overtime upset of Michigan for Penn State's Homecoming, marking the fourth straight victory for the Nittany Lions in the series. It was previously zero for its last nine in the series. Taking a bye this week, the Nittany Lions are hoping for more this Saturday.
In honor of the Nittany Lions, this week's TV Guide cover features NCIS. The show was created by Donald P. Bellisario, Penn State class of 1961. Bellisario also gave you such big TV hits like Magnum P.I. and Quantum Leap... and, well, Airwolf and JAG.
Michael Weatherly's character on NCIS, Anthony DiNozzo, is an Ohio State graduate and former basketball player whose career ended with a Final Four loss to UCLA, Mark Harmon's alma mater.
Here is your schedule for this weekend.
Tuesday
We first got early weekday football last week when Louisiana-Lafayette visited Western Kentucky, and used the second half of that game to win convincingly at Western Kentucky. This week, Louisiana-Lafayette hit the road again, this time to Jonesboro, Arkansas. It wasted no time making short work of the Red Wolves. Minus a few errors that led to Arkansas State's only score of the game, the Ragin' Cajuns were never much challenged in that 23-7 road win.
If you're following along at home, the consecutive road wins put the Ragin' Cajuns atop the Sun Belt conference, and almost in cruise control for the conference championship. Louisiana-Lafeyette will host the only remaining challenger of note, Troy, in its next conference game on November 7.
Thursday​
Kentucky @ Mississippi State (ESPN, 7:30 p.m.). Well, well, well. The SEC is on Thursday night football this week.
I don't think the conference could pick two less interesting teams to showcase on Thursday night. Along with Arkansas, Kentucky and Mississippi State are the only teams in the SEC to not have accomplished anything this young season. Neither have anything for which to boast, unless you permit Kentucky fans the liberty to talk about their recruiting national championship they won in the month of June. Kentucky's one win of the season was against Miami of Ohio, which sacked its coach at the beginning of October.
Mississippi State is 3-3, but its three wins are against Alcorn State, Troy, and Bowling Green. Its last game, against Bowling Green, went to the wire in a 21-20 win. I still think Dan Mullen's seat is hot, even if Mississippi State is the one school in the SEC with the least amount of resources to compete with the big boys. It's a perilous move to can him, but every other school is running laps around it right now.
With that in mind, here's SEC football between two teams from different divisions that play each other every year for some reason. Yes, this game is a protected cross-divisional game like Alabama-Tennessee, Auburn-Georgia, or Florida-LSU.
If you wish to not watch SEC football based on principle, Marshall's game at Middle Tennessee State begins at the same time on FOX Sports 1.
Friday​
Boise State @ Brigham Young (ESPN 8 p.m.). It will be hard for Boise State and Brigham Young to top last week's Friday night game, which saw the Louisville Cardinals knocked from the ranks of the unbeaten. I'm sure they'll give it a try.
I can't wait for VH1's "I Love the '00s Strikes Back!" series to eventually come, in which Michael Ian Black and Loni Love remind us that Boise State football was a thing. The Broncos are still good at the mid-major level, but no longer good enough to beat the big boys. That 38-6 loss to Washington to open this season, as well as the season-opening loss at East Lansing last year, speak to where Boise State is now vis-a-vis what it was Kellen Moore was there. The Broncos are 5-2 on the season.
Brigham Young is also 5-2 on the season, though the losses at home to Utah and at Virginia are still head-scratchers. If for no other reason, Ohio State may want to pay careful attention to Brigham Young this game. Its defense is legit even if its offense is prone to error.
More importantly, BYU's next game is at Wisconsin next week.
Saturday​
Wake Forest @ Miami (FL) (ESPNU, 12 p.m.). Well, I'm sure this game will have talking points. Really, I think this game will have more talking points to discuss in ESPNU's booth than it will have fans in attendance.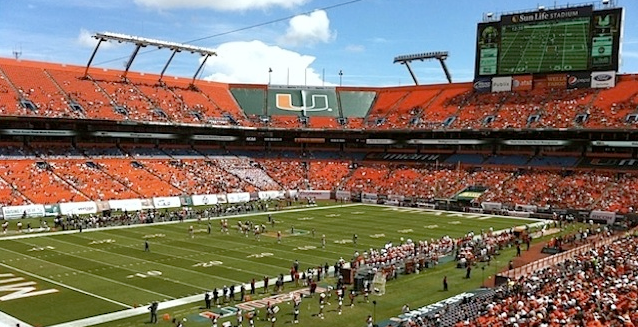 Oklahoma State @ Iowa State (Regional, 12 p.m.). This is the one game this week featuring a ranked team that is not being advertised by one of the familiar networks for college football. Even no. 23 UCF's game against Connecticut at noon is advertised on ESPN3. Oklahoma State is no. 19. Iowa State, meanwhile, is hanging by a thread. A week after losing to Baylor by a score of 71-7, its next loss drops it to 1-6 on the season. If you wish to watch this game, check your regional FOX Sports channels. I think those channels are where games like this are shown.
Louisville @ South Florida (ESPN2, 12 p.m.). Oof. Remember, last week when I said that the Friday night game against Central Florida was really Louisville's last chance to curry favor with poll voters on national television? Well, it failed. And, now, it's confined to mop-up duties against the dregs of its conference, starting this week on Saturday at noon against South Florida. The Bulls are 2-4 on the season, likely wishing it had never fired Jim Leavitt.
Nebraska @ Minnesota (ESPN, 12 p.m.). Minnesota finally got its first conference win last week with Jerry Kill in abstentia. Though he watched from the coaches booth, and gave a stirring post-game speech to his players, the win came from defensive coordinator Tracy Claeys' interim leadership.
The idea that Kill instilled in his team after its win against Northwestern was that there was greatness within them, provided they believe in themselves and improve each day in practice. However, those comments came post-Northwestern, and before Nebraska comes to town. Nebraska, fresh off a bye last week, may not make this game pretty.
Did you know? Minnesota leads this series all time, 29-22-2. I would not advise Minnesota fans to look at the final scores for any of those contests after 1960, though...
Northwestern @ Iowa (Big Ten Network, 12 p.m.). This game looked much more interesting before conference play started. Who knows what's happening in the brains of Northwestern's players, who started the season 4-0 only to flatline to 0-3 in conference play. If nothing else, this series did give us this wonderful YouTube video.
Tennessee @ Alabama (CBS, 3:30 p.m.). Butch Jones' rebuilding experiment in Knoxville finally got the marquee, program-building win that Jones was wanting when he took the job. Last week, Tennessee upset then-no.11 South Carolina on a last second game-winning field goal by Michael Palardy. It may have been the first good thing to happen to Tennessee football since the 2002 Citrus Bowl, the last time I can recall having to say something positive about Tennessee football.
However, all of those good feelings likely end when Nick Saban's defense bludgeons Tennessee's offense to death with a claw hammer.
Fun fact: Butch Jones is the fourth coach to lead the Volunteers into Tuscaloosa in as many trips (Phil Fulmer in 2007, Lane Kiffin in 2009, Derek Dooley in 2011).
North Carolina State @ Florida State (ABC/ESPN2, 3:30 p.m.). As I mentioned in the post's preamble, all the teams Ohio State would need to lose if it were to advance to a top two ranking in the BCS are all at home to significant underdogs. The only real intrigue is if a team like Florida State covers. The spread for this game is 31.5.
Clemson @ Maryland (ESPN, 3:30 p.m.). There's an argument among Clemson fans as to what exactly constitutes a "Clemsoning" these days. Is it what happened last week against Florida State? Though no. 3 Clemson was a slight underdog at home in that contest to the no. 5 Florida State Seminoles, it was routed 51-14.
Or, is a "Clemsoning" what could happen this week if it were to lose to Maryland, a 14-point underdog?
Whatever the case, Clemson's done in the ACC and national championship picture. I think this is a courtesy national broadcast before the season finale against South Carolina.
Texas Tech @ Oklahoma (FOX, 3:30 p.m.). This is the first of four games on Saturday to feature two ranked teams.
Texas Tech is actually still undefeated, if you can believe that. That it sits at just no. 10 in the rankings may be a commentary on who exactly it has defeated. Maybe its best win this season has been against Texas Christian, which was then the no. 24 team in the country. The Horned Frogs are now 3-4 on the season. It needed to pull wins from its hat against West Virginia and Iowa State, teams no one is confusing for good this season.
The game against Oklahoma, which has just the one loss on the season against Texas, will be the first team with a pulse that Texas Tech will play. Even then, that Oklahoma couldn't rebound to beat Kansas within an inch of its life doesn't speak well of how good of a team Oklahoma truly is.
Duke @ Virginia Tech (ESPNU, 3:30 p.m.). It's here if you want it. Someone's gotta broadcast ACC Coastal Division football.
Michigan State @ Illinois (ABC/ESPN2, 3:30 p.m.). It's Homecoming in Champaign for the Illini, but how dead is the Illini's pulse this season. It was arguably the surprise team of the non-conference schedule. The Illini entered Big Ten play at 3-1 on the season, with just the loss to a good Washington team in Chicago.
However, you can't fake defense anymore, and Illinois was faking it through non-conference play. In its two league games this season, the Illini have conceded a combined 999 yards of offense to Nebraska and Wisconsin. It lost those two games by a combined score of 95-51. The Illini can move the ball. They just cannot at all stop the ball being moved on them.
A loss to Michigan State would be the Illinois' third straight loss, dropping it to 3-4 on the season. Its remaining schedule does not provide many other opportunities for wins. It next goes to Penn State, and to Indiana, before hosting Ohio State.
UCLA @ Oregon (ESPN, 7 p.m.). This game got ESPN's College Gameday over Ohio State's game against Penn State in ABC's primetime slot. I'm becoming more and more convinced that Ohio State will not get Gameday again for the foreseeable future. It last came to Columbus in 2010, back when things with Kirk Herbstreit were cool.
Ohio State's most likely "best case scenario" for the Pac-12 is that whoever wins the Oregon-Stanford clash later this season wangs it against some other team in its league. Stanford went ahead and did us that favor a few weeks ago in its loss at Utah. We're all Stanford fans on November 7.
Ohio State's "best case scenario" for the Pac-12, regardless of probability, is that all the teams near the top start cannibalizing each other. So, can UCLA actually pull this off in Eugene? It's unlikely. Oregon is a 23-point favorite, at home.
That said, UCLA is the third best defense in the Pac-12 (357ypg) and is no. 31 nationally. However, Oregon has lit better defenses than that on fire in its recent past. UCLA allows 148 rushing yards per contest too.
South Carolina @ Missouri (ESPN2, 7 p.m.). Missouri started the season unranked, and with a near miss against Toledo. It is now the no. 5 team in the country, one spot below Ohio State. It went from unranked to "searching for a reason to rank Missouri above Ohio State" with a quickness.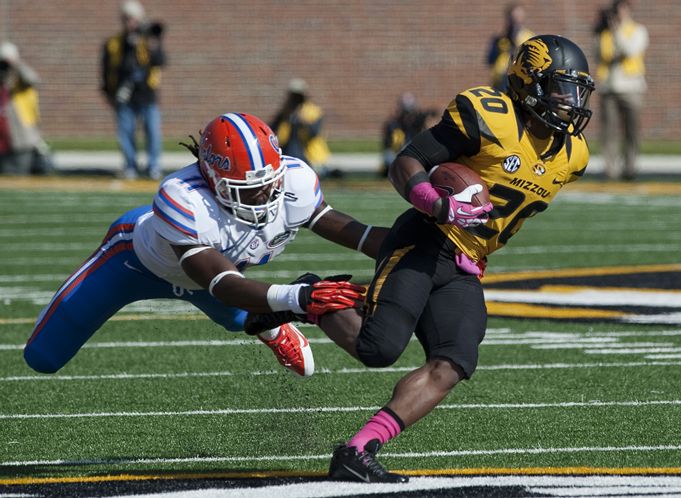 More importantly, Missouri is now two full games in the clear in the SEC East. South Carolina would otherwise enter this contest "controlling its own destiny", provided it did not lose to Tennessee last week. If South Carolina wins, it still needs Missouri to lose a game somewhere else on its schedule. The most likely candidate is Missouri's season finale against Texas A&M.
If, however, Missouri wins this game, it basically books them into Atlanta. Missouri's next three conference games are Tennessee, at Kentucky, and at Ole Miss before concluding the regular season in Columbia against Texas A&M. South Carolina would be effectively out of the picture completely.
Further, Missouri has tie-breaker wins over Georgia and Florida. Georgia and Florida would need Missouri to lose three of its next four games.
Baylor @ Kansas (ESPNU, 7 p.m.). The new shiny team in college football, Baylor is undefeated through six games and has put all teams it has played on full blast. The 71-7 win against Iowa State was the worst beating it put on a team.
However, Baylor's schedule has been basically garbage to this point. Unlike any other team I've seen in recent memory, Baylor really only has a November schedule. Take a look at it for yourself. In November, Baylor hosts Oklahoma, hosts Texas Tech, goes to Oklahoma State and Texas Christian, before finishing at home with Texas.
Its previous games include Wofford, Buffalo, a nice lady named Louisiana Monroe, West Virginia, Kansas State, and Iowa State.
Penn State @ Ohio State (ABC, 8 p.m.). This is your personal game of the week. Make sure to stay tuned for Eleven Warriors for a full preview and coverage of this primetime contest against the Nittany Lions.
Stanford @ Oregon State (ESPN, 10:30 p.m.). Your attention will be preoccupied with Ohio State's game against Penn State, though this game will be one of two West Coast games to start at 10:30 on the ESPNs.
Stanford got back on the winning track last week at home against UCLA, overwhelming the Bruins en route to a 24-10 victory. I think the prevailing question for this contest is if Stanford has another debacle left in it, much like Washington last year and Utah this year. Oregon State, which began the season by losing to an FCS team, has rattled off six straight wins. Even if we can qualify that the teams it has defeated in that stretch are bad at football (Hawaii, Utah, San Diego State, Colorado, Washington, and California), it at least amounts to something. The Beavers have the 9th-best offense in college football too.
Stanford has won the last three meetings. This is also the fourth of four games featuring two ranked teams on Saturday.
Fresno State @ San Diego State (ESPN2, 10:30 p.m.). Don't look now, but Fresno State is still unbeaten and sits right now at the no. 17 spot nationally. Right now, that is five spots below what Fresno State would need if it is going to get into the BCS.
Can it do it? All six BCS conferences will likely yield conference champions higher ranked than Fresno State, closing the door on the BCS possibility made possible last year by a 8-5 Wisconsin team being the Big Ten champion. More importantly, Fresno State doesn't play a team the rest of the way that has less than three losses on the season already. It would need to win out and hope for the best.
Meanwhile, San Diego State could do us a solid for our strength of schedule and win this game. The Aztecs have won three straight after beginning the season 0-3.
Sunday
Colorado State @ Hawaii (Regional. 12 a.m.). Wooo! Midnight football on the islands!