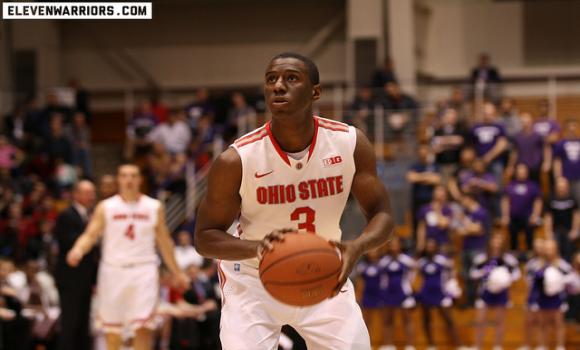 The Ohio State men's basketball team held their annual Agonis Club practice Tuesday night. Here are some news and notes from the festivities:
The Buckeyes did not go with a starting five vs. a second five. The two units were all mixed together. It would have been impossible to have the usual five anyway, because Lenzelle Smith was not suited up. Thad Matta said Smith is battling an infection. He did not elaborate on what kind of infection.
Ohio State and West Virginia will scrimmage on Saturday, Matta said.
Former Buckeye David Lighty practiced with the team. Matta introduced Lighty as his all-time favorite Buckeye.
Amir Williams had a shaky practice. At first, it looked bright as he asserted himself down low and caught a bullet from Aaron Craft and finished with a dunk at the expense at Trey McDonald. But it went downhill quickly for Williams.
He missed a defensive rebound and was stripped by Shannon Scott as he went up to dunk on consecutive possessions. There were several more offensive possessions that ended with Williams being stripped or losing the ball. When he connected on a dunk late in practice, the crowd responded with a Bronx cheer.
Scott was by far the most impressive player on the court – on both ends. He had at least 11 points, including three 3s, and was able to create by penetrating into the lane, once against Aaron Craft. He was defending well, too, knocking the ball away from Williams on one attempted dunk.
Marc Loving was solid. He can definitely get better on the defensive end of the court, but his offense was as advertised. He made multiple 3s and had a really smooth jump shot and stroke. Matta lauded Loving for the level of play he's brought to practice so far.
Amadeo Della Valle knocked down a buzzer-beater to end the practice a la his summer leading Italy to the gold medal.
Craft didn't shoot a whole lot. Instead, he concentrated on distributing the basketball, which he did well. Guys didn't always finish, but Craft was busy feeding them the basketball. He did make a couple shots, including a three-pointer. Shooting motion looked good. He was also the most vocal member of the team and took time to chat with Loving, likely helping the youngster with nuances of the offense and defense.
LaQuinton Ross didn't shoot 100 percent, but his misses were close. He only put up on ill-advised NBA 3. I thought his shot selection and flow in the offense was what Ohio State will want in the regular season.
Thompson didn't make himself real noticeable, but he was able to make a couple big defensive blocks, usually blocks. On offense, he connected on a few jump shots and a floater.
Matta said Ohio State cannot afford miss open shots this year. The coaching staff has put a premium on offense. Matta also said this year's team could be the best of his career in terms of defense.
"We'd like to be 40-0." -Matta on his ideal record this season.
Matta was asked by a fan who the toughest opponent OSU faces all season. He deadpanned, "Morgan State on Nov. 9." Matta added that he thinks Michigan State is the team to beat in the Big Ten.
Asked who the most improved player in the team is, Matta mentioned Scott but added the whole team has been clicking in practice. Matta also mentioned Williams and McDonald when talking about improved players. He said post play should be effective.
"If you don't have great kids in your program, you're going to pay the piper." -Matta
Kam Williams, the Buckeyes' other freshman, was out with mono. Matta expects him to miss another 2-3 weeks.