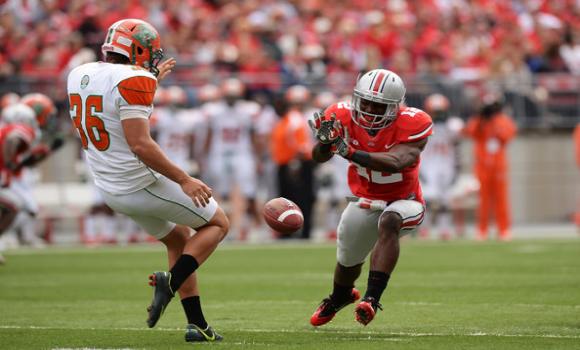 Coaches are always striving to get the most out of their players. When that fails, it leaves coaches disappointed and sometimes angry. Consider 2013 a good year for Urban Meyer.
He lauded cornerback Doran Grant and wide receiver Philly Brown for their turnarounds, becoming playmakers on both sides of the ball for fourth-ranked Ohio State.
"A year ago he had that bad name attached to him, and that's potential," Meyer said of Grant. He then called Brown one of the most improved guys he's ever been around.
"He's 180 to where he was," Meyer said of Brown. "He's an absolute leader of this team, unchallenged, unquestionable, maybe one of the leaders.  He is one of the top two or three leaders on the team. If you said that a year ago, we would have gotten in an argument, because that's not who he was."
Notes
Urban Meyer:
Meyer on Dontre Wilson: "He's playing a position relatively new to our offense and we've adpated that just for him."
Ohio State struggled mightily against Iowa's tight ends last week and Meyer cited that as a concern heading into the Penn State game. He called it problems 1A and 1B. The Nittany Lions have solid tight ends that are a big part of the passing game. 
Meyer said the Big Ten is full of future NFL wide receivers. He pointed out Jared Abbrederis, saying he's voted for him for many postseason honors and also said Alan Robinson presents a major challenge for Ohio State's pass defense this week. 
Bill O'Brien:
Asked what he attributes Penn State's success to, O'Brien first said it's not like they're undefeated before giving all the credit to the players. He also said the coaching staff does a great job of coaching them up.
Penn State only has one Ohioan on the roster. O'Brien said he doesn't know how much focus their was on the area before he arrived. He said three coaches are assigned to parts of Ohio. O'Brien added that it's difficult to get guys out of Ohio, especially when Ohio State has won 19 straight games.
"The team we play Saturday has some really, really talented wide receivers."
O'Brien says playing games at Ohio Stadium is something that keeps his players motivated. It's just as good as a bowl game.
"Ohio State, 100,000 people in the stands, I don't know too many bowl games that are better than that."
Penn State had its second bye week of the season last week. O'Brien gave players most of the week off. They only practiced twice. He said it was more important for them to be healthy and fresh during the stretch run.
O'Brien said you can't simulate in practice what Christian Hackenberg will deal with on Saturday.
Brady Hoke:
"We've got to play much better defense. It concerns you a little bit."
Hoke said the defense had opportunities to make plays in all facets of the past two game but has failed to do so.
The offensive line has been one of the weakest units for the Wolverines this season. Hoke said he saw improvements last week, adding they still aren't where it needs to be from a physical standpoint.
Michigan has an off week before its November gauntlet of Michigan State, Nebraska, Northwestern, Iowa and Ohio State. "It's going to be a physical stretch for us," Hoke said.
Gary Andersen:
Andersen was pleased with Wisconsin's win at Illinois. He said every week in the Big Ten you have to prepare to play a good football team.
The senior class is the foundation of what Andersen wants to continue, he said. Andersen lauded them for the leadership they've shown and said they could have left with a new coach but decided to stay.
Andersen said the emergence of Joel Stave at quarterback has been a big contributor in Wisconsin's success this season.
Wisconsin has its second bye week of the month this week. Andersen said he uses bye weeks to help players focus on academics.
Chris Borland is 7/8 on field goals in practice, according to Andersen. Only miss was wide left on a 45-yarder. That's also his longest make. Andersen said Borland plays soccer, which is where his kicking prowess comes from.
Bo Pelini:
Nebraska has exhausted both of its bye weeks. Pelini said the second was spent being productive on both sides of the ball. The Cornhuskers practiced three times, all very in-depth to keep the team sharp.
Pelini said he saw a potential big-time running back in Ameer Abdullah when they recruited him. He also said he could have been a solid defensive back, but he's panned out as Nebraska expected.
Several Nebraska coaches used the end of last week to travel around the country to recruit. Pelini was one of those coaches on the road. He said you have to make the most out of every opportunity.
Pelini said he's encouraged by the progress of Nebraska's young defensive line. He said room to grow is still there, though. Pelini mentioned Avery Moss and Greg McMullen by name as players who have a "wealth of untapped potential." Both can defend the run and rush the quarterback.
Mark Dantonio:
Dantonio said the line is one of the deepest positions on the team. Michigan State has seven guys who can rotate along the line, he said.
The Spartans beat one-win Purdue 14-0. Michigan State's defense scored one touchdown with the other coming on a trick play. But Dantonio isn't worried. They got the win.
"We did what we had to do to win the football game."
Asked if the team's confidence was shaken by the performance at Purdue, Dantonio asked for the next question.
Dantonio said the more experience Connor Cook gets, the better he will get. It's all about practice and game action. Nothing can replicate experience.
Kirk Ferentz:
Iowa offensive coordinator Greg Davis took a brunt o the criticism for Iowa's woes last season. Ferentz said that's part of being a coordinator in this day and age. Davis has been instrumental in the Hawkeyes' improved offense this season, Ferentz said.
"We're a better offensive football team than last season, a little bit more balanced."
Ferentz said the offensive execution was as good as it could be during the first half of Saturday's loss at Ohio State. He said that's something that has to continue going forward if Iowa hopes to win games.
The Ohio State game was put behind the team on Sunday. Ferentz said preparations for Northwestern began in earnest.
"All Big Ten games are really important. If you play conference football, you understand the meaning of every conference game."

Ferentz on Carlos Hyde: "My sister could pick up that he's a very good player."
Tracy Claeys:
Minnesota responded well to adversity in the win at Northwestern, Claeys said. He said it was the first time the team didn't have a "here we go again" mentality on the sideline when things started to go south.
The biggest emphasis during the bye week was the defensive backfield. Claeys said it showed up during the game, too. He was very pleased with their play against the Wildcats.
Claeys said Phillip Nelson is ill, so there has been no decision on the starting quarterback.
Claeys said he expects Jerry Kill to be in the press box for Minnesota's game this week. "We'll take whatever he can give us," Claeys said.
Tim Beckman:
Beckman said Illinois must shore up its open-field tackling, swarm tackling and takeaways as the season continues All three parts of the game have been downfalls of the Illini in Big Ten play.
Illinois plays Michigan State this week. Beckman called Spartan linebacker Max Bullough a typical Big Ten linebacker, something the league is known for. He said Bullough doesn't take a play off, treat No. 60 just like the fifth play. Praised his tenacity.
Darrell Hazell:
Purdue has an off week before playing Ohio State. Hazell said the coaches will recruit and look forward to the Buckeyes in practice. He called Ohio State a "formidable challenge."
Hazell said quarterback Danny Etling is going through some growing pains but continues to make strides. He's just a freshman. Hazell said he's getting more and more comfortable in the pocket.
It's been a weekly occurrence for Hazell to praise Purdue punter Cody Webster. He did so again Tuesday. "His ball placement was impeccable."
Defensive lineman Bruce Gaston played his best game of the season, according to Hazell. He said Gaston's senior leadership has helped the youth on the line.
"I'm not displeased in the progress we're making."
Pat Fitzgerald:
Fitzgerald said he would like to see a red/yellow card system like soccer in regards to targeting.
"Unfortunately, some guys are learning a tough lesson."
Northwestern has lost three straight games. Fitzgerald said the mood around the team is not great. He said the team isn't playing well enough and the coaches are coaching to the level they can. That said, Fitzgerald hasn't seen them practice poorly. It's all been in games.
Fitzgerald said Iowa will bloody your nose. On Monday, Meyer said the OSU-Iowa game was like two sledgehammers going at it.
Kevin Wilson:
Wilson said the improved play of wide receivers in college football goes in step with the emphasis put on high-powered offenses. 
Wilson doesn't want to tinker too much with the defense, afraid the youth could become less confident. He said they need to improve upon their strengths.