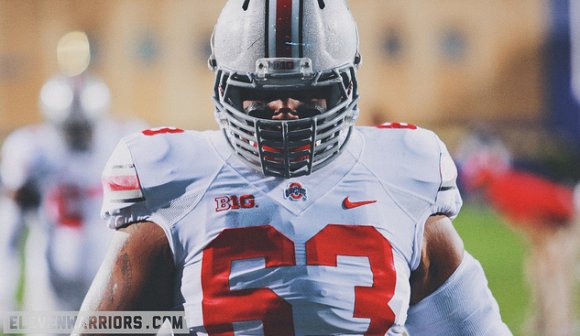 Mike Vrabel has never been one to mince words and he certainly wasn't in a shy mood on Monday. Asked about the defense's performance in the first half of Ohio State's 34-24 win over Iowa last Saturday, Vrabel was direct.
"Call it what it was. They beat the shit out of us," he said. 
Michael Bennett's assessment was in lockstep with the party line.
"I guess I'm not allowed to cuss," he said. "But I would say the same thing. There's no way around it. They just beat the crap out of us."
It's hard to disagree with either assessment. The Hawkeyes led 17-10 at halftime, amassing 222 yards and converting seven of nine third-down attempts. The defensive line was continually shoved two and three yards off the line by Iowa's offensive line.
"Can it be fixed? Absolutely. We're still a good rush defense," Meyer said. "We've got to continue to work because we've dealt with some injuries and depth issues, and we've got to play better. But I'm very, very concerned."
Concern has become the most popular word in Meyer's vocabulary in regards to the defense. Prior to Saturday, it was reserved for a secondary that had struggled most of the season. Through three conference games, Ohio State is allowing 26 points per game, far from the level many expected from a unit touted to be among the Big Ten's best. 
A former college and NFL standout, Vrabel has little use for a lack of effort. During the first 30 minutes Saturday afternoon, his temperature rose on a wet, cold, gray day inside Ohio Stadium. Vrabel had no problem calling the defensive line soft in lamenting their inability to slow down a previously production-challenged Iowa offense. When the clock hit 0:00 in the second quarter, he sprinted up the tunnel to the locker room.
"Effort and toughness have to be perfect for us," Vrabel said. "You're not going to make every single play, we understand that. No one is going to grade 100 percent. But we feel you should be able to grade 100 percent in toughness and effort."
The unit graded out nearly perfect in the second half. Aside from a one-play, 85-yard scoring drive, the Hawkeyes were rendered ineffective for the final 30 minutes of the game. Ohio State outscored Iowa 24-7 in the second half and held them to 50 total yards if you erase the 85-yard touchdown. The Hawkeyes also had one third-down conversion after the break.
"We came out in the second half with a chip on our shoulder like we needed," Bennett said. "But we can't start a game like that again. I don't know what the deal was. But I think it was, especially on the D-line, a mental thing. We were doing something different than we usually do."
When they've faced good throwers of the football, the defense has struggled more often than not this season. Saturday night presents another challenge in that realm. Christian Hackenberg may be a true freshman, but he's already shown poise and production of a veteran.
Penn State is in the mold of a power offense that utilizes the running backs and tight ends. The Nittany Lions also possess wide receiver Alan Robinson, arguably the best skill player in the Big Ten. But Bennett is confident the defensive line and raucous atmosphere will get to the first-year quarterback.
"We know if we put some pressure on him, we can make him nervous," he said. "We think we have the guys to put pressure on him. If we get in the pocket like we do most teams, he might get nervous and force some throws.
"We can't let the quarterback sit back there. When the quarterback doesn't have pressure, it's because someone's not winning when they should be. The expectations for the D-line are really high, especially in our unit room. We really need to start taking ownership of the pass as well."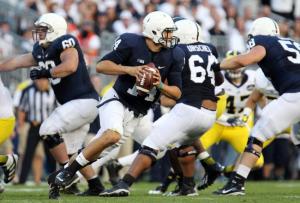 Freshman Phenom
More than a week after the biggest win of his young career and a monumental win for the Penn State football program, quarterback Christian Hackenberg must ready for the biggest test of his seven-game career. Ohio Stadium has not been kind to visitors throughout its history. Penn State signal-callers have found that out the hard way, through losses and a plethora of pick-sixes.
The Nittany Lions have won three games in Ohio Stadium. If Hackenberg wins the fourth on Saturday night, his legend will already be cemented with five games left in his freshman season. A five-play, 80-yard drive in Beaver Stadium under the stars against Michigan Oct. 12 lifted his growing celebrity to new heights.
"Right now, I really haven't had the opportunity to sit back and understand it," Hackenberg told reporters last week. "My mind is really focused on Ohio State now. But being able to sit down and watch the game on replay on the Big Ten Network, I think it's a real testament to our team and the resilience we've had all year."
That statement could be changed to reflect the past two seasons. Penn State was hit with unprecedented sanctions in the wake of the Jerry Sandusky child-sex abuse scandal, leaving the football program to be cleaned up off the side of the road. But the exact opposite has happened. While the likes of USC, Miami, Alabama and even Ohio State (for one season) languished under the watchful eye of the NCAA, Penn State has, somehow, thrived. Head coach Bill O'Brien has made it clear he can coach and attract talent to Central Pennsylvania.
Hackenberg, a five-star recruit from Fork Union Military Academy, is the biggest example of that. With no postseason play in what would be his first three seasons, Hackenberg still opted to wear the Blue and White.
During the bye week, he used his spare time to study Ohio State and attempt to familiarize himself with hostile environments. The coaching staff helped out by blasting crowd noise in practice. Veterans will lend their opinions to Hackenberg on playing through the commotion Saturday and which cadences to utilize.
Having Alan Robinson split wide should boost Hackenberg's confidence. Robinson has 705 receiving yards and five touchdown receptions in six games.
"It's a comfort zone and understanding that you can be a little less accurate and knowing that he can still come down with the ball," Hackenberg said. "Definitely having him out there helps."
It will put stress on an Ohio State secondary that's reeling. Bradley Roby's ejection last week was the latest in long line of head-shaking moments this season. Roby's play has been far from All-American caliber, Christian Bryant suffered a season-ending injury and a veteran unit just hasn't performed up to par.
Meyer sees them turning the corner, though, especially the unquestioned leader, Roby.
"He works his tail off," Meyer said. "He's got a great work ethic, attitude, he's coming back every day. He's going to finish the year strong."
Top Deck
Two players stuck out in Ohio State's season opener – Buffalo linebacker Khalil Mack and Ohio State offensive lineman Taylor Decker. Unfortunately for Decker, his performance was noticeable because Mack made him look silly multiple times.
More than halfway into the season now, Decker's quickly become a strong link in a dominant chain along the offensive line. And first-game jitters against a future first-round draft pick are excusable, even to no-nonsense line coach Ed Warinner.
"I've done this a long time," Warinner said. "You have to believe in the decisions you made, you have to believe in the talent you see and you have to know if you stay the course and you do things the right way usually they work out pretty well for you. I didn't have any doubt that at some point [Decker] would turn the corner and he did the next game. He played very solid and it's continued to just get better and better."
The offensive line was a known strength entering the season, at least four of the five goliaths were. Jack Mewhort, Andrew Norwell, Corey Linsley and Marcus Hall were all stalwarts a year ago, forging a dependable line that hadn't been seen in years at Ohio State. The question became, how would Decker fit in?
In the beginning, he may have put too much pressure on himself. He was aware of the storylines being written and didn't want to be the outcast on an otherwise resolute unit. The Buffalo game didn't help matters.
"It was a tough pill to swallow, but I just had to bounce back and recover and play the way I knew I could play," Decker said. "I knew that that wasn't me. That wasn't how I had been playing and how I performed in camp prior to the game and the weeks leading into it."
If any doubt lingered in the weeks following Decker's debut, they've since been erased. He has asserted himself as a key cog on the line, and in recent weeks, the O-line has flexed its muscle in must-move-the-ball situations. During the second half of the Northwestern and Iowa games, the Ohio State line has taken up the scorched earth policy and left nothing standing in its wake. Carlos Hyde has rushed more than 200 yards and scored five touchdowns during those 60 minutes.
"I feel good about [Decker], and I feel good about the line and that's where winning football starts."
Decker has graded out a champion in two of the past six games and earned his three claps in the offensive line meeting room. Three claps from your teammates is akin to a pat on the back, a sign of respect and token of their appreciation.
"The coaches kept their trust in me and they kept coaching me hard and my teammates picked me up," Decker said. "I feel like because of that I've been able to improve."