Ahhh...football season. The unmistakable bite of encroaching winter weather — wet, windy and dreary — combined with the splashes of color as the leaves change will forever be burned into my brain. There are sights and sounds and smells that just can't be forgotten, letting you know above all else: "This is a day for football." Ohio State had their first dose of autumnal football last Saturday as Iowa rolled into town, and although they're heading towards what could be a sudden leap into full-fledged winter for this Saturday's under-the-lights showdown with Penn State, the recruiting trail is staying warm.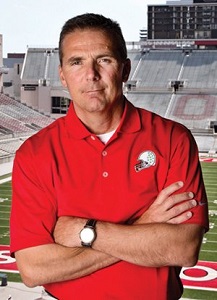 To line up head-to-head against Penn State in a nationally televised game is always a big deal if you're a college football player, but with BCS polls unveiled this weekend, the need for a dominant Ohio State performance — after three straight classic Big Ten brawls — can't be understated. Each week there's a new program du jour that is thrust into the collective consumer conscience as a more deserving BCS title candidate than Ohio State, and the Buckeyes need a resounding victory that showcases a fully armed and operational battle station to quiet the naysayers a bit.
If you're a Buckeye fan in attendance this Saturday night, your own role in their success shouldn't be ignored. Be loud, be crazy and realize that there are dozens of very high-profile recruits who are impacted by your behavior. Represent Ohio State the right way, right away, and help the Buckeyes get a big win Saturday night.
Now that that's out of the way, let's get to talking about them recruits, specifically some of the big names that will be in attendance this weekend.
The Buckeyes made news when they asked California tight end Tyler Luatua, one of the nation's premiere talents at tight end, to reschedule his official visit so that it wouldn't coincide with the official visits of Mike Gesicki and Deandre Goolsby. The Buckeyes — rightfully — didn't want three standout players at the same position all on campus for official visits at the same time, which makes sense, right? Right. However, that same logic must not apply to unofficial visits as they will see three of their targets at quarterback for 2015 this weekend, including the two juniors widely thought to be their "favorites," Lorenzo Nunez and Brandon Wimbush, each of whom impressed Ohio State in person enough this summer to earn scholarship offers based on camp performances, very high praise from a coaching staff that is almost always in evaluation mode. 
Joining Nunez and Wimbush this weekend will be Jauan Jennings, a very talented athlete from Murfreesboro (Tn.) Blackman High School. Whether or not Jennings is a future quarterback is up in the air, but there's no debating his athletic prowess, as evidenced by his offer list that includes Nebraska, Auburn and Tennessee as well as the Buckeyes. Ohio State's relaxed approach to 2014 quarterback recruiting drew the ire of a number of Buckeye fans, and it appears the coaching staff is being a bit more aggressive on this front for 2015.
As Carlos Hyde's star continues to rise, the perception that Urban Meyer doesn't use tailbacks aggressively and successfully becomes more and more a thing of the past, and that could help in Ohio State's pursuit of Orlando (Fla.) Timber Creek star Jacques Patrick. Patrick visited Ohio State over the summer and was very high on the Buckeyes, but as time and distance usually do, some of that "fire" seems to have faded and as arguably the most decorated 2015 prospect in the country, the Buckeyes will get a chance to woo Patrick again this weekend. The 6-foot-2, 220 pound running back holds nearly 50 scholarship offers and says that he's remained in regular contact with the Buckeyes and Urban Meyer, who have made Patrick a priority for 2015. Ohio State — along with Michigan — are the only schools right now with much of a chance to lure Patrick out of Florida. 
The need for defensive tackles in 2015 is large for the Buckeyes and fortunately it's a position loaded with interested talent. There's been much made about Ohio State's pursuit of defensive tackles Tim Settle, Terry Beckner and Jacob Daniel, all of whom find themselves as top-15 national prospects, but another junior defensive tackle, Shy Tuttle from Davison (N.C.) will make his way to Columbus this weekend. Tuttle is the top 2015 player in the Tar Heel state and is a player the Buckeyes would love to make an early impact on. The 6-foot-2, 314-pound Tuttle already has offers from Alabama, Tennessee, Clemson, Georgia and others.
Want another DT to watch? How about Brandon Tiassum from Park Tudor in Indianapolis? The 6-foot-5, 270 Tiassum could play on either side of the ball in college and has been to Ohio State twice in the last month, visiting for the Wisconsin and Iowa games. He says the Buckeyes like what they've seen from him so far, but that an offer is unlikely until the spring.
There will be a number of other talented players from the 2015 class in attendance, including New Jersey star (and teammate of Brandon Wimbush) Minkah Fitzpatrick. Ohio's top 2015 tight end C.J. Conrad from Lagrange and Walnut Ridge linebacker Anthony McKee, who will make his third trip to a Buckeye game this season. Ohio State is still waiting for verification on visits from Pittsburgh's Sterling Jenkins and North Carolina tailback Bryce Love, who hopes to check out the Buckeyes either this weekend or when they host Indiana.
Despite the bevy of 2015 stars in attendance, two of the weekend's bigger guests will from even further down the recruiting road, 2016 and 2017 respectively.
Buford (Ga.) star tight end Isaac Nauta is a 6-foot-5, 240 pound sophomore who boasts offers from Ohio State, Michigan, Clemson, Florida, Florida State, Auburn and many others. A perceived Michigan "lean" early in the process, Nauta will take first visit to Ohio State at a perfect time. 
DON'T LECOUNTE YOUR CHICKENS BEFORE THEY HATCH
We've talked a bit about 2017 star quarterback Danny Clark and the Buckeyes, but right now we'll touch on another major freshman talent, who also happens to be from Georgia, Richard Lecounte. Lecounte is the high school teammate of Raekwon McMillan, who you're all very aware of. The 6-foot-1, 175-pound Lecounte, a defensive back right now who could grow into any number of positions, will be visiting the Buckeyes for the first time this weekend — he'll be traveling with McMillan — and he's very excited about making the trip.
"I'm going to Ohio State," Lecounte said via text message. "I'm hoping for a great game and a great trip."
As a freshman with offers from Ohio State, Florida and Clemson, Lecounte is relying on the advice of McMillan, one of the country's most sought after seniors, to help him as he develops into a national recruit. 
"Raekwon's like my big brother," he said. "He's really been just letting me know about everything to expect. He tells me to make sure I don't let temporary feelings get in the way of long term goals."
What is the freshman hoping to see this weekend?
"Early on I am just going to be looking at stuff like the facilities, getting to know the strength coaches, and stuff like that," he said of what's important in his recruitment now. "It's early to really decide on a major and all that, but I am working on a plan, everyone has to have a plan. I couldn't ask for anyone better to help guide me through the process than Raekwon and my coaches."
BAKER ME A CAKE AT THE PACE MOST CONVENIENT FOR YOU
One key Buckeye target for 2015 that has been conspicuously absent from gameday visitor lists this fall is Jerome Baker, the incredibly talented tailback/linebacker from Benedictine in Cleveland. It's unusual for a player as highly-ranked as Baker (he's 85th-ranked player in the country by 247Sports.com's composite feature, which takes an average ranking from the big four recruiting sites) to be so quiet during his junior year, which is typically when the nation's elite make the majority of their visits to potential landing spots. Baker was a star at Ohio State this summer for Friday Night Lights and impressed anywhere he went, yet he's only made one visit this season and that was to Illinois this past weekend. So why so quiet? 
"I'm just focusing on school and getting my team ready for the playoffs," Baker told 11W. "It makes more sense to focus on my team now and then worry about recruiting when the season is over. I've stayed in touch with Coach (Buckeyes running back coach Stan) Drayton and we talk every week or so. I do hope to make it to Ohio State when they take on Indiana, though."
Baker grew up a fan of Penn State, and the Nittany Lions — as well as Michigan — could be players for his services before it's all said and done.
THE FINAL PIECES OF 2014
Brooklyn (N.Y.) Abraham Lincoln defensive tackle Thomas Holley made his official visit to Columbus this past week and it appears that the Buckeyes are still in excellent shape to land the nation's 4th-ranked defensive tackle. Ohio State will have to hold off Penn State, Notre Dame and Florida to land Holley, but the need at defensive tackle, as well as the Buckeyes other success is New York/New Jersey this cycle should keep them in front.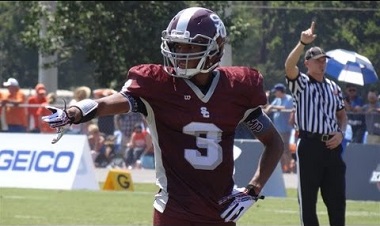 There's rumors of another visit to Columbus this weekend for North Carolina wideout Trevion Thompson, who plays at Hillside High School in Durham, the same school that produced current Buckeye Jamal Marcus. Thompson has remained high on Ohio State throughout the process, and if the 6-foot-3, 190 pounder makes another trip to see the Buckeyes, it's worth watching moving forward. I have long thought the Buckeyes will try and land one more wide receiver, whether it's Thompson, Johnnie Dixon or even Josh Malone who is making his official to Ohio State this weekend.
Malone is a star and fits the profile of exactly what the Buckeyes are looking for on the outside, he's tall and rangy and fast and is competitive to the core. Long thought to be leaning towards the homestate Volunteers, it appears Malone is changing his tune just a bit and looking more and programs that require less rebuilding.
Johnnie Dixon has been a favorite of the Ohio State staff for a while, and today he made his decision date — November 30th, the day Ohio State takes on Michigan — public. Ohio State hopes to steal Dixon from Miami and Alabama, who are considered the frontrunners for the Palm Beach Gardens, Florida native.
There's this Raekwon fella visiting this weekend too...