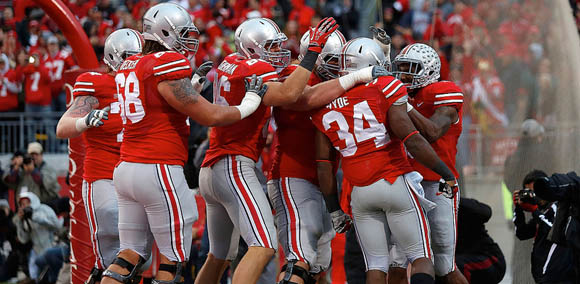 Iowa came out hot, Roby got tossed, the defense was shaky and then El Guapo led a Buckeye charge to close out Iowa 34-24 on Homecoming. Here are 13 GIFs that tell the story of Ohio State's 19th consecutive win.
Braxton healthy? Braxton healthy.
This is the hit that led to Bradley Roby's ejection. Was it worthy of an ejection?
Here's another look.
This is how wide open you can get when the secondary bites on play-action to Dontre Wilson. This 58-yard touchdown reception is the longest of Philly Brown's career.
Step aside Buck I Guy and Big Nut. This is the new superfan face of Ohio State football.
This Carlos Hyde one yard rushing touchdown tied the score at 17 in the third quarter. It was also the first rushing touchdown surrendered by Iowa this season.
Urban likey.
Braxton was sharp on his swing passes all afternoon. Devin Smith takes this one in from the 14 to give the Buckeyes the lead late in the 3rd quarter.
And then Iowa answered on this 85-yard strike from Jake Rudock to tight end Jake Duzey.
No idea what this means.
Vintage Braxton.
El Guapo goes Nintendo on the Hawkeyes.
Tyvis Powell with the kill shot. Buckeyes 34, Hawkeyes 24.
Want more GIFs from this game? Head to the Iowa GIF Overflow.