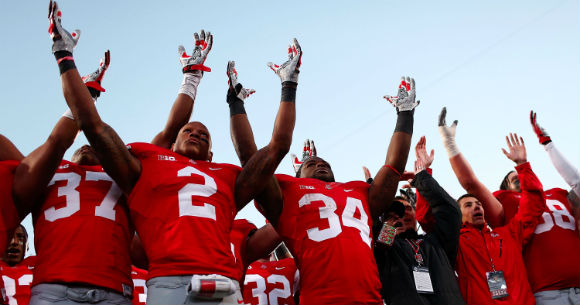 The Buckeyes squared off against the Iowa Hawkeyes for the first time since 2010 in a game we're supposed to pretend never happened.
Ohio State was looking to equal the second-longest winning streak in school history and extend the nation's current longest string of consecutive wins. The Hawkeyes were looking to bounce back from a loss to Sparty.
Iowa was known for its running game and its ability to stop the run. The Hawkeyes were also known for being very stubborn in the red zone, having not allowed a rushing touchdown all season and very seldom allowing anything but field goals.
It would be a game of strength against strength, with the Ohio State running game against Iowa's defensive line and the Buckeye defensive line against Iowa's rushing attack.
Could Ohio State shut down Mark Weisman and Damon Bullock? Would Carlos Hyde be able to gash Iowa in the running game? Was this the day the Hawkeyes finally yielded a rushing touchdown? Most importantly, could the Buckeyes avoid the upset bug that had bitten so many teams the last two weeks?
Not really. Good lord, yes. Yes, twice. And yes.
Ohio State's 19th straight win wasn't an easy one. Here are your talking points:
Water Cooler prep (Everything you need to know…in one paragraph)
Ohio State erased a 17-10 halftime deficit mostly behind Hyde's running (24/149) and pinpoint short passes from Braxton Miller (22/27 for 222 yards), to win 34-24. The Buckeyes tied the game on the first drive of the third quarter on El Guapo's one-yard plunge and took their first lead with 3:15 to play in the third on a Devin Smith TD catch. A huge DERP by the defense gave Iowa an 85-yard TD pass from Jake Rudock to Jake Duzey, which was less than Jake. Hyde restored order with a 19-yard run (see below) and Drew Basil hit a late field goal. Miller also ran for 102 yards.
Talk before the game 
"Carlos Hyde may not get 100 yards today but he'll probably score once or twice."
"Should be an emotional game for Curtis Grant after his dad's passing."
And this:
#Buckeyes DT Tommy Schutt in uniform for first time this season. pic.twitter.com/aNbFCCjOLe

— Lantern Sports (@LanternSports) October 19, 2013
Talk in the aftermath
"I'm ready to move on from Luke Fickell."
"Not sure we're an elite team, but I'm not sure there is one this year."
"Is there anyone out there who still thinks Kenny Guiton should be starting?"
Give that man a buckeye leaf (Player of the game)
It was impossible to say one was better than the other, so this week we're going with co-players of the game — Hyde and Miller. Hyde was dominant in the running game, just as he was at Northwestern, only against a much stouter run defense. He seemingly blasted for five yards or more every time he carried the rock, and in fact he averaged 6.2 yards per tote. His two scores were the first two rushing touchdowns Iowa has allowed in 2013 and the second one will be on every highlight reel this year (again, see below).
Miller shook off an uneven game in Evanston and hit his guys pretty much all night. There were a couple of drops, but only one or two poor throws. He made sure not to overthrow a wide open Philly Brown on the long touchdown, and threw a dart to Smith on the second. He used tight end Jeff Heuerman often (career high five receptions) and took the underneath stuff the Iowa defense gave him. Miller also excelled in the run game, both on designed runs and on scrambles, converting key third downs throughout the contest. Like El Guapo, XBrax was in beast mode. Oh, and his knee is fine.
Snot Knocker of the Game
Bradley Roby got thrown out for it, but that's only because the targeting ejection is the worst rule in college football. C.J. Fiedorowicz caught a pass on Iowa's second drive of the game and was immediately met by Roby's shoulder to his chest. Fiedorowicz went down immediately, his mouthpiece went flying and he was slow to get up.
Twitter seemed to be split fairly evenly on the play. For me, the hit was pretty hard and perhaps you could argue a defenseless player, but in my opinion Roby hit Fiedorowicz squarely in the chest (not the head) with a shoulder (not his helmet) and his left foot was still on the ground, which would presumably take "launching" out of the equation.
If it appeared he was going low to high, it's because he was trying to bring down a much larger player. Roby is eight inches shorter than the 6-foot-7 Fiedorowicz and weighs 73 fewer pounds. If he goes for the wrap-up, he's getting trucked or simply bouncing off. Am I supposed to believe that the solution is to go for the knees there? Anyway, Roby gets the snot knocker of the game in limited action.
Did you see that?! (Play of the game)
Hyde's second TD run was the stuff of legends. El Guapo took a handoff from Miller around right end, following blocks by Heuerman, Brown and Smith. Hyde shrugged off one tackler, then was grabbed by safety Tanner Miller. Hyde stumbled backwards and appeared to be falling, when he found his balance, turned back up-field, and dove over a block by Brown on James Morris to score Superman-style. El Guapo caught some serious air on the play, which put Ohio State ahead to stay.
When you sank into your chair (The moment Buckeye football disgraced your family)
Ohio State took its first lead of the game on Miller's 14-pass to Smith late in the third quarter. After the ensuing kickoff, Iowa took a holding penalty and lined up for a first-and-20 play at its own 15. The Buckeyes rushed only three men and Rudock had plenty of time to drop a perfect pass over Armani Reeves — replacing the ejected Roby — to Duzey, who out-raced the defense for an 85-yard score. There was no deep safety to help, and no defender could catch the 245-pound tight end from behind.
Jim Tressel's Least Favorite Moment of the game
After a long morning of apple picking, Tressel returned home just in time to catch the opening kickoff of his beloved former football team. He was enjoying a tall glass of cider and a crisp Ohio McIntosh late in the second quarter, when the Ohio State offense lined up on fourth-and-10 at the Iowa 29. "Are you kiddin' me?" Tressel asked Ellen when Evan Spencer couldn't hang onto the ball after hitting the ground in the end zone. "That's only a 47-yarder there, Coach. Drew Basil could hit that in his sleep."  Then Tressel caught a whiff of apple pie wafting in from the kitchen and relaxed. This would be a good day.
What you texted your friend at the end of each quarter
First: What's wrong with the D-line today?
Second: Ohio State is stopping Ohio State but not Iowa.
Third: What? First and 20 and the safety's up in the box? Big play for Iowa.
Fourth: Far from pretty. Survive and advance.
It was over when
Iowa was down 10 points and faced a third-and-four situation at its own 43. Jake Rudock got a little antsy and threw a pass straight at freshman defensive back Tyvis Powell, who made the pick. The interception came shortly after Doran Grant had one go off his hands, and was the only turnover of the game. The Buckeyes took possession at their own 49 with just 4:15 to play. From there, Hyde and Miller strangled the clock with the running game.
---
The Buckeyes host the Nittany Lions of Penn State (4-2, 1-1) next Saturday night at 8. The Nitts will be coming off a bye week after last week's ridiculous 4-OT win over Michigan. Be ready, Buckeyes, they're bringing about a hundred tight ends with them.