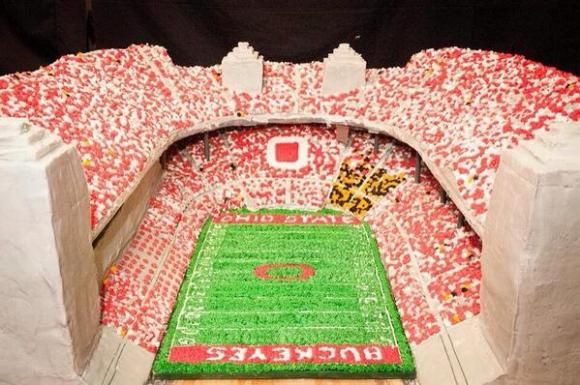 This monstrosity can be viewed on Saturday on the south lawn of St. John Arena. 
Weight: 350 pounds
Number of Cake Mixes Used: 90
Number of eggs used: 264
Serves: 1,000
The Stadium Cake was devised in 1991 as a light-hearted means of celebrating the great tradition of Ohio State football. In the fall of 1991, a group of five dedicated Buckeye alumni constructed the first cake replica of the Horseshoe during the week of the Ohio State v. Iowa football game for display at their pre-game tailgate party in the north lot of St. John Arena. Why? Because one of those tailgaters proclaimed that it couldn't be done. Wrong thing to say to people who worship poisonous nuts!

Although they considered their creation a confectionery masterpiece, like all great artists, the bakers immediately began contemplating improvements. Their ideas and the drive for perfection gave rise to the new and improved Second Annual Ohio Stadium Cake, this time for display prior to the 1992 Ohio State v. Michigan game. Since then, the 200-plus pound cake has been constructed for display at the creators' tailgate party before and during one home football game each year.

By its third year, the annual cake had become such a big hit with Ohio State fans that the cake crew decided to take advantage of the cake's popularity to raise funds for Ohio State's general need-based academic scholarship, the Scarlet and Gray Scholarship Fund. From the third through the eighth year, the confectionery masterpiece was served following the game for donations to that fund.

In 1999, the Stadium Cake Crew established the Stadium Cake Scholarship Fund within OSU's general need-based academic scholarship fund, and the money donated by loyal Buckeye fans since that year has been deposited into the new fund. With the Thirteenth Annual Ohio Stadium Cake, the Crew raised enough funds to fully endow the Stadium Cake Scholarship Fund as a permanent means of financially assisting worthy Buckeye students. Donations since have helped grow the fund to over $135,000. Way to go Buckeye fans!

Since 2004, the University has awarded 44 scholarships from the earnings of the Stadium Cake Scholarship Fund, including seven for 2013-14 academic year.