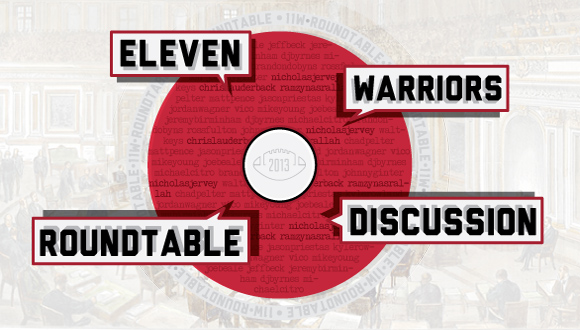 It's week eight and the Buckeyes are back on the college football slate. I know its been a painful week without your Scarlet and Gray security blanket, so I'll waste little time getting to the goods. This week we've got Ramzy "I've got a cool enough name that I don't need a nickname" Nasrallah, Chris "Dat's Dat Dude" Lauderback and Nicholas "The guy in my Lit 101 class that writes for 11W" Jervey.
Let's make some memories.
Carlos Hyde was a man among boys in Evanston. What is his stat-line this week against a Hawkeye squad that hasn't allowed a rushing TD?
Ramzy: Riding El Guapo against Northwestern's front seven makes more sense than doing the same against Iowa, which is a defense better kept off-balance than pounded into oblivion. I'm smelling 15 carries for 90 yards. 
Chris: It's a decent bet Iowa sells out to stop the run early which could limit Hyde's carries until Ohio State builds a lead. I feel like Miller has a good chance to really go off this week thanks to the extra week to rest his knee and the fact the Hawkeyes will likely crowd the line of scrimmage. That said, I'll say Hyde is held to just under a 100 yards with a touchdown.
Nicholas: 20 carries for 95 yards and two touchdowns. One of the talking points this week is Iowa's defense not allowing a rushing touchdown, and Iowa is indeed pretty good against the run. Iowa allows the eighth-fewest yards per game, and by S&P+ ratings, which adjusts for tempo, opponent, and massive leads/garbage time, Iowa has the fourth-best rushing defense.
Iowa's rushing defense is about the same on standard and passing downs, so it'll be hard to exploit situationally. Don't expect Tom Herman to call as many inside runs against Iowa; that was a function of a huge size and strength disparity. Expect more variety in the running game, which means less of Hyde and more of the speedsters.
Joey Bosa is slated to start this week. Do you ever remember a Buckeye freshman D-lineman making this kind of immediate impact? If so, who?
Ramzy:  Not a D-lineman, but Andy Katzenmoyer starting as a freshman, looking like he's 26-years old instead of 19 and making plays certainly comes to mind. Now we need a freshman linebacker to contribute like he has.
Chris: I think we can certainly put Cameron Heyward in that category. In 2007, Heyward was voted a 1st-Team Freshman All-American by a handful of outlets after racking up 33 tackles, 10 Tackles for loss (2nd on the team) and three pass breakups. Vernon Gholston kind of stole the show up front that year (14 sacks) but Heyward was a key piece on a team that reached the national title game. He was like Bosa in that he excelled as both a run stopper and pass rusher though Bosa seems to get more run for his ability to put pressure on the quarterback.
Nicholas: Joey Bosa's explosiveness and field awareness have been shocking for a true freshman. Since evaluating defensive line is an unfortunate blind spot for me, I cataloged the freshman season of every Buckeye defensive lineman since 2002 plus some standouts from the mid-to-late 90's and compared them to Bosa's freshman year. The conclusion, with one caveat: Joey Bosa is on pace for the best freshman D-line performance in Buckeye history.
If you extrapolate his first six games to a 14 game season, Bosa would have 37 tackles, 9 TFLs, 4 sacks, and 2 fumble recoveries. Only three players compare: Cameron Heyward (30 tackles, 9 TFLs, 2 sacks), Ryan Pickett (22 tackles, 5 TFLs, 2 sacks), and Na'il Diggs (21 tackles, 7 TFLs, 6 sacks). You'll notice that all three were drafted, and Pickett and Diggs had 10+ year careers.
The caveat: I've only been watching games since 1997. If somebody played in the early part of Cooper's tenure or earlier, I missed them.
Jordan Hall is back from injury. What are your expectations for him against Iowa?
Ramzy: He'll be a threat to slip into the seams of the Iowa defense with the added bonus of pass-blocking when Braxton keeps the ball. He's basically a slower Dontre Wilson who can take on rushers.
Chris: That's a great question because I don't think anyone really has a clue. My thought is that he won't be a factor at all from the tailback spot unless something freakish like a Hyde injury comes into play and because I do expect Braxton to be such a difference maker on Saturday, I see any contributions from Hall coming on the receiving end of short Miller throws. Meyer has talked of using more crossing routes and if Iowa is going to blitz a lot, Hall could be a factor on screens, crosses and dump-offs. I'd love to be pleasantly surprised by a big game from Hall in that manner.
Nicholas: I'd expect him to show some versatility to keep Iowa from loading the box. Hyde is good for at least 3 yards per carry on inside runs, so Hall's role will be to keep the defense honest with some screens, swing passes, and outside runs. He should be good for 10 carries and a couple of first down receptions, but I don't expect huge yardage from him or the running game as a whole.
Is the Hawkeye game the start of the secondary's turn-around? Will they ever turn it around?
Ramzy: The secondary has taken the blame for what I think is an issue with scheme. If they're being instructed to give, literally, 15-yard cushions on the line to better support the rush, they're going to continue to look bad. You want to see a turn-around? Wait for Urban to tell the defensive coaches to knock it off.
Chris: I'm sure the week off has given the defensive staff plenty of time to self-scout while also looking at how Sparty shut out Iowa in the 2nd half by taking away the run game. With Iowa then a one-dimensional offense, QB Jake Rudock completed only 14 of 31 passes with an interception. If Ohio State employs a similar approach, the secondary should come out far less scorched than we've seen in recent weeks. As for the long-term, I have faith they will improve individually (especially Roby) and collectively, though fully replacing Christian Bryant doesn't seem remotely feasible at this point.
Nicholas: Ehh, I'm not really high on the secondary showing improvement in this game. Jake Rudock has been an okay passer this season: 8 TDs against 6 INTs, 60.2% accuracy, 6.93 yards per attempt. He's basically Kain Colter, and if Colter was able to go 12/12 against soft Ohio State secondary, Rudock can too. The pessimist in me expects the secondary to give up 250 yards and a touchdown to a guy who should have had 150 yards and no touchdowns. The optimist does think the secondary can turn it around, provided a couple of data points.
With plenty of time to watch other teams this past weekend, do you think Ohio State is a top 2 team? Why or why not?
Ramzy: They can play with anybody in the country. Teams that can exploit the Buckeyes' back seven will have to also stymie the offense, and doing both of those things effectively points to Alabama and pretty much nobody else. I spent Saturday watching Washington try to run away from Oregon without success. Hitting Oregon, Texas A&M, etc in the mouth would have significantly different results. Unfortunately Ohio State is presented with challenges like those this season, so they'll have to continue to compete with themselves to stay engaged. 
Chris: As of this moment, I have them right on the heels of Alabama and Oregon, just slightly ahead of Clemson and Florida State. I think every team in that top five is beatable but I like Alabama's championship pedigree and Oregon's offense scares the crap out of me. I think Clemson is a team that is likely to beat itself in a national championship setting and having not watched a lot of Florida State, I don't know exactly what to make of them yet considering their schedule to date is almost as janky as Ohio State's and though Jamies Winston has been spectacular, he hasn't had to deliver in a pressure-packed game yet.
Nicholas: No, and Ohio State might only be the fifth or sixth best team. The offense is humming pretty well, the defense is average to above average, and the special teams have been excellent. That's a good combo, but the Buckeyes don't have the terrifying explosiveness the other top teams do. Alabama went scoreless for 17 minutes and then racked up 668 yards of offense against Kentucky. Oregon went to raucous Husky Stadium to play a strong team that hates their guts more than anything, and still won by three touchdowns. When Ohio State shows that kind of explosiveness against somebody besides Florida A&M, they'll be in that conversation.
What is your final score prediction?
Ramzy:  34-14 Ohio State.
Chris: I like Ohio State to win 31-16.  
Nicholas: 26-10, Ohio State.
Clemson or Florida State, who should Buckeye fans root for?  Should they care at all? Discuss.
Ramzy: Florida State, because college football isn't quite as satisfying without a gratuitous episode of Clemsoning.
Chris: I don't know if I have preference as to who wins. It really feels like it's a toss-up. The bottom line is that Ohio State might need both teams to lose a game. After this weekend, Clemson only has one really tough one left - their regular season finale on the road against South Carolina, while the Seminoles still have to face the 'Canes at home in two weeks before ending their regular season slate at Florida. Of those games, I think South Carolina has the best chance of spoiling a perfect season so I guess I'll pull for Clemson to win this Saturday.
Nicholas:  I won't ever tell anyone they should or shouldn't care about something. Buckeye fans who care about national championship intrigue probably care about this game too, and vice versa for those who don't care what the rest of the country does.
Personally, I'll be rooting for Florida State. For all the crap Clemson gets about Clemsoning, they've held their own in big games over the past few years. I have more confidence in Florida State blowing a smaller game, and Jameis Winston will cool off. Surely no redshirt freshman quarterback has played this well for an entire season... right? 
Which team is the most overrated squad in the country?
Ramzy:  Georgia. They're injured and mired in predictability. 
Chris:  I think Louisville is the most overrated (2nd place goes to Notre Dame at 29th in the Coaches Poll), and not that you asked, but I'll take Wisconsin as the most underrated.
Nicholas: Texas A&M. The Aggies' secondary isn't worth a damn and they keep winning games by narrower margins than they should. The next four games are probably wins, and then LSU will bring it crashing down.
RANDOM Michigan QUESTION ALERT: Is Brady Hoke the answer at UM, or is he just a bigger-boned Rich Rod? What is his job title in four years?
Ramzy: Hoke's offensive coordinator telegraphs running plays behind an offensive line full of high-star recruits that is underperforming at a level that should merit criminal charges for the responsible coaches. Sound familiar? It's how Hoke responds. Jim Tressel was loyal to his underperforming assistants. Michigan fans should hope that Hoke is loyal to Michigan football.
Chris: I don't know that you can compare him to Rich Rod because, warts and all, Rodriguez was at least a huge part of Michigan's actual gameday play-by-play strategy whereas Hoke relies so heavily on his assistants that he doesn't even have a need for a headset whether his team is on offense or defense. I think his job title in four years is still Head Coach, I just don't know if it'll be his last year in Ann Arbor or his first year at a lower-tier program.
Nicholas: You say big-boned like it's a bad thing. Rich Rod's 240-pound offensive linemen were falling over in the breeze, and Hoke knows the value of girth.
Hoke will still be the Michigan coach in four years – he's recruited too well to flame out before then – but if Al Borges is still his offensive coordinator in 2017, he'll be in trouble. After this play, I am seriously convinced that Borges is worse at playcalling than Jim Bollman. Borges pounds square pegs into round holes and thinks round pegs (i.e. constraint plays) are for pussies. He and Hoke are BFFs, so Hoke will probably never fire him. Thank God for complacency.