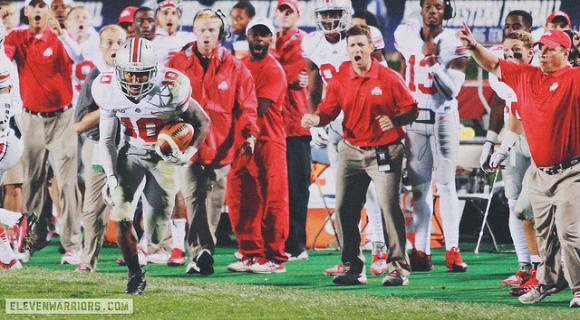 Ohio State ranks in the top 20 nationally in total offense and rushing offense. The Buckeyes have scored 36 touchdowns, average 493 total yards per game – 281 on the ground – and gain nearly seven yards each play. Yet, they aren't clicking.
Huh?
That's the message from both players and coaches. Expectations have soared at Ohio State. Wins are still the bottom line goal, but an exciting offense that produces yards and highlight-reel plays in bunches is desired. College football will resemble a beauty pageant for one more year, so being attractive to voters remains important.
A Dontre Wilson end-around resulting in a 46-yard touchdown run is akin to a pretty face and voluptuous body on Miss Ohio. While judges at the Miss America contest might give her a 10, college football voters – media and coaches – give the Buckeyes a boost when they win big and do so in stirring fashion.
It hasn't happened often enough in 2013, with the polls as evidence. Ohio State has dropped two spots in the AP Poll and one in the Coaches Poll since the season began. And that's with a perfect 6-0 record. True, there are no marquee wins. But another factor is, when given the opportunity to pile up points, the Buckeyes haven't taken advantage.
Wisconsin could end the season with two losses and be the best team Ohio State plays in the regular season. Leading 31-14 in the third quarter, the Buckeyes went conservative instead of widening the margin. They won 31-24 and the doubters became louder. Meyer was one of those critics.
"I think we are not as explosive as some of these teams," he said Monday. "That's something I want to be. If I had to grade us, we are not explosive from first to fourth quarter."
Oregon and Clemson get noticed not just for wins, but also who they come against and the creativity used to achieve victory. After a bye week, time for Ohio State to take a breather and return fresh, the final six regular season games could welcome the offense many thought the Buckeyes would run this season.
Braxton Miller, Carlos Hyde, Dontre Wilson, Jordan Hall, Philly Brown, Devin Smith and others making defenses look silly on a continuous basis.
"We can get a lot better," Brown said. "You can never reach your peak, especially at this level. We still make a lot of mistakes, and we see it on film and leave a lot of points on the field. Even [at Northwestern], I feel like we could have scored better in the red zone."
When Drayton was asked where the offense could improve, he became a third-grader who was scared to give a presentation in front of the class. He stuttered for several seconds before the thought finally came to him.
"I think that by the end of the year it will be a ridiculous offense."
"We haven't clicked on all cylinders just yet," he said. Keep in mind, however, that Ohio State is averaging 47 points per game. The program has never had a season average reach that level.
As recently as two seasons ago, the Buckeyes had trouble scoring 17 points in a game, let alone 47. The leading receiver had 14 catches, gamebreakers were nowhere to be found and the Buckeyes won six games. They haven't lost since the 2011 finale.
Prior to that, fans bristled at Tresselball. It was too hard to be upset, though, when 10-win seasons, victories over Michigan and BCS bowls were a yearly occurrence. A coaching change from Jim Tressel to Luke Fickell didn't change the offense. It just so happens the offense had a true freshman quarterback and a senior quarterback who played like anything but a veteran. Not to mention turmoil swirled all around, sucking the entire team into a vortex.
The final straw from fans was that the offense couldn't produce wins like it did the previous decade. Now, Ohio State once again has two quarterbacks that have played – a junior who finished fifth in the Heisman voting and a senior that sets school records every time he starts.
Perfect the Buckeyes are not, though.
"We haven't had a game where the run completely supported the pass and the pass completely supported the run," Drayton said.
Mention of that inconsistency is true, and it's something that's annoyed Meyer. Balance on offense is paramount. He prefers a breakdown of 60 percent run plays and 40 percent passing.
The closest Ohio State has come to that ratio in yardage was at Cal. The Buckeyes ran for 332 yards and threw for another 276. Not coincidentally, it was Ohio State's best overall performance of the season. It happened to involve 10 skill players filling up the box score – seven receivers and three tailbacks. 
"We couldn't do that last year," Meyer said. "There were games I refused to call [pass plays] because they were going to be covered and we couldn't throw it. That's a big part of who we are. So we would have more explosive pass plays."
On Wednesday, Miller said Iowa would present the stiffest test of the season for the Buckeye offense. That's probably hyperbole, though the answer will come Saturday. Don't be shocked if Miller's statement proves to be wildly inaccurate. It's not to say the Hawkeyes aren't good on defense, but Ohio State will have an offense at full strength.
For two weeks, they've been gearing up to run crossing patterns and implement Wilson and Hall. New wrinkles could be seen all over the offense. Wilson was supposed to give the Buckeyes the look of SEC and Pac-12 offenses, but he's still just a novelty, according to Meyer. It's partly true and partly a motivational ploy. It could also very well mean that Wilson will touch the ball close to 10 times on Saturday. 
Said Brown: "If we keep working every day in practice and keep getting better and taking this game-by-game, I think that by the end of the year it will be a ridiculous offense."
Some evidence points to that already being the case.