Ohio State returns to action in Week 8 after a bye in Week 7, the first of two that Ohio State will have this season. Coming to Ohio Stadium this weekend is Iowa, which also had no game on Saturday. Iowa's trip to Ohio State will be the first since losing the 2009 contest, which sent Ohio State to the Rose Bowl at Iowa's expense.
With the additions of Maryland and Rutgers and the redistricting of Legends and Leaders into something profoundly less stupid, Ohio State gains regular games with Maryland, Rutgers, Penn State and the Michigans at the expense of a regular series with Iowa. While this is the nature of the beast in the 21st century, I find it a bit unfortunate.
Iowa is one of my favorite Big Ten opponents, if for no other reason than the image contrast. Scarlet and gray with black and gold. Hawkeyes and Buckeyes. It just seems like Big Ten football on a brisk October Saturday. Ohio State will lose that going forward. The next scheduled meeting the two is in 2017. After that? Who knows.
In honor of Iowa, this week's TV Guide cover features one of its most prominent and successful alumni, Tom Brokaw. The 11W reader may object that technically Brokaw is not an Iowa grad, but a South Dakota graduate because Brokaw dropped out of Iowa. However, Brokaw is quick to clarify that he dropped out of Iowa because, while there, he majored in "beer and coeds". If anything, that makes Tom Brokaw the greatest Iowa grad. He's done university PSAs for Iowa in the recent past.
Here is your schedule for this weekend.
Tuesday
Week 8 had the first Tuesday night football game of the season, a Sun Belt affair pitting Louisiana-Lafayette against Western Kentucky.
Western Kentucky, coached by notorious vagabond and known motorcycle owner, Bobby Petrino, seemed the better squad heading to halftime. It had certainly outgained Louisiana-Lafayette considerably through the first half. One of the Ragin' Cajuns scores came on a 99-yard interception return for a touchdown. The other Louisiana-Lafayette touchdown was set up by another Western Kentucky interception.
However, Western Kentucky outgained Louisiana-Lafayette by a wide margin: 348 to 69. The second seemed to be academic, and it was, for Lousiana-Lafayette. The Ragin' Cajuns poured it on Western Kentucky, largely on the ground. It finished with 254 rushing yards in the contest, and a convincing 37-20 win.
Thursday​
Miami (FL) @ North Carolina (ESPN, 7:30 p.m.). Thursday night football returns to the ACC for this Coastal Division contest. I had to verify that on Wikipedia because it has been ten years and I still don't know Atlantic and Coastal in the ACC.
Missouri is the new hotness in college football this week after remaining undefeated with an upset win against Georgia in Athens, but Miami is still undefeated and has that win against Florida. No one has said much of the 'Canes this season, and debates about whether "The U is back" do not appear to be dominating college football. This is curious, because if there's one thing college football writers love, it's bright and shiny things, and things that are new. Miami would qualify after disappearing from college football after the 2003 Fiesta Bowl. I'm surprised the Canes are not being talked up more.
Meanwhile, UNC stumbles into this contest at 1-4 on the season, with the one win against Middle Tennessee State. It was even routed in Week 5 against East Carolina. I remember being a Larry Fedora fan and hoping that some Big Ten school would bring him into the league. Maybe my enthusiasm for him was premature. Look at his overall résumé. That 2011 season stands out, and those that follow Southern Miss closely are quick to say that was a result of a senior team he had.
Friday
Central Florida @ Louisville (ESPN, 8 p.m.). Poor Louisville. This is really the last good game it has on its schedule. Louisville will still get national television time. Its game next week is a noon kickoff on ESPN or ESPN2. It also has two weekday games on national television left to play.
But, this is the last good team it will get on national television. Its schedule after this includes South Florida, Connecticut, Houston, Memphis, and Cincinnati. Even if we are quick to note Houston is one of the remaining undefeateds in college football, we should also be quick to clarify that Houston has played garbage teams all season.
Central Florida will be a stiff test for a Louisville team that did not look entirely convincing in its other signature conference game this season, last week's win against Rutgers. The former Citronauts, and current Golden Knights, are 4-1 on the season with that one loss to South Carolina. Even then, Central Florida looked good in defeat. That win against Penn State in Happy Valley is looking a bit better now as well.
Saturday​
South Carolina @ Tennessee (ESPN, 12 p.m.). Noon is usually Big Ten territory. This week, it's been mostly usurped by the SEC. This game will kick off when Gameday ends.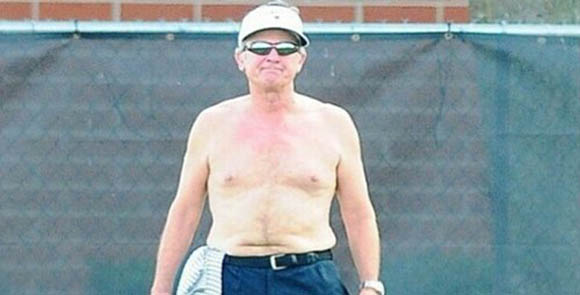 Nothing is ever uneventful down south. Two weeks ago, we wondering out loud whether Jadeveon Clowney was "tanking" for the NFL, purposely withholding himself from games in order to protect his assets, so to speak. He returned to action for the Arkansas game, but was largely not needed. He recorded just one tackle in a 52-7 rout of Bert's Razorbacks. South Carolina appears to be at full strength right now, and its offense is clicking. Connor Shaw is seventh nationally in pass efficiency and is yet to throw an interception in 2013. Mike Davis, whose older brother was the "Thunder" in the "Thunder and Lightning" backfield with C.J. Spiller at Clemson, is the 10th-leading rusher nationally with 124 yards per contest.
Meanwhile, maybe Tennessee found a ringer in its bye week, or found a cursed monkey paw, or something. It could use a signature victory shortly, but will not have many opportunities. After hosting South Carolina, it travels to the SEC's remaining undefeateds, Alabama and Missouri, in consecutive weeks.
Georgia @ Vanderbilt (CBS, 12 p.m.). CBS has a noon CBS game this week and, weirdly enough, it's this one.
It might be easier to make a note of who of consequence isn't injured for Georgia. The biggest injury of the bunch is running back sensation Todd Gurley, who is questionable for Saturday's game in Nashville. Mark Richt said Gurley is "real close", but that may not be enough when the ball is first kicked in Nashville.
If Gurley is unable to go, don't expect it to matter much to the outcome. To be fair, Georgia had been living on the edge for the past few weeks before finally falling off the edge at home against Missouri. However, Vanderbilt is barely treading water this year and is still a winless 0-3 in conference play.
Texas Tech @ West Virginia (FOX Sports 1, 12 p.m.). Airraid something something. Texas Tech is still undefeated this season, though its opponents this season don't say much about Texas Tech's merits as a football team. Arguably, its greatest win this season to date is against a 3-3 Texas Christian team, and it barely defeated a hapless Iowa State team last week at home.
Meanwhile, West Virginia kind of stinks at football this year (again), but does have that upset win against Oklahoma State on its record. Could lightning strike twice? It would be the story of the noon kickoffs if it did.
Minnesota @ Northwestern (ESPN2, 12 p.m.). The past few weeks really took a bat to both these programs. Northwestern was riding high on a 4-0 start to its season in non-conference play. Then, it lost to Ohio State, and was subsequently routed by Wisconsin. Now unranked, it is still looking for its first Big Ten win of the year.
The same can be said about 4-2 Minnesota. Its start to the season very much resembled last year's start, which featured four non-conference wins, none of which were inspiring. In fact, Minnesota's 29-12 win against Western Illinois can faithfully be described as just bad football by the Gophers. It too is looking for its first conference win before hosting the Cornhuskers next week.
It's worth noting that Jerry Kill will not coach this game as he continues his leave of absence to find better ways to deal with his epilepsy.
Purdue @ Michigan State (Big Ten Network, 12 p.m.). This is Ohio State's first game of the day. At least, it is in spirit. Both coaching staffs are comprised mostly of former Ohio State assistants, or, in the case of Marcus Freeman and Rob Harley, former Ohio State players. Freeman is Purdue's linebackers coach and Harley is a graduate assistant for Michigan State. Mark Dantonio and Darrell Hazell were arguably the best assistant coaches of Jim Tressel's tenure, though, certainly more can be said in support of Mel Tucker and Joe Daniels in that conversation.
Connecticut @ Cincinnati (ESPNU, 12 p.m.). Hahahahaha no.
Florida @ Missouri (ESPN3, 12:21 p.m.). This is the only noon slot game featuring two ranked teams, so why is it on ESPN3 and not CBS? The answer is a little surprising: no one's watching the Florida Gators and no one wants to watch them. The two lowest viewed games on CBS this season both featured the Florida Gators. I never thought I'd see the day when Florida Gators football was considered bad for ratings.
This is definitely a weird game on paper, mostly because Florida is notoriously reluctant to travel. It certainly would not be playing this game, if not for conference expansion. Ohio State fans like to dog on the SEC for not scheduling tough, or even interesting, non-conference games. Truth is it does. Programs like Georgia, Alabama, and Louisiana State have demonstrated that they will play anyone anywhere, even if they tend to gravitate toward hosting them in, *cough*, "neutral sites" like Dallas or Atlanta.
That comment about SEC scheduling is really applicable to just Florida, whose unwillingness to venture outside its state is almost comical at this point. If we permit Missouri's new entry to the SEC as a non-conference novelty act for the time being, the last time Florida traveled outside its state to play a non-conference game was in 1991. It was bombed 38-21 against Syracuse in the Carrier Dome and hasn't left the Sunshine State since. In fact, since World War II, it has only played that far north two other times: against Northwestern in 1965 and against Rutgers in 1986.
We don't dump on Florida's scheduling as much as we should, as it would be nice to see Florida play Penn State, or Oklahoma, or USC. Hell, go play at Georgia Tech or Clemson, just get outside Florida for goodness sake.
If you wish to see this game, check your local listings. I think these weird 12:21 SEC kickoffs are carried on some lesser broadcast network.
Iowa @ Ohio State (ABC/ESPN2, 3:30 p.m.). This is your personal game of the week. Make sure to stay tuned to Eleven Warriors for further coverage of this game.
Auburn @ Texas A&M (CBS, 3:30 p.m.). This is one of two games at the 3:30 slot featuring two ranked teams.
I question Auburn's presence in the rankings, much like I questioned why Florida is still ranked. Auburn has not beaten anyone, and that 30-22 win against Ole Miss is not looking better as the season progresses. Its other wins include heavyweights like Washington State, Arkansas State, Mississippi State, and Western Carolina. It did not look convincing in that season opener against Washington State either.
That said, Auburn should credit for one thing. It is the best rushing offense in the SEC, averaging 289 rushing yards per game. That is a marked improvement from the 148 rushing yards per game it averaged last year, though, again, the qualifier about the competition should be mentioned. Nick Marshall is a big reason for that and will return to action against Texas A&M.
Meanwhile, Johnny Manziel. Yes, he's still around and he's still doing things that are making sportswriters fawn over him with crushes that would make schoolgirls uncomfortable.
UCLA @ Stanford (ABC/ESPN2, 3:30 p.m.). This is the other game featuring two ranked football teams, and may have looked a lot better if Stanford did not wang that game in Utah last week.
This is a prime opportunity for UCLA. After this game at Stanford, it again ventures into the Pac-12 North to play at Oregon. Should UCLA win both, it might leapfrog an undefeated Ohio State team. It would also force college football writers to discuss them. Currently, the Pac-12 North, and Oregon, in particular, is the only discussion of football on the West Coast.
UCLA, right now, is ranked no. 9.
Oklahoma @ Kansas (ESPN, 3:30 p.m.). Bob Stoops is looking for answers after choking a game in which it was a two touchdown favorite against a feeble Texas team. I can't imagine that Charlie Weis will pose much of a problem, though.
Indiana @ Michigan (Big Ten Network, 3:30 p.m.). I've been wanting these two teams to play for some time. Remember how Michigan would boast about it having the best pass defense in the Big Ten, and, for a long time last year, the best pass defense in the country? Yeah, that drove me crazy. Michigan could make that claim despite having a rather poor secondary because it wasn't playing the two teams in the Big Ten that could reliably throw the ball: Penn State and Indiana. It failed last week's test against Penn State. Can it solve Indiana's passing attack?
Maryland @ Wake Forest (ESPNU, 3:30 p.m.). You're not watching this. Don't kid yourself.
Brigham Young @ Houston (ESPN NEWS, 3:30 p.m.). This is another game you're not watching, but I mention it only to underscore that Houston is still undefeated this season. My guess is BYU finally hands them a loss.
Arkansas @ Alabama (ESPN, 7 p.m.). Poor Bert. I'm just going to fast forward to the point where I mention that, after this game, Bert has his fifth straight loss of his first year as head coach of the Arkansas Razorbacks. The Razorbacks finally get a bye after this game, but finish with Auburn, Ole Miss, Mississippi State, and Louisiana State. That looks like at least two, and likely three, additional losses to drop the Hogs to 4-8 in 2013.
LSU @ Ole Miss (ESPN2, 7 p.m.). Both teams are at a critical juncture this season. Ole Miss is in the more difficult spot. The season after signing one of the best recruiting classes in the entire country, Ole Miss has not had the immediate results to show for it. After that second half comeback and rout of Texas in Austin, it has lost three straight. It looked good enough in defeat against Texas A&M, but suffered a loss nonetheless.
Meanwhile, LSU is an easy team to forget when the two-time defending national champion Alabama Crimson Tide, which is in its division, is the talk of the league and the toast of college football. It already has a loss at Georgia in conference play, which put them a bit behind the 8-ball. It can still secure a trip to Atlanta for the SEC Championship Game, but its route to Atlanta is a little more difficult for it.
Speaking of which, the visit to Alabama is next on the schedule for LSU. Technically, it's after next week's primetime kickoff against Furman, but I don't consider that a real football game.
Iowa State @ Baylor (ESPNU, 7 p.m.). Is Baylor still a touchdown favorite over Ohio State on a neutral field? For all Baylor's strengths, and its position as presumptive favorite to win the Big XII this year, its schedule has still sucked to this point. Farting out a 35-25 win against Kansas State may have changed our conversation about Baylor this season.
Or not. Everyone likes points. That's why the SEC is a "quarterback conference" now after previously being praised for its defense for the past five years.
Meanwhile, Iowa State's road to a bowl game will look much bleaker after this game. A loss in Waco drops Iowa State to 1-5 on the season. A loss next week to Oklahoma State puts them at 1-6. Iowa State still has to play Oklahoma and Texas.
Southern California @ Notre Dame (NBC, 7:30 p.m.). I still think this is the most overrated rivalry in college football. It's less a rivalry, and more a series of regional curiosity. Nonetheless, the 85th installment of this battle for the Jeweled Shillelagh is one of your primetime viewing options for the evening.
Both teams are 4-2 on the season, but the burden seems to be on Ed Orgeron to find a way to win this contest. Orgeron, the interim coach for USC, is fighting an uphill battle this game. Marqise Lee is banged up, but should play. Senior linebacker Morgan Breslin hasn't practiced this week and probably will not play. USC is already fielding two-thirds of a football team anyway because of sanctions, so losses like this are amplified.
More importantly, we're at point now in this "rivalry" where Notre Dame is stronger in the trenches than USC. I don't think it's close either. Expect Notre Dame to overwhelm USC in the second half of this contest. If it does, it would be Notre Dame's first win against USC in Notre Dame Stadium since 2001, Pete Carroll's first year.
Wisconsin @ Illinois (Big Ten Network, 8 p.m.). Big Ten Network has its first primetime conference game of the year. I strongly believe the Big Ten needs to have more of these, and certainly into November. Otherwise, no one would watch this game. They still may not, because this game will compete, poorly, with Clemson-Florida State for viewers, but it helps the atmosphere of this contest.
Smart money is Wisconsin, because the Badgers are playing some of the best football in the conference right now. Illinois is playing much better than it was this time last year, but that is also not saying much. Illinois was abjectly terrible last year. It's only mediocre this year. It still lacks a signature win for the Tim Beckman era. As nice as that win against Cincinnati was, I don't think it's one to cherish as time progresses.
Ohio State fans will want to watch this game. They won't have many opportunities to look at the Illini on a big stage before the Buckeyes travel to Champaign in the middle of November. The Illini are returning from a bye, and last played in a 39-19 loss to Nebraska. However, that box score belies how that game unfolded. The Illini were effective in moving the ball, finishing the game with 372 yards of offense evenly split between rushing and passing. Illinois' problem on offense was largely turnovers and unforced errors that stalled promising drives. It was a game that could've been a shootout, but turned into a rout.
With that in mind, it's worth repeating that Illinois' defense is also rather grim. It conceded 521 yards to a Taylor Martinez-less Cornhuskers offense, including 335 rushing yards. It allowed for 615 yards in the Illini's loss to Washington in Chicago. Should be yards ahoy for Wisconsin.
Florida State @ Clemson (ABC, 8 p.m.). This top five matchup is ABC's game of the week. Clemson is also hosting ESPN's College Gameday for it, making it the first school since 2007 (LSU) to host Gameday twice in the same season.
This is a big game for the BCS picture, as it should almost assuredly knock one of the ACC schools from the national title conversation. Both Florida State and Clemson play in the same division, so the loser of this game may effectively be barred from playing in the ACC Championship Game, wherever that game is actually played. I think it's played in a parking lot outside a Bojangles, but I'm not sure.
Clemson will host this game, and will also try to set a Guinness World Record for loudest roar in a college football game, but momentum might be with Florida State. This is more than just a reference to Clemson's narrow win against Boston College last week, in which it was trailing in the fourth quarter.
Clemson's defense is dumb. It's one thing for a defense to be bad because it doesn't have great athletes. It's another for a defense to be bad because its secondary is routinely out of position, its linebackers don't know which gaps to defend, and its interior defense doesn't know to fight off blocks. Ohio State's defense is getting grief from college football pundits for its defensive lapses, and they're deserved comments. How this hasn't been mentioned with respect to Clemson yet is beyond me. Clemson's offense masks just how fundamentally poor Clemson is on the other side of the ball.
That said, Florida State didn't look that much better when it played Boston College, the only team this season to put more than 13 points on Florida State's defense. I guess that can be qualified by reference to that game being in Chestnut Hill. Conference road games are the toughest games in college football, all else equal.
Expect this to be a shootout. I think Florida State carves up Clemson's defense and Tajh Boyd should be able to keep pace. I think Florida State wins this one, albeit with a score like 49-41, or something like that.
Washington State @ Oregon (FOX Sports 1, 10 p.m.). Take a look at Washington State's fourth quarter in last week's game against Oregon State. This is going to hurt for Mike Leach.
Oregon State @ California (ESPN2, 10:30 p.m.). I don't have much to add to this, other than wishing California would make us look better by comparison. Also, it's another game for you if you enjoy midnight football on the East Coast.