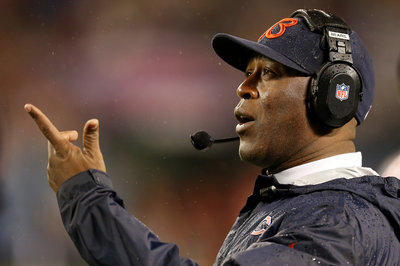 (WSCR) Former Chicago Bears head coach Lovie Smith interviewed for the vacant head coaching position at USC last week, a source told Mike Mulligan of The Mully and Hanley Show.

Smith has been sitting out the 2013 football season after being fired by the Bears last December.

Smith coached at the college level for 13 years before jumping to the NFL in 1996. He was the linebackers coach at Tulsa, Wisconsin, Arizona State and Kentucky before serving as the defensive backs coach at Tennessee and Ohio State.
Lovie Smith coached at Ohio State? I swear every. single. coach. of. significance. has logged time at Ohio State. #cradleofcoaches.