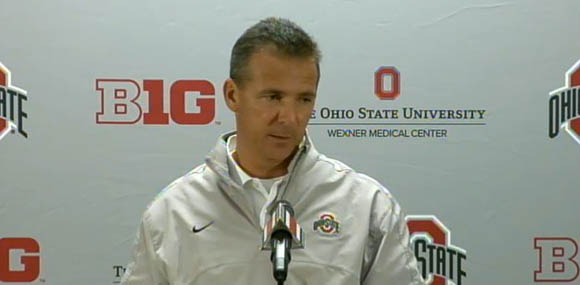 Every team in the country has a good bye week, even No. 124. When three undefeateds and three top-10 teams lose, it makes that idle week even better. That's what Ohio State experienced Oct. 12.
After six straight Saturdays of wins, including back-to-back triumphs over ranked opponents, the Buckeyes were finally off. It meant a low key week of practice, a weekend of relaxation for players and time to build for the future as coaches were on the road recruiting.
It was all deemed a success by Meyer. Now, the Chase ratchets up in earnest once again. Iowa has one loss in the Legends Division and upset would be the perfect recipe to reach Indianapolis. The Hawkeyes and Buckeyes haven't played since a dramatic late rally by Ohio State in Iowa City during the vacated 2010 season.
This year's meeting doesn't figure to be a classic like many Iowa games in past seasons. But the Utah-Stanford game didn't figure to register on the college football radar either. Suddenly, Stanford's national championship hopes have all but been extinguished.
When it comes to the BCS, though, consider Meyer an idle observer.
"We're going to try the best we can to get to next Tuesday's practice," he said. "Those are questions we have no control over. Distraction is a bad, bad word."
Urban Meyer
Champions vs. Northwestern:
Offense: Carlos Hyde (player of the week), Marcus Hall, Andrew Norwell, Jeff Heuerman, Evan Spencer, Devin Smith, Philly Brown
Defense: Joey Bosa (player of the week) and Michael Bennett
Special Teams: Bradley Roby (player of the week), Ryan Shazier, Camren Williams, Joshua Perry and Armani Reeves
"If someone wants to ask if we run the ball effectively over 12 years, we run the ball really well."

Meyer said his offense has always adjusted to its own personnel. He admitted he likes big, powerful back. That's exactly what he has in Hyde.

Meyer said the biggest issue with the pass defense was the underneath coverage. He said keying on stopping the run has opened up holes in the secondary.

Tommy Schutt will play Saturday, according to Meyer. Jordan Hall will practice Monday, but Meyer didn't sound too enthusiastic about his prospects for Saturday.
In his 12-year career, Meyer is 34-2 after off weeks. He said he and his assistants are very good at managing byes. There's a formula for success, and they've found it.
Meyer said he watched the Penn State-Michigan game on an iPad at his daughter Gigi's volleyball game.
Dontre Wilson will play more during the second half of the season, Meyer said. He said Wilson needs to get stronger, learn to block, etc. Meyer added that Percy Harvin could bench 400 pounds.
"I think we're right there. I think we're a good team." –Meyer on where the Buckeyes stack up against the rest of the nation.
Meyer said one big weakness in his team is explosiveness. He said they aren't consistently explosive in all four quarters.
Meyer confirmed that Curtis Grant's father passed away last week. Meyer said he expects Grant to play Saturday.
Braxton Miller's knee is 100 percent healthy, Meyer reiterated.
Everett Withers
Withers said he would play press coverage the whole if he could. Obviously, though, that isn't realistic. Withers said press coverage eliminates several routes the offense wants to run. Said Ohio State would like to be a good press team, but doing so in three deep is different than pressing in Cover 1.
The primary objective for the defense is to stop the run, Withers said. Teams may throw the ball, but as long as you trigger and tackle, you're going to be OK. 
Withers said the biggest thing the defense worked on during the bye week was triggering and tackling.
Pittsburgh Brown had a decent first start at safety, Withers said. Brown would probably want a few plays back, but Withers believes the experience – Brown is in his fifth year – is a big plus.
Withers said he'd like to see Tyvis Powell play free safety and Vonn Bell play nickel.
The defense has been good, withers said, because the objective is to stop the run. So philosophically, they're doing well. Withers said eight in the box puts stress on the defense, but he wants to continues playing man-to-man and take away short intermediate routes.
Withers said the defense needs to get better on first and second down. They're one of the best teams in the country on third down. 
Iowa has a strong run game. Withers said stopping the zone running game will be key. Physical offensive line puts pressure on the D-line. Running back Mark Weisman is big part of run game's success. Withers credited Kirk Ferentz with getting every ounce of production out of Weisman.
Stan Drayton
A veteran offensive line that is playing at a high level instills a tremendous amount of confidence in the running backs, Drayton said. He said the running backs are able to ready the second and third level of the defense because they aren't worried about the O-line not blocking.
Drayton said there's no hesitation in the linemen's first step. Even when an opponent is good at stopping the run, there is full trust in the line's ability to block and the running back's skill to run through talent. 
Carlos Hyde's stint on the scout team had many positives, according to Drayton. He said he faced contact all camp, so he was game-ready following his suspension. Drayton said it also made Hyde more hungry mentally.
Jordan Hall is feeling better after a bye week. Drayton expects him to practice all week. His game status remains cloudy.
Drayton points out that throwing effectively comes from running the ball well. Ohio State's offense is clicking because of the line play and the running backs getting yards.
Drayton said there's been zero selfishness in the locker room. The team is clicking, everyone doing their job.