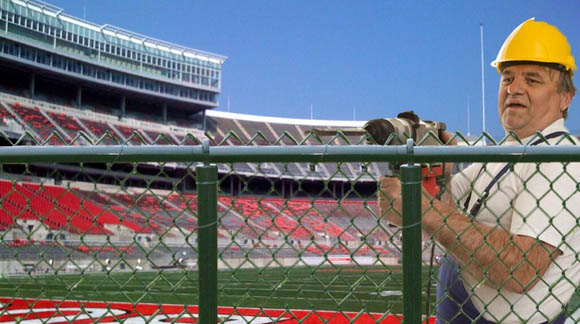 SUNDAY 10/6
Review: This week's Buckeye Net News email was definitely worth the delete.
And campus Steelers fans enjoyed their week off of rooting for and pretending to be from Pittsburgh.
MONDAY 10/7
A professor maybe hadn't changed clothes since Friday.
Female students finally stopped pretending fall was their favorite season.
OSU Student Wellness began offering free Barry White vinyls.
A devious computer science major set the speakers outside of the RPAC to a 24-hour Rick roll.
And a squirrel trapped inside one of the new fences around campus supposed it'll die in there.
TUESDAY 10/8
TFL forecast: Not even gonna try.
A Union Market cashier was wondering if you wanted to fill the rest of that block with a 50-cent lollipop or keep your dignity.
And a student texting in the middle of a crosswalk escaped without consequence unfortunately.
WEDNESDAY 10/9
Interim President Alutto was unsure of the exact procedure for tearing down the South Oval fences so decided to probably just leave 'em up.
PAD celebrated the successful delivery of its first pizza.
Commentary: Can campus boyfriends just not?
And DeShaun Thomas was wondering how much longer he would be able to maintain The Fake Lantern.
THURSDAY 10/10
An OSU marketing study found chalk ads to be completely useless.

Football players weren't trying to brag but check out the number on their backpacks.
Construction workers weren't sure why they were being paid to sit in the grass but were fine with that.
We asked readers: What's your best flier-avoiding technique.
And we got in on Craft's twitter Q&A via his roommates' account:
"@TheFakeLantern: .@CRAFTroomies Do you feel that your roommates are exploiting you for a false sense of importance?" Most definitely

— Craft's Roomies (@CRAFTroomies) October 11, 2013
FRIDAY 10/11
Ohio State began fencing off the football field.
Commentary: What the Curl Drive closure means to you.
SATURDAY 10/12
Urban Meyer: "Bye week a better team than most people realize."
Devin Gardner turned over everything, save for a new leaf.
And our clever statisticians pointed out that Michigan lost to PSU who lost to IU who lost to Navy who lost to Western Kentucky who lost to the South Alabama Jaguars!