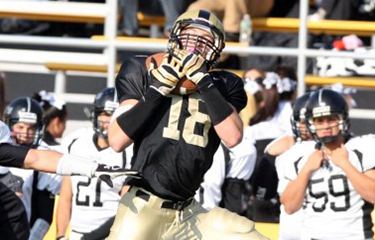 There are not many spots left in the 2014 Ohio State recruiting class as anyone who reads this column regularly knows. With six, maybe seven spots left, the Buckeyes have narrowed down their primary targets to a dozen or so players that they hope round out a top five national class come February.
Two of those players, New Jersey tight end Mike Gesicki and Brooklyn (N.Y.) defensive tackle Thomas Holley made visits to Penn State and saw the Nittany Lions get the best of Michigan in one of the season's most exciting and wild games. Many people have speculated that it will be an Ohio State/Penn State decision for each of those players, with an imminent decision from Gesicki.
As it stands, the Buckeyes — who have been fairly confident that they could land the nation's top-ranked tight end (according to the latest update by 247Sports.com) — now seem to acknowledge that they are falling behind Penn State as his likely landing spot. Ohio State is perceived by most to be the favorite for Gesicki himself, but many others in his support "circle" appear to prefer Penn State. With a decision coming possibly as early as this week, all the speculation is soon to be over with, one way or another.
Holley is not as close to a decision as Gesicki, but the Penn State visit was an important one as the Nittany Lions, buoyed by the NCAA's ruling that allowed them an additional five scholarships for 2014, have begun a reinvigorated pursuit of some players they might not have been able to otherwise. The 6-foot-4, 285 pound defensive tackle will travel to Columbus this coming weekend when Ohio State takes on Iowa. Interestingly, Holley and his Abraham Lincoln teammates take on Curtis Samuel and Erasmus Hall on Friday, then the two Empire State stars will travel together on a visit to Ohio State.
Moving on to recruits that are already in the Buckeye fold...
BROWN LEADS THE WAY AGAINST CROSSTOWN RIVAL
Noah Brown is good, in case you hadn't noticed. The Buckeye commit from Pope John XXIII in New Jersey has been tearing up his competition every weak and this weekend was no exception. Brown finished his game against Sparta with six receptions for 146 yards and two scores as well as nine carries for 67 more yards, helping his team to a big 31-27 win. Brown's exploits have earned him near celebrity status in his hometown, the acclaim has been a surprise for the humble 6-foot-2, 210-pound star wide receiver. If you want to check out some amazing video of what Brown can do, here's the place to look. He wears No. 21 and he's pretty darn insane. 
FROM PARRIS WITH LOVE
If you're looking for a Buckeye commitment "Player of the Year," at this point you'd be hard-pressed to not look directly at Akron St. Vincent-St.Mary's wide receiver/running back Parris Campbell. Saturday afternoon he and his Irish teammates traveled to Dayton to take on Thurgood Marshall and Michigan State commitment Vayante Copeland, and Campbell once again came out swinging, leading his top-ranked Irish to an easy, breezy, beautiful 41-12 win.
How does seven carries for 203 yards and three touchdowns suit you? Campbell also collected six tackles on defense. Campbell had touchdown runs of 44,50 and 98-yards as a part of his afternoon. Just another day at the office for lightning-in-a-bottle.
What about Campbell's teammate and fellow Buckeye commit, linebacker Dante Booker? He collected 12.5 tackles. Good day for the future Buckeyes in Dayton.
YOU KNOW THAT GUY? DON'T BE HIM.
I don't like to use my position, the fact that people read what I write, as a podium for any sort of ranting and raving of my own, but occasionally it's important to highlight the things that are great — and unfortunately the things that are bad — about today's world of being so connected to recruits and players.
Take, for example, this fella. 
Now, I am well aware that fan is short for fanatic, and that there are many more "good guys" out there than "bad guys," but when you're (presumably) a grown man taking to social media in order to badmouth and berate high school players committed to a team other than the one you support, then you're a horrible, horrible person. No matter how much of a "joke" you pretend it was. The "joke," is you, as a person. 
Bottom line, if you're a Buckeye fan or you happen to be the fan of another team but just reading our site, please understand that you're dealing with and talking to kids; teenagers. Don't be that guy who embarrasses your whole fanbase just because you can't handle your liquor or you're a hypersensitive, emotionally defunct manchild. 
RANDOMNESS
Ohio State commitments Terry Mclaurin and Jamarco Jones each told 11W that they expect to be in attendance next weekend against Iowa and for the October 26th night game against Penn State. The commitments are cognizant of Raekwon McMillan visiting for Penn State and want to make sure they are represented as fully as possible. Shelby Spence, Jones' teammate who visited Ohio State for Friday Night Lights in July will be visiting with Jamarco.
---
The Buckeye commitments are aware of what the main targets are thinking, doing, etc. I spoke to a number of different players about Mike Gesicki and each of them had a similar point of view about the star tight end. The general thought? Gesicki loved his visit to Ohio State, but he's very difficult to read and doesn't reveal too much. The confidence in what Ohio State is selling is what fuels the idea that there's no better place for him than in Columbus.
---
There was some confusion the other day as 2015 St. Peter's Prep (N.J.) quarterback Brandon Wimbush tweeted that he'd not be able to make it to the Penn State game because of a 1pm Saturday practice. For whatever reason people assumed he was talking about his scheduled visit on 10/26 to Ohio State, but he was referencing yesterday's game against Michigan. Wimbush and teammate (2015 cornerback and fellow Buckeye offer) Minkah Fitzpatrick are still scheduled and planning on checking out the Buckeyes in two weeks.
High School Football Review
| Position | Player | School | Opponent | Comment |
| --- | --- | --- | --- | --- |
| QB | Stephen Collier | Lee County (Ga.) | Bye | Watched football.  |
| WR | Parris Campbell | St. Vincent-St. Mary (Ohio) | at Dayton Thurgood Marshall (Ohio) | Won 41-12 |
| WR | Terry McLaurin | Cathedral (Ind.) | Indianapolis Arsenal Tech (Ind.) | Won 23-14, 12 carries for 132 yards and a touchdown, no catches. |
| OT | Jamarco Jones | De La Salle (Ill.) | Wilmette Loyola Academy (I'll.) | Lost 48-0. |
| OT | Kyle Trout | Lancaster (Ohio) | Gahanna Lincoln (Ohio) | Won 22-19. |
| OG | Marcelys Jones | Glenville (Ohio) | at Cleveland John Marshall (Ohio) | Won 56-0. |
| OG | Demetrius Knox | All Saints Episcopal (Texas) | Tulsa Holland Hall (Texas) | Won 52-3. |
| DE | Jalyn Holmes | Lake Taylor (Va.) | at Portsmouth Churchland (Va.) | Won 55-7, DNP |
| DE | Dylan Thompson | Montini Catholic (Ill.) | Woodstock Marian Central Catholic (Ill.) | Won 40-35, played one half and blocked a punt and recored two tackles for loss. |
| OLB | Kyle Berger | Ignatius (Ohio) | Eastern Christian Academy (Md.) | Lost 32-29 on FG with :10 remaining. DNP (ACL) |
| OLB | Dante Booker | St. Vincent-St. Mary (Ohio) | at Dayton Thurgood Marshall (Ohio) | Won 41-12 |
| CB | Damon Webb | Cass Tech (Mich.) | Detroit Mumford (Mich.) | Won 41-6, had an interception. |
| S | Malik Hooker | New Castle (Pa.) | Imperial West Allegheny (Pa.) | Lost 37-31. |
| ATH | Noah Brown | Pope John XXIII (N.J.) | Sparta (N.J.) | Won 31-27. Brown went off - see above. |
| ATH | Sam Hubbard | Moeller (Ohio) | at Cincinnati Elder (Ohio) | Won 35-14 to win GCL title. Nine tackles and four PBUs. |
| ATH | Lonnie Johnson | West Side (Ind.) | at Gary Wallace (Ind.) | Won 82-20, had five catches for 152 yards and three scores, as well as a rushing touchdown. |
| ATH | Curtis Samuel | Erasmus Hall (N.Y.) | at Brooklyn Canarsie (N.Y.) | Won 34-0, had two  |
| K | Sean Nuernberger | Oldham County (Ky.) | Louisville Fern Creek (Ky.) | Lost 35-13, 2/2 on FG, perfect on XP, had two punts averaging 64 yards per punt. |
| TE | Mike Gesicki | Southern Reg (N.J.) | Bye | DNP, visited Penn State. |
| OT | Chad Mavety | Nassau C.C. (N.Y.) | at Georgia Military College (Ga.) | No results available. |
| OT | Damian Prince | Bishop McNamara (Md.) | DeMatha (Md.) | Lost 61-27. |
| DT | Thomas Holley | Abraham Lincoln (N.Y.) | Midwood (N.Y.) | Won 36-12. |
| ILB | Raekwon McMillan | Liberty County (Ga.) | Statesboro (Ga.) | Lost 24-7, first defeat of the season. |
| S | Erick Smith | Glenville (Ohio) | at Cleveland John Marshall (Ohio) | Won 56-0. |
| ATH | Marshon Lattimore | Glenville (Ohio) | at Cleveland John Marshall (Ohio) | Won 56-0, punt return for a touchdown. |