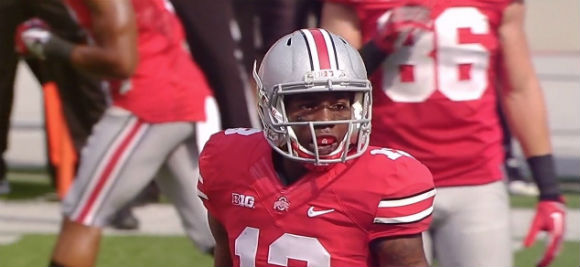 At the halfway point of the regular season, it's useful to look back and take stock of what has transpired through Ohio State's first six games.
This is the time of year you'll see report cards, stories tracking statistical projections, midseason reviews, and other such journalistic enterprises. These are particularly prevalent when, as in 2013, the mid-season point coincides with a Buckeye bye week.
I'm not immune to the tricks of the trade. I too am prone to critical appraisal of the happenings in the college football season to date. One of my favorite exercises is to examine reality and compare it to my initial expectations, just to see where the cream has unexpectedly risen to the top. As you may imagine, it's a very positive activity and serves up a heaping helping of the warm and fuzzies as we head into the stretch run.
Herein, I'll discuss the players that have pleasantly surprised me by exceeding any and all of my own personal expectations. While your mileage may vary, these are the guys that have blown up my preconceived notions of what their contributions to the success of Ohio State football would be in 2013:
6. Chris Carter
If you had told me before the season that sophomore defensive lineman Chris Carter would be on the field for meaningful snaps, I would have assumed things weren't going well. I'd have figured he was playing right tackle after a rash of offensive line injuries. It turns out the 6-foot-4, (down to) 340-pound Cleveland product has found a niche on the D-line.
In his second season, Carter has looked comfortable at nose tackle, eating up blocks, freeing up his teammates to make plays and even showing some quickness for a man his size. He has only seven tackles on the season, but the linebackers and safeties provide most of the stops for the Buckeyes anyway. Carter also has a tackle for loss, a sack and a fumble recovery to his credit this year.
Where there was once just a massive lump of potential, there is now the makings of a future star in Carter, which makes him one of the biggest (and best) surprises of the season so far.
 
5. Michael Bennett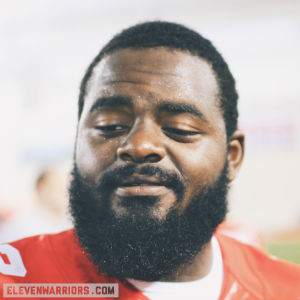 Don't get me wrong, I knew Bennett had talent and could make plays. The junior from Centerville has shown flashes of greatness in an OSU career sometimes sidetracked by injuries.  He appeared in eight games last season, finishing with 11 tackles, a TFL, a sack and a fumble recovery. He was a key reserve (when healthy) behind a senior-laden defensive line that also featured early NFL entrant Johnathan Hankins.
Bennett has become the leader of his unit this season, showing previously unseen speed and explosiveness from his defensive tackle position. Despite missing a game already this year, Bennett has 12 tackles, 3.5 TFLs, two sacks and two fumble recoveries. He blows up offensive linemen, clogs running lanes, provides pressure on opposing passers, and gives his teammates a spark.
If Ohio State is going to challenge for conference and national crowns, Michael Bennett will likely be one of the most significant contributors to the cause.
4. Evan Spencer
The junior wideout from Vernon Hills, Ill., caught 12 passes a year ago, gaining 136 yards, of which 44 came on a single play. He did not score a touchdown. I thought Spencer to be full of potential but was starting to wonder if it would ever be realized.
In 2013, Spencer already has 11 catches for 110 yards and three touchdowns, showing a significant increase in production. More importantly, Spencer has been a key factor in Ohio State's success in the run game. He has developed into an outstanding blocker and has been unselfish in providing room for his teammates to excel. When Urban Meyer speaks about the improvement in his receiving corps, I believe Spencer to be one of the people foremost in his mind.
He even specifically singled out Spencer after the Cal game for his performance.
3. Dontre Wilson
We may not have seen much of him in recent games, but Wilson has been a revelation in 2013. Every year, incoming freshmen enter with a lot of hype and buzz, only to get buried on the depth chart or redshirted, as they struggle to adjust to the speed of the college game, or to grasp all of the mental aspects of learning complicated systems while simultaneously figuring out how to live on their own — often far from home — and adjusting to courses at the university level.
With that in mind, I was understandably skeptical when I heard predictions of Wilson making an immediate impact with the Buckeyes in 2013. Boy, was I wrong.
The speedster out of DeSoto, Texas, has played in all six games so far, serving as the team's primary kickoff return man. But his real impact has been out of the backfield, where he averages 9.5 yards every time he runs the ball (15/142), adding one touchdown. Wilson also has 11 receptions for 105 yards. He seems a threat to take it to the house every time he touches the ball. His raw abilities are so important that Tom Herman is trying to clean up the other aspects of Wilson's game so he can be on the field more.
Of all Ohio State's playmakers, he might have the highest ceiling.
2. Kenny Guiton
The smooth jazz against Purdue (that video never gets old), and in finishing various drives for Braxton Miller, made Kenny G a folk hero in 2012. I knew Guiton was a quality backup quarterback. What I didn't know, was whether he could be part of game planning, be on the field from the first snap, and handle his team from start to finish.
I see you now, Kenny G.
Guiton was so effective in games against San Diego State, California and Florida A&M that some deluded few actually began to question whether or not Miller should return to the starting lineup (lookin' at you, ESPN). Despite Guiton tossing a school-record 90-yard touchdown at Cal and setting a school mark with six scoring tosses in one half against Florida A&M there was never any real threat to Miller's position as QB1.
What Guiton did was to rally the troops while their leader was sidelined, completing 68.4% of his passes (65/95) for 664 yards and 13 touchdowns, with just two interceptions. He also ran 25 times for 186 yards and a touchdown. A team with a lesser backup might have survived at home against cupcake opponents, but only a cool veteran leader could guide his team through a west coast trip without a hiccup.
1. Joey Bosa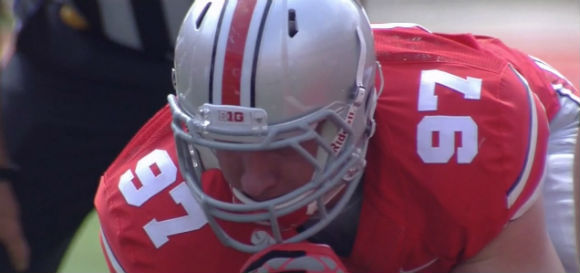 If young playmakers like Wilson seldom make an impact their freshman year, it's even more rare for a true frosh to compete immediately in big time college football on a physical level. Enter Joey Bosa.
With former NFL defensive linemen John Bosa and Eric Kumerow in the family tree, Ohio State's 6-foot-6, 275-pound man child out of Fort Lauderdale, Fla., was built to play in the trenches. That he can do it right away and at a very high level is ludicrous.
Bosa has become one of the most important cogs in Mike Vrabel's defensive line, with a quick first step, amazing brute force, and a nose for the football. Appearing in all six games, Bosa has 16 tackles, four TFLs, two sacks, a quarterback hurry and a fumble recovery for a touchdown.
I always felt Bosa would be one of the freshmen to flash in his first season. However, I never expected the impact we've seen so far. Buckeye fans should be excited to see how his career develops.
---
So those are my biggest stunners of the season so far. Who you got?