This week, one game in the Big Ten stood above the rest. The highest wattage game was the game held in Beaver Stadium, and following a quadruple overtime game between Penn State and Michigan, Ohio State is the Big Ten's lone undefeated team.
The Michigan-Penn State game is an ideal example that close games are not necessarily well-played games, relying on a college kicker's leg is unwise, and that coaches absolutely can choke under pressure.
Penn State (4-2, 1-1) 43, #18 Michigan (5-1, 1-1) 40, 4 OT

Penn State defeated Michigan, but there is so much more to say about the game. This game showcased aspects of the Big Ten we've come to know and endure: existential dread, utter coaching futility, and post-apocalyptic spectacle.
Penn State could have put the game away with a 21-10 halftime lead, but Frank Clark came up with a fumble return touchdown to cut the deficit to four. Devin Gardner's 16-yard touchdown pass to Jeremy Gallon in the third quarter gave the Wolverines the lead, then his 37-yard touchdown pass to Devin Funchess should have sealed it. That's when Brady Hoke made the dumbest decision of his Michigan career.
Up 34-27 with 57 seconds left in the game, at Penn State's 35, the Wolverines punted rather than attempt a game-icing field goal or fourth down conversion. The punt gained 15 yards of field position. Five plays, three spectacular catches and one quarterback sneak later, Penn State tied the game to send it to overtime.
Michigan and Penn State blocked each others' kicks, then traded field goals in double overtime. The Wolverines recovered a PSU fumble in triple overtime to set up an easy score, only for Gibbons to miss a 33-yarder. In quadruple overtime Brendan Gibbons finally hit one, but Penn State made a fourth down conversion and Bill Belton ended Michigan's agony with a touchdown run.
There were problems with Michigan's play besides coaching, but the coaching was clearly deficient. In particular, the decision to punt is reminiscent of what MGoBlog's Brian Cook once called "lizard brain" coaching:
The now rapidly developing lizard brain theory of college football coaching states that there is a certain level of pressure above which rationality goes out the window and coaches revert to who they really are. It came to me in a horrible epiphany when Lloyd Carr punted in the 2005 Ohio State game less than a quarter after going for it on his side of the field. Coaches panic, go to their binkies, and then try to convince you otherwise in the post-game.

Different coaches have different levels. Ron Zook reverts to the lizard brain on the opening kickoff of every game. Kirk Ferentz makes it about five minutes in. We don't know about Tressel because he constructed his team such that the lizard brain was right. Les Miles exists on an entirely different axis with taffy on one end and victory on the other. He is the only one who escapes. The lizard brain is unavoidable.
The decision to punt was bad enough, but the most craven decision was made by offensive coordinator Al Borges.  In overtime, Borges called for Fitzgerald Toussaint – a small running back ill-equipped for power running who had accumulated 17 yards on 17 carries – to run five times into the teeth of a stout defense stacking the box for a run. It went about as well as one would expect.
Michigan had other issues, like Devin Gardner's three turnovers, left tackle Taylor Lewan's injury, the secondary being burnt on Penn State's desperation drive and so on, but the coaches for Michigan were more responsible for losing the game than anybody else. The rest of the season looks bumpy for the Michigan offense; for all his potential, Devin Gardner's TD/INT ratio is 11:10 for the season, and with Taylor Lewan hurt, the offensive line shallow and Toussaint and true freshman Derrick Green as its best rushing options, the Michigan offense has a few obstacles to overcome.
All this talk about Michigan is to take nothing away from Penn State, which came through in the clutch on its final regulation drive and survived all the gut-churning overtimes with an exhilarating win. Christian Hackenberg to Allen Robinson has become a reliable and productive connection, and winning with only 61 scholarship players is a testament to the players' toughness and Bill O'Brien's coaching.
Michigan hosts Indiana on Saturday. Penn State has a bye, then gears up for No. 4 Ohio State on Oct. 26.
Wisconsin (4-2, 1-1) 35, #19 Northwestern (5-2, 0-2) 6

One of the cliches of the football season is to not let yourself be beaten twice. Northwestern's emotionally draining loss to Ohio State last week did just that and allowed Wisconsin to ravage the Wildcats.
Much like the previous week against Carlos Hyde, Northwestern's front seven couldn't handle Wisconsin's big backs. Melvin Gordon burst for a 71-yard touchdown run and finished with 172 yards, James White had 101 yards and a score, and Joel Stave made significant contributions for once, throwing for 242 yards and two scores. About the only negative for Wisconsin was an injury to Jared Abbrederis, who suffered a concussion.
There's not much to say for Northwestern's performance in this game; it was as though the players were sleep-walking. Kain Colter was knocked out of the game, Trevor Siemian couldn't accomplish anything, the Wildcats averaged under four yards per play, and the defense was blown off the ball all game long. The team MVP was placekicker Jeff Budzien, who made two field goals. To be frank, the day was a lost cause from the opening kickoff to the final whistle.
Next week, Wisconsin will play at Illinois and Northwestern will either earn a comfy rebound win or a horrifying loss at Minnesota.
Nebraska (5-1, 2-0) 44, Purdue (1-5, 0-2) 7

Though Nebraska was a one-dimensional offense, its powerful running back stable was more than enough to wallop Purdue.
Tommy Armstrong Jr. made his second start in relief of the ever-efficient Taylor Martinez and had a miserable day: 6 of 18 passing for 43 yards, no touchdowns and three interceptions. Fortunately for him, the running backs and third string quarterback Ron Kellogg picked up the slack: Ameer Abdullah, Terrell Newby, and Imani Cross combined for 243 yards, while Kellogg was 10 of 13 for 141 yards. Not so great was Stanley Jean-Baptiste being ejected for this clean hit.
This game was a debacle for Purdue. In place of injured starter Rob Henry, Danny Etling was inaccurate and ineffective. Combined with a measly 32 rushing yards, Purdue's inept offense led to a 44-0 deficit. The only silver lining was the play of DeAngelo Yancey, who caught five passes for 146 yards and scored Purdue's sole touchdown with 39 seconds left, allowing the Boilermakers to save an itsy-bitsy bit of face.
Nebraska has Week 8 off, then a road game at Minnesota on Oct. 26. If the Boilermakers thought the offense was bad yesterday, they ain't seen nothing yet; their next game is this Saturday at Michigan State.
Michigan State (5-1, 2-0) 42, Indiana (3-3, 1-1) 28

Coming into the game, Indiana had the Big Ten's top offense and Michigan State had the nation's top defense. Nobody expected fireworks from Michigan State's offense or Indiana's defense, but Jeremy Langford led the Spartans to a comfortable victory over Indiana.
Langford was sensational, rushing for 108 yards and four touchdowns before R.J. Shelton iced the game with a 34-yard touchdown run in the fourth quarter. Connor Cook spread the ball nicely for MSU, hitting nine receivers in the first half alone. Delton Williams also helped the Spartans with 92 yards rushing.
Besides a 64 yard run by Tevin Coleman to open the scoring, Indiana looked lost on offense for the first time this season. The quarterback situation isn't as settled as I thought last week; Nate Sudfield was ineffective and backup QB Tre Roberson was a solid 11-17 passing for 122 yards. Indiana can still make its first bowl since 2007 if it takes care of business against Purdue and Minnesota and wins a dogfight against Illinois, but the Hoosiers will have to have a defensive makeover to compete against tougher teams.
Michigan State next hosts Purdue, and with Illinois the following week will find itself ranked sooner or later. Indiana goes to Michigan next week.
#8 Louisville 24, Rutgers (5-2, 1-1) 10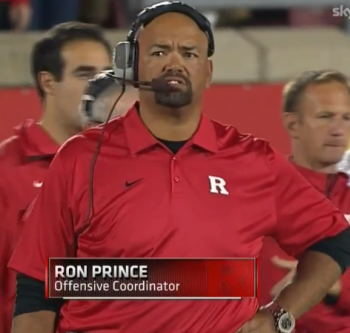 This was the game of the season for Rutgers, and with Louisville off its game, the Scarlet Knights had the opportunity to pull off a major upset. They squandered that opportunity with offensive failure.
Gary Nova threw four interceptions on the day and looked all-around terrible after a solid first six starts. The Scarlet Knights defense contained Teddy Bridgewater, even intercepting him and forcing a critical fumble, but were unable to capitalize. Following a fumble deep in Rutgers territory at the start of the fourth quarter, Rutgers had the chance to tie the game down 17-10. But Nova threw another interception, and Rutgers never threatened for the rest of the game. He sure could have used a running game, but Rutgers gained only 12 yards on 27 carries.
Rutgers' season is pretty much done now. Unless it can win out and Louisville loses twice, it's going to a mediocre bowl game and running out the clock until it's in the Big Ten. Rutgers hosts Houston this Saturday.
Maryland (5-1, 1-1) 27, Virginia 26

Last week's shellacking from Florida State lit a fire under Maryland, allowing it to sneak past Virginia in a back-and-forth game.
Caleb Rowe was excellent in the place of Maryland's starting quarterback, C.J. Brown, throwing for 332 yards and the go-ahead score with 5:14 remaining. Virginia drove deep into Maryland territory on its final possession, but Alec Vozinilek's 42-yard field goal attempt missed wide right with 10 seconds to go. Brandon Ross also made an impression for the Terrapins, rushing for 88 yards and two touchdowns.
Some teams are not as good as their record, and Maryland looks like one of those overachieving teams this year. Nevertheless, the Terrapins are well-positioned in the ACC this year; with some help from Clemson, Maryland could still make it to the ACC Championship Game. Maryland plays at Wake Forest this week.
And there you have it: a Week 7 with blowouts and nailbiters only. There's no way any Week 8 game can live up to the Penn State-Michigan game from this week, but Wisconsin/Illinois is the best shot. Indiana/Michigan and Minnesota/Northwestern are also recommended, if you enjoy desperate bowl-seekers tangling with flailing contenders.