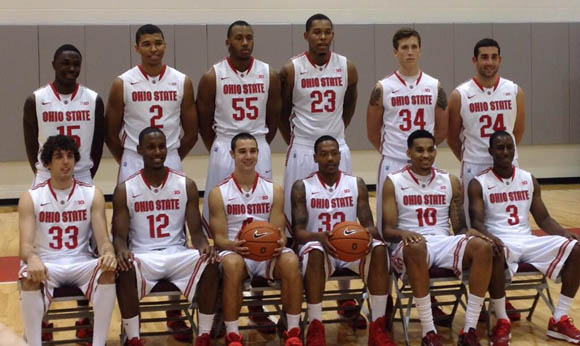 Thad Matta is entering his 10th season as Ohio State's head coach, and at media day on Thursday, he took a moment to reflect on the trajectory of the program. He said he remembers telling recruits soon after his hiring that the Buckeyes were at rock bottom. It didn't matter, though, because Matta had a vision.
During the past nine seasons, Ohio State has won five Big Ten regular-season championships, four Big Ten Tournament titles and advanced to two Final Fours. The momentum that helped lead to that success began just months after he was hired.
The Buckeyes won 20 games during Matta's first season, including a win over undefeated top-ranked Illinois. One of the best recruiting classes in college basketball history was signed shortly thereafter, and as they say, the rest is history.
This summer, the players that played under Matta at Ohio State hosted a surprise party for the coach. He called it one of the greatest days of his life. Nine years later, Matta prides himself on elevating the Buckeyes into a national power and doing so the right way.
In less than a month, Season 10 gets under way.
Notes:
Matta said Lenzelle Smith needs to be a more consistent three-point shooter and improve on his assist-to-turnover ratio.
Ohio State has two true freshmen this season – Marc Loving and Kam Williams. Matta said he was taken aback at how adept each of them have been in practice. Sam Thompson said they're better scorers than defenders at this point. Added that they've already shown great improvement in two weeks.
Matta classified himself as very excited for the upcoming season. Aaron Craft said he believes the team could be better than last year's squad that advanced to the Elite Eight.
With the loss of Deshaun Thomas, there's a lot of focus on who will replace his scoring. The top candidate is LaQuinton Ross. Matta said he would prefer one guy takes over that role. He said it's easier than having a scoring by committee offense.
Matta said he likes the flow of the offense in practice. He believes Ross needs the right attitude to be the player everyone expects.
Craft completely overhauled his shot during the offseason. Chris Jent and Greg Paulus were his sources in the project. Craft said it was an intense spring and summer, but he feels much more confident in his shot.
Practice has been chippy at times. Craft said he loves that, though. It shows the guys are competitive.
One year from now, Craft said he hopes to be playing in the NBA.
Thompson said he shot "a bunch of shots" every day to improve his shot. He's a guy that will be called on on offense this year, and he knows it. Thompson said he's always been confident in his shot.
Ross said he put on weight over the summer. He's up to 225 from 215 last season. Ross said the Big Ten requires you to play physical, so he needed to bulk up.
Ross said he'll play with his back to the basket to create mismatches. His primary position will be a stretch 4, but he said he'll play the 5 some when Ohio State goes to a small lineup.
The most consistent player during the first two weeks of practice has been Amadeo Della Valle, according to Ross.
Smith said it was frustrating last season at times when he'd play great defense for 35 seconds only to have Thomas shoot the ball four seconds into the shot clock. He said as good as Thomas's offense was, it created good and bad.
When Ross gets the ball inside the three-point line, Smith said he can be unstoppable. Said he has a spin move that's almost unguardable.
The team defense could be outstanding this season. Smith said they're already putting in presses. A lot of that is due to having so many veterans. Smith said it's noticeable guys know what's going on this season. Most veteran team OSU has had since 2010-11.
Amir Williams is still in the 240ish range. Looks skinny. He said he's prepared for the physical Big Ten, though. Williams said having a full season under his belt as a starter helps. Now he knows what to expect each night in the conference. Sometimes they call fouls, sometimes they don't. He said playing through contact is the most important thing.
Williams said he's totally confident in the post. He worked on his conditioning during the offseason, because he figures the offense will play very fast.
Williams called Craft the "heart and soul" of the team.
Year 1 in Columbus was extremely hard on Della Valle. He said he was close to going back to Italy because he didn't feel like he'd compete for Ohio State.
This summer was a big confidence booster. He hit multiple game-winning shots in the Euro Championships and led Italy to its first gold medal in 30 years.
Della Valle said it really changed his demeanor and made him excited for the season. Said he's been working with teammates since he arrived back in Columbus.