Big Ten hockey is officially a thing, and with that, we're thrilled to welcome Aubrey Nelson to the team. Aubrey comes to us from the popular Deadly Nuts Ohio State hockey blog and will leave you a smarter, funnier, college hockey fan. You can follow her on Twitter @DeadlyNuts.
Tonight marks the beginning of the Ohio State men's hockey program's 50th season and its first as a member of the Big Ten conference. What better way to get started than with a home game against the team's in-state nemesis, the Miami RedHawks? Here's a preview of this weekend's games and a look at the 2013-14 Buckeyes in case you need a refresher.
Game Info & Pregame Links
when
where
tv
radio
live stats
Friday, 10/11 – 7:05 p.m.
The Schottenstein Center
Columbus, OH
N/A
1460 AM
OSU
Saturday, 10/12 – 7:05 p.m.
Steve Cady Arena
Oxford, OH
N/A
1460 AM
MIA
A few notes...
The Opponent
The Miami RedHawks were the CCHA's final regular season champs last year and made their eighth consecutive NCAA tournament appearance. They're expected to contend for the NCHC's inaugural championship, as well as a national title, in 2013-14. Like Ohio State they cruised to a big win in their exhibition game last week, defeating the University of Windsor 8-2.
The RedHawks are led offensively by junior captain and Hobey Baker finalist Austin Czarnik and reigning CCHA Rookie of the Year Riley Barber. Both are dangerous scorers who averaged nearly a point per game last season. They – along with teammate and Dublin, OH native Sean Kuraly – are also Team USA alums. Defensively perhaps no players are more important than the sophomore goalie tandem of Ryan McKay and Jay Williams. Both posted stellar numbers in their freshman seasons. Williams finished the year with a goals-against average of 1.94 and a .924 save percentage. McKay's stat line was an even more ridiculous 1.39 GAA and .946 SV%.
Miami has a slight advantage over Ohio State in the overall series, leading 69-61-13. They also took last season's series 3-1-1-1. However, the Buckeyes were within a goal of the RedHawks until the waning moments of three of those five games. Like any good rivalry match-up, those tilts were hotly contested and frequently chippy. There's no reason to expect that this series will be any different. Given the proximity of the schools many fans make the trip to support their team in the opponent's barn. The Schott's large capacity means that a substantial contingent of RedHawk fans will be on hand for tonight's game. Hopefully the Buckeye delegation will be out in force as well. The fanbases generally feed off each other in a positive way and, when given something to cheer about, can make for a pretty electric atmosphere. If you're looking for a little excitement in Columbus tonight, this is the ticket.
Ohio State Outlook
The Buckeyes are coming off one of their most successful campaigns in recent memory. They overcame terrible injury luck to earn a fourth place finish in the CCHA and advanced to the semi-finals of the conference tournament. Despite this upward trend, the Big Ten coaches and writers at SB College Hockey and USCHO still predict Ohio State will battle Michigan State for the dubious honor of being the best-of-the-rest in the B1G this season.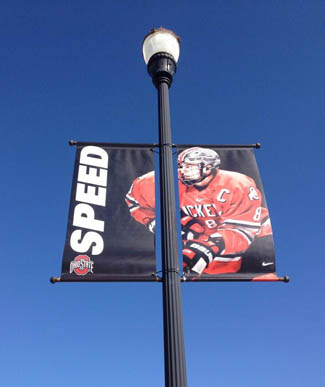 On Offense: The good news is that this year's team returns a whopping 88% of their point production, including 2012-13 CCHA scoring champ Tanner Fritz and high-flying Ottawa Senators draft picks Ryan Dzingel and Max McCormick. The Buckeyes could hardly have asked for more reliable scorers last time out. Fritz and McCormick recorded points in 16 of the team's final 20 games. Dzingel was a smidgen less consistent with points in 15 of those games, but of all the Buckeye skaters he was the one whose skills most impressed college hockey pundits. If an Ohio State player is mentioned on a preseason list - be it players to watch, potential Hobey Baker candidates, or preseason all-conference teams - it'll be one of these guys.
The bad news is, after those three, the Buckeyes are thin on dependable scoring. Alex Szczechura had a career year of 23 points last season, and injury-plagued speedster Anthony Greco tallied five goals and six assists in 20 games. No other Buckeye forward registered more than 10 points. Finding some secondary scoring will be a top priority for Ohio State this year. It may come from experienced guys like Darik Angeli and Nick Oddo stepping up their games or from the addition of skilled freshmen like Nick Schilkey and Dave Gust. Either way the team will need to be able to roll more than one line to compete in the stacked-with-talent Big Ten.
On Defense: The Buckeyes are better set on defense where stalwart team captain Curtis Gedig leads a talented and improving group of blueliners. Craig Dalrymple had a strong freshman season that earned an honorable mention on the CCHA's all-rookie team. Fellow rookie Sam Jardine missed several weeks after a freak skate slashing accident, but demonstrated a lot of potential when he was able to play. The sophomores made progress in their second seasons, maybe none more so than Justin DaSilva who showed marked improvement in his positioning and led the team in blocked shots.
Several Buckeye defensemen have attracted the attention of big league teams. Gedig (New Jersey) and Jardine (Chicago) were selected in the 2009 and 2011 NHL drafts, respectively. Three other d-men have received free agent invites to offseason development camps: Dalrymple (Dallas), DaSilva (Vancouver, Ottawa), and Al McLean (Anaheim). Though he didn't have his name called on draft day, incoming freshman Josh Healey generated some buzz among Central Scouting this summer as well.
In Net: The Buckeyes' biggest question mark for 2013-14 is goaltending, not because the goalies are untalented but because they're untested. Collin Olson, a Carolina Hurricanes draft choice, performed competently last season. However he only saw action in nine games, and it was hard to make a fair assessment of his abilities when the goalie fans had to compare him to was first team All-American Brady Hjelle. Just about any netminder in the country looked like a bum next to him. Olson is certainly not a bum, though. Bums don't get invited to Team USA's World Juniors evaluation camp. He will be joined in the goalie ranks by two freshmen, highly regarded Chicago Blackhawks draftee Matt Tomkins and hometown hero Logan Davis.
Behind the Bench: Ohio State's coaching staff also has a new look this season. The team welcomes new assistant coach Brett Larson, late of the USHL's Sioux City Musketeers, and former assistant Steve Rohlik takes over for the mysteriously fired Mark Osiecki as head coach. Rohlik shared his assessment of this season's Buckeye squad earlier this week: 
"I think we've got some great depth. I don't necessarily think we're gonna run-and-gun with teams but I don't think we'll always try to grind out 1-0 games, either. I think we've just got to feel things out a bit. I like our group, we've got a great locker room so I'm just excited to see what we've got."
Finally, here's a coach Steve Rohlik previewing the big series:
---
The inaugural year of Big Ten hockey will be challenging, but Ohio State has the means to be successful. 2013-14 is shaping up to be an exciting season and I'm looking forward to sharing with you. See you all at the rink!