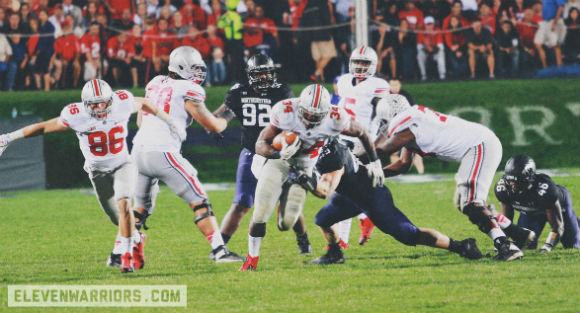 Last season, Carlos Hyde missed two games due to injury and fell just 30 yards short of becoming the first running back to gain 1,000 yards under Urban Meyer.
It seemed like a healthy and determined El Guapo would have no trouble reaching the mark with 12 regular season games, a potential Big Ten title game and a bowl appearance. But then Hyde got suspended for the season's first three games for the much-publicized incident at the Sugar Bar 2, and that seriously put his goal of 1,000 yards in jeopardy.
His return against Florida A&M didn't help much, as he carried only five times in a complete annihilation of the Rattlers. Suddenly, a third of the regular season was gone and El Guapo had only 41 yards to show for it.
Ohio State's bruising tailback turned in a respectable 83-yard performance against a Wisconsin team that stacked the box and dared Braxton Miller to beat them over the top (which he did). Then came the breakout game in Evanston. Hyde carried 26 times for 168 yards and three touchdowns in a workhorse effort on the road against a Top 25 team.
Sitting on 294 yards for the season, Hyde is surprisingly still on pace to reach 1,000 yards, provided he stays healthy and the Buckeyes play in both the B1G championship game and a bowl game—they have already qualified for the latter.
If he maintains his current pace of 98 yards per game, El Guapo would end up with 1,078 yards for the season in a 14-game schedule. But can he do it?
In Wisconsin, Hyde has already faced the best overall defense he'll see in the regular season. However, Iowa, Ohio State's next opponent, is actually better against the run than the Badgers. The Hawkeyes are yielding just 88.5 yards per game this season—although, to be fair, they haven't played a very impressive schedule.
Penn State isn't too bad against the run either (111.4 YPG), but Illinois, Purdue and Indiana are the league's three most generous teams against the rush. Michigan is giving up 90.4 yards per contest on the ground.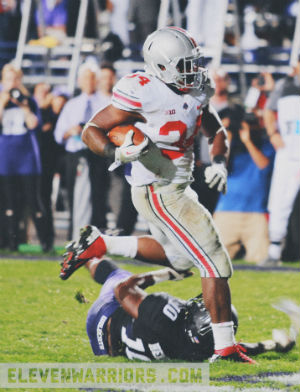 For Hyde to maintain his average, the OSU rushing attack will have to become a statistical outlier against Iowa, Penn State and Michigan, or put up such big numbers against the other three teams to make up the difference. In Indianapolis, he would then presumably have to face the Wolverines or Northwestern again, or the very stingy defense of Sparty (51.2 YPG against), or the generous Nebraska Cornhuskers (182.6 YPG).
So it would seem doable, at least on the surface.
But there's another factor in play, and one that might be enough to derail his bid for 1,000 yards. That factor's name is Jordan Hall.
With Hall's injury last season, Hyde didn't have to split carries and was Ohio State's bell cow throughout the year. Provided Hall bounces back quickly from a tweaked knee, Hyde will likely lose at least a few carries a game to his teammate, who himself was on a tremendous pace before rushing only once against Wisconsin.
Even with only the one carry against the Badgers, Hall was putting up 85.4 yards per game before missing the Northwestern tilt. He was on pace to reach 1,024 yards in the regular season. Provided he's healthy when Ohio State returns from its bye week, Hall will snipe some carries from Hyde, which would put a 1,000-yard season in jeopardy for both Buckeye backs.
Meyer insisted after the Wisconsin game that Hall would be more involved moving forward than he was against the Badgers.
"We knew it was going to be very hard to run in there the way they play their defensive line," he said. "I want to make sure we get Jordan Hall involved."
How many of Hyde's carries will be siphoned by Hall is unknown. Both backs are capable of reaching the 1,000-yard mark in this offense. But both may be hampered by the other's capability.
Then again, maybe both guys will do it. If Hyde and Hall continue being productive, Braxton Miller's number of carries will be reduced. Miller ran for more than 1,000 yards in 2012, becoming the first player under Meyer to do so. If he's not going to be running, it leaves plenty of yards for the running backs to gobble up.