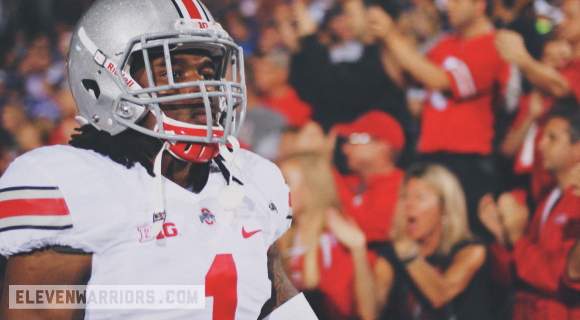 It'll be a slow week at the Woody Hayes Athletic Center with Ohio State on a bye week. But the work goes on — there will be no vacation days.
The Buckeyes are 6-0, but the past two weeks have shown there are areas to work on. On the Big Ten Teleconference, head coach Urban Meyer said the pass defense is "very alarming right now." That means it's back to the drawing board during the first of two bye weeks.
The secondary has been shredded three times in six games. Part of the problem, an issue dating to 2011, is missed tackles. Meyer pointed out that two of Northwestern's biggest gains Saturday were purely because of missed tackles.
On the opposite side of the ball, the Buckeyes will work on continued improvement in the passing game. After having 19 touchdown passes in the first five games, Ohio State was limited to zero at Northwestern. Quarterback Braxton Miller did not have his "A" game, and Meyer said any tentativeness in his play is due to the coaches wanting him to be cautious.
"He's 100 percent," Meyer said.
But that doesn't mean the coaches have given up on backup Kenny Gution. He warmed up on the sideline briefly Saturday before Meyer shut him down. In the offensive meeting room, though, Meyer admitted there are on-going discussions about getting him a few series each game.
"It's very comforting, not troubling, that we have two good quarterbacks," Meyer said.
Urban Meyer:
"We certainly are not attempting to take our foot off the accelerator, but it seems to be happening."
Meyer called the offensive line the "strength of our program right now."
On the Buckeyes' first-quarter success, Meyer said they utilize up tempo, scripted plays during opening drives that worked well in practice.
"If you have Carlos Hyde and Dontre Wilson as a tag team back there, that's exactly what you're looking for."
Meyer on Luke Fickell: "He's an incredible family man, very good football coach. He'd be an excellent head coach."
Brady Hoke:
Michigan travels to Penn State Saturday. Hoke said he's been impressed with Christian Hackenberg's body language, poise and skill set. He said defending Hackenberg becomes goal No. 1 for the defense.
Hoke defined Michigan's next games – Penn State and Indiana – as a two-game season. The Wolverines have a bye week following the IU game.
There's been chatter about Jake Ryan's return. Hoke said he doesn't want to rush anything, do too much too early. "This is a long-term process for him and us."
Gary Andersen:
Wisconsin hosts Northwestern this week. Andersen said the Wildcats' two-quarterback system is as good as he's ever seen. He's especially concerned about them being on the field together.
When Andersen was the head coach at Utah State preparing for Wisconsin last season, he realized quickly how special Jared Abbrederis is. He said his work ethic is the thing that sticks out and also his sneaky speed. Andersen said he's never come across a player that enjoys practice as much as Abbrederis.
Melvin Gordon is 100 percent and will have no issues playing Saturday. He suffered a knee injury against Ohio State.
Andersen said stopping the run is the top priority each week. If you don't play good team defense in the Big Ten, you'll struggle.
For Saturday, Andersen said Wisconsin's passing game will be key, much like it was against the Buckeyes. The more receivers that get involved, the better off the Badgers should be.
Bo Pelini:
Nebraska's defense continues to improve and look "cleaner," according to Pelini. But he added there are still strides to be made before they become the unit he expects of them.
The Cornhuskers are the only Big Ten team that had to replace all three linebackers. Pelini said the unit grows and improves every day. "I like the future at that position."
Taylor Martinez is still nursing an injury. But Nebraska has Purdue this week, which should lead to an easy victory. Still, Pelini said they'll do what they need to to win and if that includes playing Martinez, he'll play. Nebraska has a bye next week and Pelini said that will factor into his decision on Martinez.
Two bye weeks so close together wouldn't be ideal most of the time, Pelini said. But with a young team and so many injuries, it should benefit Nebraska.
Running back Ameer Abdullah was named the co-offensive player of the week. Pelini said his ability to run effectively does a tremendous job opening up the passing game and getting the receivers and tight ends involved.
Mark Dantonio:
Darqueze Dennard has emerged as a leader on the Spartan defense. Dantonio said he's a complete play, can play any position in the secondary.
Dantonio talks up the Michigan State special teams. Said each special teams unit has contributed to each of the Spartans' wins.
Connor Cook has become more comfortable at quarterback, Dantonio said. Cook has progressed each week since the beginning of the season, and Dantonio said there's still a lot more he can do.
Dantonio on the defense: "We're chasing excellence."
Tracy Claeys:
Jerry Kill was not on the teleconference, so Minnesota's defensive coordinator took part in the call.
Kill is working with doctors to get his health under control. Claeys said Kill has been resting at home and working with doctors to get medication that helps the situation. There's no rush on Kill returning since it's a bye week.
Claeys said the players have handled the situation fine. Minnesota has been through this before, so they understand everything going on in the background.
Claeys said improving third-down efficiency will be a top priority during the Gophers' bye week. They play Northwestern in two weeks.
Tim Beckman:
Illinois is coming off a decisive loss at Nebraska. It had the makings of a good game with the Illini showing marked improvement this season. But Beckman said they were completely outmanned up front.
Beckman said the team will focus on fundamentals during the first half of this week before starting to gameplan for Wisconsin later in the week.
Illinois' most noticeable deficiency on defense, according to Beckman, is open-field tackling. He said the problem has been glaring. Beckman also said the defense hasn't forced enough turnovers or come up with enough sacks.
Darrell Hazell:
Purdue took its bye week to start preparing for Nebraska a few days early. It would be a signature win for Hazell if he can knock off the Huskers in West Lafayette.
The Boilermakers are one of the youngest teams in the country, and Hazell said they're starting to get the hang of things and developing chemistry and cohesion.
Danny Etling will start against Nebraska. He'll be the fourth true freshman quarterback to start in the Big Ten this season.
Rob Henry has moved to safety. Hazell said when he told Henry he was making a move at QB, his first reaction was, "What can I do to help the team?" Hazell said Henry had an interception in practice on Monday.
Henry suggested a move to wide receiver or safety. Hazell said they opted for safety because that's where Purdue is thinnest.
Bill O'Brien:
Coming off a convincing loss at Indiana, O'Brien said he's been impressed with the leadership this week and the focus being completely forward on Michigan.
Penn State will have the services of wide receiver Brandon Moseby-Felder this week.
O'Brien was extremely short with reporters. It was clear he was unhappy with last week's performance and concentrating on Michigan.
When a reporter said 55 passes by Hackenberg seemed like a lot, O'Brien snapped, "Seems like a lot to who? To you, I guess."
Pat Fitzgerald:
On the Ohio State game: "I thought we moved the ball pretty well against a darn good defense."
Fitzgerald said he thought Northwestern showed several positives coming off the bye week. But he said he doesn't get caught up in that when the team loses. He said the Wildcats need to close better and come up big in critical moments.
Fitzgerald said Northwestern worked on stripping the ball. He credited Ohio State with hanging on for the most part. Miller did lose two fumbles, though.
Northwestern is playing at Wisconsin and Nebraska in the coming weeks. Fitzgerald said the team will work on that in practice with crowd noise, etc.
"We've got a very good football team. I thought they handled it very well and showed they can play with a very good football team. I'm bitterly disappointed."
Kevin Wilson:
Wilson is concerned with communication on Saturday at Michigan State. He said the offense will use hand signals to combat the crowd noise and use a no-huddle approach. He said team energy will be key, especially for underclassmen.
Offensive lineman David Kaminsky suffered an ACL injury and will miss the rest of the season. Wilson said the team will move forward with same lineup used at end of Penn State game.