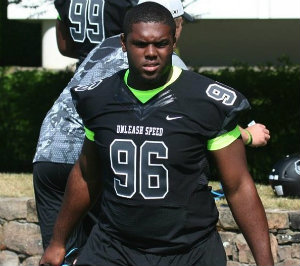 It has been a surprisingly eventful start to October for the Big Ten on the recruiting trail. As a whole, the conference was able to land nine commitments during the past week. 
Illinois, Indiana, Iowa, Maryland, Minnesota, Rutgers and Wisconsin all added 2014 recruits in the past seven days. With nine new pledges, we saw some movement in our B1G football recruiting rankings. Wisconsin moved up to fourth, pushing Michigan State down to fifth. Indiana's two commitments was enough to move them to 12th, while Purdue falls to last place in our recruiting rankings. 
The Buckeyes were quiet, with an away game this past weekend. Now on a bye week, the Ohio State coaching staff is expected to hit the roads and visit many of their top prospects. Fans will want to pay close attention to Penn State this weekend, as four-stars Thomas Holley and Mike Gesicki will be visiting. 
Now, on to the rankings:
14. Purdue
The Boilermakers fall to last place, with Minnesota and Indiana both adding two commitments. Former Buckeyes assistant Darrell Hazell has been a disappointment for Purdue, but you have to give him more than a year to turn things around. Purdue has yet to see much success recruiting Ohio. 
Commitments: No new commitments this week. 
Visitor news: Purdue, coming off a bye, will host Nebraska, this weekend. After visiting many of their top prospects during the bye, Purdue will look to hold off official visits until the Buckeyes come to town, Nov. 2. 
13. Minnesota
The Gophers landed two commitments, but it wasn't enough to move them up in our rankings. The big news from this weekend was the latest health scare for Jerry Kill. He has a well documented issue with seizures, but this time it caused him to miss a game. Recruits have to be taking notice of his health issues. I love Kill, but it might be time to retire. Health is more important than football.
Commitments: The Gophers landed two 2014 recruits during the past week. Minnesota started the week off with a commitment from three-star linebacker Everett Williams of Texas. Williams had offers from Louisiana-Monroe, Navy and New Mexico State. The second commitment of the week came from two-star in-state tight end Brandon Lingen. The Gophers offered the 6-foot-5 tight end, this weekend, and committed over offers from Air Force and Florida Atlantic. 
Visitor news: It's Minnesota's turn to enjoy their bye week. Kill might not be able to hit the road and recruit, but his health shouldn't prevent his assistants from doing so. 
12. Indiana
The Hoosiers had a big win against Penn State and now they also move up two spots in our recruiting rankings. Kevin Wilson managed to land two solid commitments, including one prospect from Ohio. Recruiting Ohio should be a priority for Indiana and the rest of the B1G teams. 
Commitments: The Hoosiers also added two commitments this week. Last Monday, Indiana landed a commitment from three-star receiver Coray Keel of Georgia. The 6-foot-3-inch Keel chose the Hoosiers over Buffalo, Illinois, Kansas State, Minnesota, Ohio, Purdue, Troy and Western Kentucky. The second commitment of the week came from St. Ignatius (Ohio) safety Dameon Willis. The three-star safety held offers from Ball State, Bowling Green, Cincinnati, Louisville, Ohio, Toledo and Western Michigan. 
Visitor news: Many of the prospects visiting this past weekend enjoyed their time, especially with the Hoosiers dominating Penn State. Indiana will look to build off this win as they travel to East Lansing this weekend. 
11. Illinois
Tim Beckman continues to disappoint on the recruiting trail. The Illini have 13 commitments, most of them coming from MAC caliber prospects. Their on-the-field performance has been solid, but Illinois desperately needs to step up their recruiting game. The bye week will give the staff a week to put more of a focus on recruiting. 
Do better, Illinois.
Commitments: The Illini also joined in on the busy recruiting weekend by adding a commitment of their own. Tim Beckman went back to recruiting against the powerhouses, landing two-star tight end Jordan Frazier over Florida Atlantic. Illinois now has 13 commitments. 
Visitor news: The Fighting Illini are one of multiple teams on a bye week. This should give their staff time to hit the recruiting trail hard.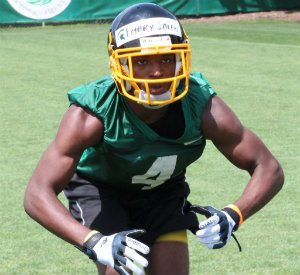 10. Maryland
Maryland has been on a recruiting hot streak. A two-star commitment won't do much to improve their ranking, but the Terrapins remain in on quite a few highly rated prospects. Randy Edsall's job appears to be safe with the recent recruiting and on-the-field success. 
Commitments: The Terrapins added an under-the-radar commitment from Jordan Noil, a two-star safety from Georgia. Maryland battled Buffalo, Marshall, Western Kentucky and a few division two schools for his commitment. 
Visitor news: Maryland will host Virginia this weekend. While there will be recruits in attendance, many of their top prospects will be visiting for the October 26th game vs. Clemson. Five-stars Damian Prince and Jalen Tabor are tentatively scheduled to visit that weekend. 
9. Iowa
Two commitments in two weeks for Kirk Ferentz. He's earning that four million dollar salary. Well, maybe not, but it's nice to see the Hawkeyes have a little bit of recruiting success. With a bye week, Iowa's staff will look to continue their recruiting momentum. 
Commitments: The Hawkeyes picked up another commitment this week. Jalen Embry, a three-star corner from Detroit, surprised many with his commitment to Iowa during his official visit. Many had believed that Wisconsin was the leader for his commitment. Embry also held offers from Cincinnati and most of the MAC conference. 
Visitor news: Iowa will spend this week preparing for Ohio State. Kirk Ferentz and staff will hit the road to recruit during the bye week. 
8. Nebraska
Is Bo Pelini on the hot seat? That's the question that has to be on a lot of recruits' minds. This recruiting class will surely not save Pelini's job, since it has been his most disappointing class. The recruiting struggles are confusing after a ten-win season. 
Commitments: No new commitments this week.
Visitor news: The Huskers will be traveling to West Lafayette to take on the Boilermakers. Nebraska will take a week off from hosting visitors.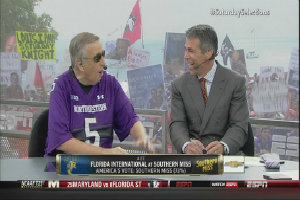 7. Northwestern
Northwestern hasn't been doing much on the recruiting trail lately, but things are bound to change. ESPN had a good article about Northwestern's recruiting success in Texas. Pat Fitzgerald is putting together his best recruiting, yet. 
Commitments: No new commitments this week.
Visitor news: The game against Ohio State was a great recruiting weekend for Northwestern. While they weren't able to win, Pat Fitzgerald showed recruits that his team could compete with the best. The atmosphere, including College Gameday, is something that is attractive to recruits. 
Visitor news: The Wildcats will travel to Madison to take on Wisconsin. No visitors this weekend. 
6. Penn State
Penn State is holding an important recruiting weekend as they take on Michigan. Many of their top targets will flock to Happy Valley for their official visits. Bill O'Brien has done a great job with this recruiting class and it will only get better with the news of the lessened scholarship reductions. 
Will O'Brien be able to beat Urban Meyer head-to-head for Holley or Gesicki? This weekend will be important. 
Commitments: No new commitments this week.  
Visitor news: The Nittany Lions are expected to host many of their top remaining targets for the Michigan game on Saturday. Two of Ohio State's top targets, Thomas Holley and Mike Gesicki, will be in attendance. Buckeye fans will want to keep a close eye on these visits, especially Gesicki's visit since he is reportedly close to making a decision. Four-star safety Montae Nicholson is another one of the many prospects visiting this weekend. 
5. Michigan State
The Spartans fall a spot in the rankings with Wisconsin landing a commitment. With a few official visitors in town, this weekend will be important for Michigan State. Their class is quietly filling up and the open scholarships are dwindling. Despite falling in the rankings, the '14 class has been one of Dantonio's best, if not his best. 
Commitments: No new commitments this week. 
Visitor news: The Spartans will host a few prospects on official visits this weekend, including three-star running back Madre London. Michigan State has been battling with Nebraska for London's commitment. Amani Oruwariye, a three-star safety from Tampa, will be officially visiting. Vanderbilt looks to be in good shape for Oruwariye, but the Spartans will have an opportunity to impress him this weekend. 
4. Wisconsin 
The Badgers stay hot the recruiting trail by adding another commitment. Another new commitment shouldn't be ruled out, with quite a few visitors expected in town for the Northwestern game. Gary Andersen is recruiting better than Bret Bielema did for the Badgers. It's probably safe to assume Wisconsin will finish in the top five in the recruiting rankings. 
Commitments: Wisconsin continues to be hot on the recruiting scene with the recent commitment of four-star JUCO defensive tackle Joe Keels. Gary Andersen was able to beat out Alabama, Cincinnati, Maryland, N.C. State, Nebraska, North Carolina, USC and many more for his commitment. Keels, the cousin of Melvin Gordon, is a huge addition to a very good class for the Badgers. 
Visitor news: Northwestern will be traveling to Wisconsin. The Badgers will look to stay hot on the recruiting trail, as they will host a huge recruiting weekend. Five-stars Joe Mixon and Damien Mama headline the list of visitors. While those two will not commit this weekend, you shouldn't rule out a commitment from one of the many other visitors.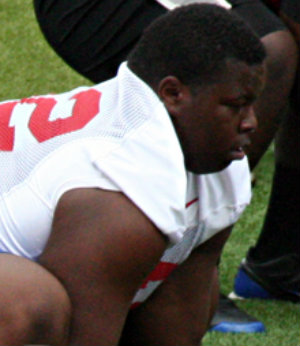 3. Rutgers
After recently losing a commitment, the Scarlet Knights wasted no time securing another to put their commitment total back to 23. Despite the large number, Rutgers is still looking to add to their impressive class. They could use all the help they can get with their impending move to the Big Ten. 
Commitments: Rutgers is back on the board with a commitment from 6-foot-5-inch, 365 pound Tariq Cole. He is a three-star offensive tackle from Long Beach and also had an offer from Temple. 
Visitor news: The Scarlet Knights will travel to Louisville on Thursday, so no visitors this weekend for Rutgers. 
2. Michigan
Michigan's 2014 recruiting pace has slowed, since they have only a few spots remaining for this class. The Wolverines are the clear favorites for Da'Shawn Hand and Malik McDowell, but there aren't many other targets after those two top prospects. 
Brady Hoke and staff have already put a heavy focus on recruiting for the 2015 class, while Urban Meyer typically waits until December to ramp up those efforts. 
Commitments: No new commitments this week.
Visitor news: The Wolverines will travel to Happy Valley, so they will not be hosting any official visitors this weekend. 
1. Ohio State
While the Buckeyes do not have a game this weekend, the staff will still be busy on the recruiting trail. The staff is expected to make numerous stops to high schools and football games during the next week. No commitments are expected this week, but an announcement from four-star tight end Mike Gesicki is approaching. He'll be visiting PSU this weekend and a decision is expected in the next few weeks. 
Commitments: No new commitments this week.
Visitor news: The Buckeyes will be enjoying their bye week. That doesn't mean the staff won't be busy recruiting. The coaching staff is expected to hit the road and makes their rounds on the recruiting trail. 
---
Rankings Overview
| No. | School | Commits | Scout ★ AVG | Rivals ★ AVG | 247 ★ AVG | ESPN ★ AVG | Overall ★ Avg |
| --- | --- | --- | --- | --- | --- | --- | --- |
| 1 | Ohio State | 18 | 3.72 | 3.61 | 3.89 | 3.72 | 3.74 |
| 2 | Michigan | 16 | 3.56 | 3.47 | 3.44 | 3.86 | 3.58 |
| 3 | Rutgers  | 23 | 2.92 | 2.87 | 2.96 | 3.18 | 2.98 |
| 4 | Wisconsin  | 15 | 3.20 | 3.00 | 3.13 | 3.21 | 3.14 |
| 5 | Michigan State | 16 | 3.13 | 3.13 | 3.40 | 3.29 | 3.26 |
| 6 | Penn State | 12 | 3.33 | 3.25 | 3.33 | 3.42 | 3.33 |
| 7 | Northwestern | 13 | 3.08 | 3.08 | 3.31 | 3.31 | 3.20 |
| 8 | Nebraska  | 12 | 3.08 | 3.00 | 3.08 | 3.25 | 3.10 |
| 9 | Iowa  | 15 | 2.73 | 2.73 | 2.80 | 3.07 | 2.83 |
| 10 | Maryland  | 12 | 3.08 | 2.92 | 2.92 | 3.40 | 3.08 |
| 11 | Illinois  | 13 | 2.62 | 2.69 | 2.62 | 3.00 | 2.73 |
| 12 | Indiana  | 10 | 2.91 | 2.58 | 2.67 | 3.00 | 2.79 |
| 13 | Minnesota  | 8 | 3.00 | 2.88 | 3.14 | 2.86 | 2.97 |
| 14 | Purdue | 8 | 3.00 | 2.63 | 2.88 | 3.00 | 2.88 |