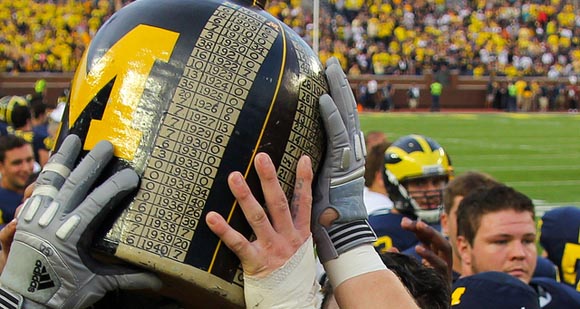 With Jerry Kill out of commission and Minnesota just being generally bad, Michigan had a prime opportunity to convincingly take down a fellow member of the B1G and knock out memories of the team almost losing to Terry Bowden and a bunch of dudes routinely overshadowed by women's basketball.
Which they did! Minnesota posed little real threat in a fairly boring game that saw Devin Gardner accomplishing the impossible, accounting for ZERO turnovers for the first time since, uhhhh ever? A large part of that achievement could probably be tied to Minnesota generating zero pass rush whatsoever, but hey man, miracles don't happen every day in this world. I say enjoy 'em.
This game was also notable for the most extended usage of Derrick Green since the opener against Central Michigan, as presumably Brady Hoke was able to pry the dude away from Old Country Buffet long enough to suit up and play in a game (my quota for Derrick Green fat jokes has been reached for the season, thanks for coming out, you've been great). He was not particularly impressive, but neither was anybody else save for wideout Devin Funchess.
Overall, the offense did their job, and combined with a very good defensive performance this was a solid home win that the Wolverines, particularly Gardner, needed badly. As per usual, the always excellent Ace from MGoBlog is here to help us break things down.
Quarter 1
Minnesota got off to a GREAT start by fumbling on their third play, which Michigan immediately converted into seven points by way of a steady diet of Fitz Toussaint and oh hey there Derrick Green! Minnesota responded however, with a touchdown drive that lasted 16 plays and ate up almost 10 minutes off the clock. That was about the only ten minutes all game that Minnesota QB Mitch Leidner would look like a threat. 7-7 all.
Johnny: So let's start with the infusion of a little Green into the offense. How do you expect Hoke and Borges to handle the guy going forward?
Ace: Honestly, I think he's going to be marginalized when they get to the meat of the schedule, incidentally for reasons likely to do with meat—Green still looks like he's carrying about 10-15 too many pounds, and more alarmingly he's not getting many yards after contact, which is supposed to be his thing. Al Borges has stated in the past that he prefers having one feature back and for this year it's clear that Fitz Toussaint is the guy. Green looked a little quicker against Minnesota than he had earlier in the season, but from what little we've seen of him it appears there's still a long way to go for him to live up to the hype.
Quarter 2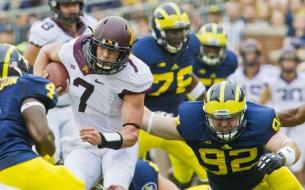 The rest of the half was fairly uneventful, although Gardner looked much better than he had in previous weeks throwing the ball. Some Tresselian punting work by Michigan got them advantageous field position, and they were able to capitalize on that before halftime with a Gardner strike to Funchess. Minnesota never really recovered from that pop in the gob. 14-7 Michigan.
Johnny: Okay, I know you guys are probably super high on Funchess after the 151 yards he piled up, but is this an actual breakout game for the dude or fool's gold in yellow pants?
Ace: I lean towards the former, because—I mean, who can guard that guy when he lines up outside? I've been watching Funchess since high school—where he lined up at receiver quite often, notably—and he's always had a great skill set for the outside: he's got great hands, runs solid routes, and makes great adjustments to the ball in the air. Oh, and he's 6'5" with really long arms.
Dude is a major matchup problem, and the only reason he hasn't been utilized much more in the past is a combination of his poor blocking and Michigan's lack of depth at tight end. Michigan hasn't really had a true #2 receiver emerge so far this season and Funchess looks like the best candidate to do so, and in a way that's going to present problems to defenses that have been rolling their coverage to Jeremy Gallon all year.
Quarter 3
The Fitz Toussaint/Derrick Green show continued with Michigan coming out of the locker room and promptly marching down the field for another touchdown. Not to be overlooked on that drive were two nice throws by Devin to move the chains (which would become a theme). Minnesota was able to hit a 44 yard field goal, but Michigan responded with another TD and for all intents and purposes, the game was over. 28-10 UM.
Johnny: Talk a little about the offensive line, and what you think the impact of the recent shuffle was.
Ace: While it certainly didn't turn the offensive line into a juggernaut—they went so far as to overload one side with both tackles and pretty much scream "WE'RE RUNNING IT HERE" on several occasions—the addition of Chris Bryant allowed them to run power with some success for the first time all year. Graham Glasgow looked comfortable at center and, unlike Jack Miller, didn't get blown off the ball multiple times by a defensive tackle in this game—not a small feat considering Ra'Shede Hageman was on the field.
There were a few more creases in the run game and just one horrible breakdown up the middle in pass protection, and at this point that's progress. I don't expect Michigan to become a much better running team, but there might be just enough improvement to make the playcalling a little easier for Borges and the running a little easier for Toussaint, who looked more assertive on Saturday.
quarter 4
Minnesota tacked on another field goal, but Michigan would go on another scoring drive resulting in a touchdown. The Gophers more or less sold out to stop the run, which they did, but Gardner hit on two long passes to Funchess and it turns out two yard rushes are just fine with they're within the opponents' five yard line. Blake Countess rubbed salt in the wound by returning a Leidner interception for another touchdown, and that's all she wrote. 42-13 Wolverines.
Johnny: Minnesota is one of the worst passing teams in the country but their rushing game was decent, and you guys did a pretty decent job against them in both facets of the game there. Does that change how you feel about the D going forward, and what does the defense look like with the impending return of Jake Ryan?
Ace: I'm pretty confident in the defense, especially if Jake Ryan returns in full form—they're not going to get bullied on the ground and they're doing a great job of limiting big plays. There are still a couple of major concerns, namely the non-Countess corners and complete lack of a pass rush, and while the latter should be helped by Ryan's return the former is a serious issue—they haven't found a second, let alone third, corner they can really trust, and that issue gets magnified by their inability to get to the quarterback. Overall, I think this is a good defense that's fundamentally sound but lacking in playmakers, and hopefully Ryan can change that last bit.
Summary
Johnny: A lot of attention will be given to Gardner because of the errorless way that he played (his first game without an interception as a starter), and to his credit he definitely rebounded from a string of poor performances with improved footwork and better decision making. It should also be pointed out that Minnesota's defense is not what anyone would call "solid," and the workload for Gardner was considerably less than he's seen in previous weeks.
The defense remains a mixed bag. They eventually shut down Leidner, but Minnesota was still over 50% on third down conversions and while the holes in the Michigan secondary are still there, Goldy just wasn't able to exploit them. Still, Michigan nailed the Gophers for two turnovers in the game and the linebackers will continue to be a strength of this team, even moreso with the impending return of Jake Ryan.
Lastly, even though I'm not totally sold on Funchess, as an Ohio State fan I'm understandably more than a little wary of a bigass wideout like him starting to emerge for the Wolverines. If he develops into a consistent threat he could be a lot to handle in November, especially for a very shaky Ohio State secondary.
Ace: Oh, wow, I agree with all of that, though with a little more excitement about the Funchess As Giant Wideout development.
For being five games into the season, it's still really difficult to figure out how good this team is; one one hand, there's 5-0—something Michigan fans should no longer take for granted, though many of them still do—and on the other ... well, Akron and UConn. This game was a nice return to beating bad teams in a fashion befitting a good team, and hopefully that continues going forward; considering Penn State just got blown out by Indiana, I'm expecting the team to win this weekend or I'll be pretty worried about the tough latter portion of the schedule (I'll be worried about that anyway, but you know what I mean).