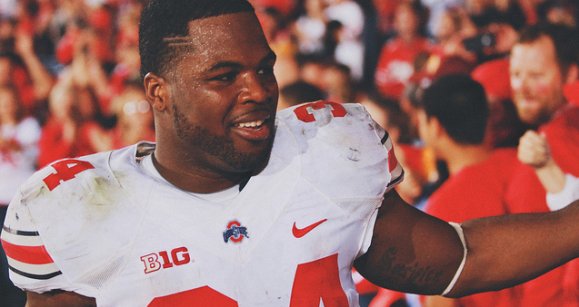 The talk all week was that this one could turn into a shootout and the game did not disappoint as Ohio State outlasted Northwestern 40-30 last night in Evanston thanks to a heroic effort from Carlos Hyde that sparked a 27-10 Buckeye spurt over the final 30 minutes. 
The win improves Ohio State to 6-0 on the year and gives Urban Meyer a perfect 20-0 career record in games in which his team blocked a punt. Oh, and the Buckeyes have now won 18 in a row since Meyer took over the program. 
On a wet track in Ryan Field, the teams combined for five turnovers and an amazing seven lead changes before Hyde's punishing display finally did in the Wildcat defense while Ohio State's defensive line ignited the Silver Bullets who, albeit in ugly fashion, finally put the brakes on a high-powered Northwestern attack, forcing two punts and two turnovers amidst drives leading to a touchdown and a field goal. 
Braxton Miller was far from sharp but came up big down the stretch and the secondary, toasted once again, relied on a spirited effort from C.J. Barnett, who did his best to do offset rough nights from Pittsburgh Brown, Bradley Roby and Tyvis Powell. 
With a much-needed bye week looming, let's take a deeper dive at Five Things that stood out in the dramatic win Evanston. 
EVOLUTION 5
Whether we like it or not, there's little question the development of Braxton Miller hasn't been quite as dramatic as advertised over the summer by Urban Meyer and Tom Herman.  
That said, it's also fair to note the MCL sprain he suffered on the opening drive against San Diego State in week two has had a lingering effect – as much mentally as physically. 
Last night, on a soaked surface that frankly didn't seem to present any foot-traction issues for the players, Miller looked tentative and generally out of sync for the majority of the game though he absolutely showed up when it mattered most. 
Miller pretty much admitted he played scared at times thanks to the knee and it showed, especially in the 1st half, as he completed just 7/15 throws for 99 yards with an interception with another 42 yards on the ground but with a costly fumble. 
He came out slinging, connecting on his first five throws, but went just 2/10 the rest of the half. 
He made poor reads in the run game, nearly threw a pick in Hyde's direction on the opening possession leading to a field goal, coughed it up deep in OSU territory on the 2nd possession, missed Chris Fields on what should've been a gimme touchdown two possessions later and tossed an interception – his arm hit as he let it go – to cap a dismal half in which the Buckeyes netted zero offensive touchdowns.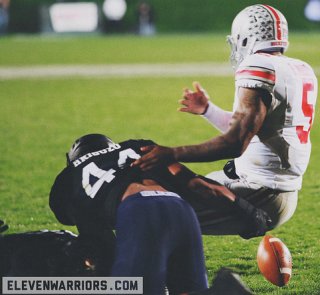 Trailing 23-13 after Northwestern put together a field goal drive to start the 2nd half, Miller led the Buckeyes to the Northwestern 7-yard line in just six plays but Braxton would again fail to secure the ball on 1st and Goal, his third turnover of the night. 
With Miller's game in shambles, Meyer turned to Hyde in an effort to keep OSU in the game and he responded though the Wildcats still led 30-27 with just over nine minutes left in the game. 
Then Braxton woke up. 
On the most important possession of the season to date, starting at the OSU 19-yard line, Miller went to the well and led the Buckeyes to what proved to be the game-winning score. 
Carlos Hyde scored the decisive touchdown from seven yards out but Miller was fantastic on the drive, connecting on 4/4 throws for 64 yards with a 4-yard run mixed in giving him 68 of the 81 yards on the march. 
He found Hyde in the flat on 3rd and 4 for a 1st down, Philly for nine yards on an out route and Hyde again in the flat for 11 yards just before the touchdown but it was his heady play on 2nd and 1 from the OSU 40 that really turned the tide. Scrambling left with his eyes downfield, Braxton could've easily jogged for the 1st down but instead, he casually sucked up the defender and lobbed a perfect strike to Philly who was able to turn up the sideline and race for 38 yards, advancing the Buckeyes all the way to the Wildcat 22. It was simply an outstanding play from a guy who'd looked mentally on his heels for virtually the entire night. Huge play. 
One drive doesn't erase the visual of a tentative Braxton Miller being a key factor in what could've easily been an Ohio State loss but the object of the game is to win and Miller's clutch play went a long way toward keeping the Buckeyes perfect. 
The question now is where does he go from here? With a week off, can he finally let go of the knee injury and start to realize his promise? Or will we once again be wondering what is wrong with #5? 
DRAWING THE LINE
In what was often a painful performance to watch turned in by the Silver Bullets, particularly by the secondary, the defensive line came up big against Northwestern's electric attack.
Sparked by the beasts in the trenches, Ohio State held the Wildcats to 94 yards rushing on a paltry 2.2 yards per carry, and bottled up a very talented Venric Mark, holding him to 60 yards on 17 carries. Getting solid though not spectacular penetration for much of the night helped hold Mark to just 3.5 yards per pop with a long of eight yards. 
The unit also racked up four of the team's five sacks. Joey Bosa led the charge with two sacks, one forcing a punt late in the 3rd quarter as OSU trailed 23-20 and the other on Northwestern's last gasp possession two plays before the true freshman jumped on a wayward lateral providing the game's final margin. Bosa racked up five stops total, furthering his resume as the squad's Most Valuable Freshman. 
Noah Spence also picked up five stops and though he registered just 0.5 sacks, he was consistently in the backfield applying pressure and chasing quarterbacks from the pocket.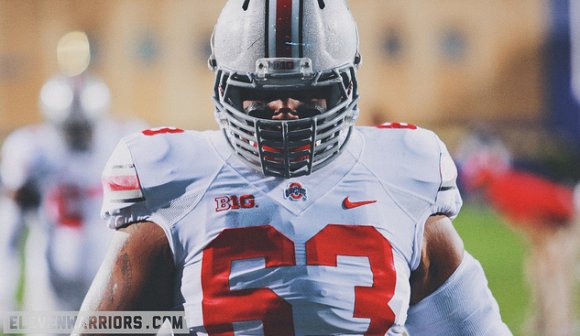 Michael Bennett, though the numbers show just two tackles and 0.5 sacks, was an impact player in my eyes. 
The junior from Centerville constantly created push up the gut, helping free up Ryan Shazier and Curtis Grant to combine for 20 tackles. 
Though Ohio State seemed to blitz a good bit of the time, I thought the front four did a solid job of creating organic pressure and typically when the two Northwestern quarterbacks had all day to throw, it was when the defensive staff chose to rush just three guys, something my lack of coaching experience simply can't understand. 
And how about Jamal Marcus? He's quietly putting together an outstanding season, typically making an impact on the rare snaps he receives. He made an outstanding play late in the 2nd quarter, sacking Trevor Siemian on 3rd and 6 from the OSU 9-yard line, forcing the Wildcats to settle for a field goal and a 20-13 lead. Think about it, 27-13 at the break was nearly reality if not for Jamal's gigantic play. 
SECONDARY STRUGGLES
Through six games, it's hard to know what to make of Ohio State's secondary. 
Coming into the season, the group was pegged to be a strength of the team – not just the defense –  thanks to a pair of returning senior starters at safety in Christian Bryant and C.J. Barnett, an All-American and projected 1st round pick at corner in Bradley Roby and an emerging cover guy opposite him in Doran Grant. 
The group lost Bryant to ankle surgery following the Wisconsin game but the struggles predated, and go far beyond, that particular issue.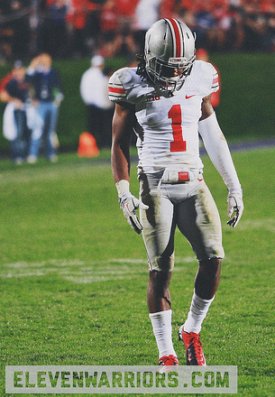 Last night, Northwestern quarterbacks completed 11 of 13 passes for 144 yards and a score in the 1st half and finished with with a statline of 25/31 for 343 yards with two touchdowns against one interception. It seems unfathomable that a team could complete 81% of its throws against Ohio State for an entire game so what's the deal? 
I'm not a coach but a few things certainly come to light even for the most casual fan. Where it gets difficult is the whole "which came first, the chicken or the egg" part. 
On one hand, it's easy to criticize the coaching staff for instructing players to give up to 10 yards of cushion as a team dinks and dunks down the field, sometimes while the D shows just a three man front. 
On the other, when you've got Roby struggling mightily to perform up to lofty expectations while Pittsburgh Brown is showing he's nowhere near the level of Bryant and Tyvis Powell is showing his youth, not to mention it's not like Shazier and Grant are known as pass coverage specialists, does it make sense to play the press coverage fans consistently clamor for? 
Again, I don't pretend to know what the answer is to keep the Buckeyes from hemorrhaging yards through the air as it relates to coverage schemes but one thing that would help the cause is better tackling. 
I lost count as to how many missed tackles Roby and Brown turned in and I think Powell also had a one or two. It's one thing to give up a reception, that's going to happen, it's another to compound it by giving up a ton of YAC, and that's exactly what this group is doing. Roby, in particular, seems too hell bent on making the big play, often diving with his head down with unfavorable results. 
I will say I thought Barnett turned in a pretty solid effort last night, leading the team with 11 stops, many in sure-tackling run support. 
The bye week couldn't come at a better time, giving the staff a couple weeks to revisit what the plan should be to trigger improved performance from the secondary. 
HYDE AND GO PEAK
Hyde's amazing performance has already been covered at length by 11W and other outlets but you can't have a Five Things without mentioning his ridiculous night. 
Held back more by the play-calling than anything Northwestern did, Hyde rushed for just 56 yards on 10 carries in the opening half but went buckwild in the 2nd, running for 112 yards on 16 carries with three touchdowns to produce a final stat line of 26 for 168 on the ground with another four for 38 through the air. 
Frankly, those receptions were every bit as important as the runs. Two, in particular, were clutch plays on the game-winning drive. He reeled in a 6-yard flat pass on 3rd and 4 to keep the drive alive and four plays later, he snagged an 11-yarder on 2nd and 6 from the Wildcat 18 to set up his decisive 7-yard sprint left to pay dirt. 
Showing determined heart, Hyde just kept coming at the Wildcat defense, invigorating his teammates along the way.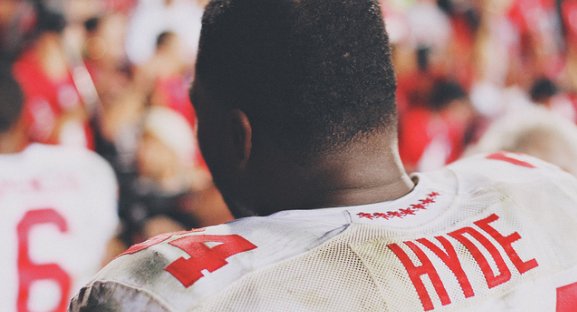 The kid took a ton of shots but just kept getting up. Hyde went to the sidelines a few times as he looked dinged in the ribs or sternum or whatever, as evidenced by the staff pulling the front of his shoulder pads away from his mid-section but when he could, he made the famous Denard eating gesture letting Urban know he wanted the rock. 
Beyond scoring all the offensive touchdowns, Hyde accounted for 55% of the team's yardage in the 2nd half and averaged 6.5 yards per carry on the evening. 
On the season, which is basically 2.25 games considering he had just five carries against Florida A&M, Hyde is averaging 6.2 yards a carry with 90% of his carries coming against an always physical Wisconsin squad and Northwestern on the road. 
Basically, if last night didn't convince you Hyde deserves all the carries he can handle when a game has yet to be decided – no matter what you think about Jordan Hall's talents rushing the football –  I don't know what to tell you. 
The icing on the cake last night came during the post-game presser when Hyde broke down reflecting on how his humbling suspension hurt the team and what he's learned from it.
That's the name of the game of life. Learn from your mistakes and come out a better person on the other side. Props to Hyde on what feels like tremendous personal growth. 
A HAT TIP IS IN ORDER
I intended to use the last Thing on Philly Brown recording the first 100-yard receiving game of his career (6/127) since it doesn't seem that long ago that he was a huge liability on offense thanks to a nagging case of the dropsies but Kyle already covered that for you. 
So, instead, I want to give a shout out to Pat Fitzgerald and his program. 
OSU 40, Northwestern 30
Looking to build off a 10-win season, Fitzgerald and the Wildcats had already earned my respect but in a time where the B1G is the red-headed stepchild of the power conferences, there's no question Fitzgerald is more than doing his fair share to take the stain off the league. 
Think about it, the school, based on its academic standards, is supposed to be the doormat of the conference yet the squad could absolutely be the best team in the Legends division depending on how Michigan, Sparty and Nebraska evolve over the year. 
If nothing else, Fitzgerald has made the program relevant and they even took down an SEC team in last year's Gator Bowl. 
Despite the obvious recruiting disadvantages, he's got some legit players especially at the offensive skill positions and while I supose it could possibly be the fact Ohio State just escaped their upset bid, I think I'd rather play anyone else in the B1G championship than have a rematch with the Wildcats.