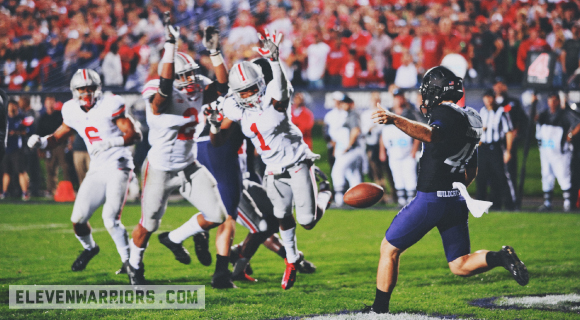 EVANSTON, Ill. – Urban Meyer said last week's game against Wisconsin would be a classic. He was off by one week. Ohio State and Northwestern played what in all likelihood could be the game of the Big Ten season on Saturday night in Evanston.
It had the feel of a heavyweight fight, with each team responding to the other's punches until the Buckeyes delivered the knockout. The 40-30 triumph makes Ohio State bowl eligible, but more significantly, it puts them in favorable position to advance to the Big Ten Championship Game in Indianapolis. Yes, even with half a season left.
The Buckeyes' win showed that even when they have an off night, it remains challenging to beat them. Ohio State had three turnovers, the defense was shaky most of the game and Braxton Miller was far from his best. But it didn't matter. When it needed a stop, the defense rose up. When they needed a game-winning drive, Miller had zero problems marching the Buckeyes down the field.
"What a football game," Urban Meyer said.
The star of the game was running back Carlos Hyde, who simply overpowered the Northwestern defense. He finished with a career-high 168 rushing yards – 206 all-purpose yards – and three touchdowns.
"This is the Carlos Hyde game," Meyer added.
Following the game, Hyde was overcome with emotion when talking about how important it was to have such a big night and put his three-game suspension in the rearview mirror.
"That suspension, it really hurt not being out there with my brothers because I made a mistake."
At halftime, Ohio State trailed by a touchdown. It was a sloppy half of football for the Buckeyes, who giftwrapped a touchdown for Northwestern when Miller deep in his own territory. They were also stuffed twice inside the red zone and forced to kick field goals.
"I went in the locker room and told the offense that's unacceptable," Hyde said. "That's not us. We score points. We don't kick field goals."
On their own 30 in the first half, the Buckeyes attempted a fake punt that didn't come close to working. It was a peculiar decision by Meyer and reeked of desperation.
"The head coach and the offense really put the defense in some bad positions," Meyer said. "We went for a fake punt. I felt like we needed to swing the momentum at the end of the first half. I thought we were having trouble stopping them. That was an error by me."
At the same time, though, Meyer didn't back down. The assertiveness will remain.
"We're going to run a fake punt again. I tell our players that all the time. We're an aggressive team. We do what we got to do to go win games."
Meyer was pleased with the amount of toughness Ohio State played. One thing lost in the game is how good Northwestern is. Sure, the Buckeyes had some sloppy moments and there are things to build off of. But credit to the Wildcats and the team that won a road game at night in a hostile environment against a quality opponent.
"Anytime you go on a 12-round, 15-round fight with someone and you come out the other end it just builds toughness and we're a tough team. We toughed out a win."
The biggest play of the game – and Ohio State's season so far – was the 4th and 1 play in the final few minutes of the game. Northwestern quarterback Kain Colter fumbled the snap and then stumbled, which gave the OSU defense an advantage.
"Obviously the center-quarterback exchange wasn't perfect," he said. "I guess everything was hectic. I tried to pick it up and get as many yards as I could. I thought I got at least a yard or whatever it was. I didn't see the replay and can't really tell you that."
Defensive lineman Tyler Scott admitted Braxton Miller may have had an off night, but the quarterback was still solid and came up big when needed.
"He was still a dynamic athlete. That's what we saw on film. He made some big plays, he coughed it up a couple times which led to our turnovers. We just needed to make a couple more plays down the stretch on him and on Hyde and it would have been a different outcome. But they're a good team and they're a good offense and they came to play."
This sums up the mood of the Ohio State locker room: 
"It was one of the best nights of my life," said defensive lineman Joey Bosa.