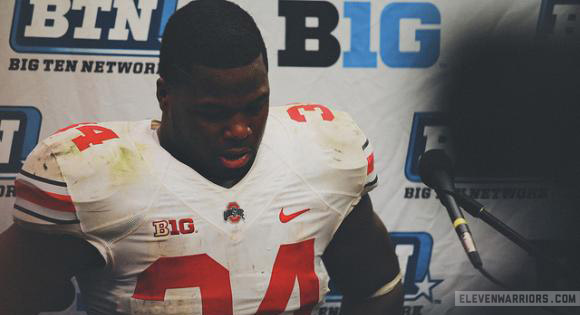 EVANSTON, Ill. – It was a simple question.
Carlos Hyde was asked what he would think when he woke up tomorrow morning. He paused momentarily to think and then said he would thank God. He didn't say another word for 24 seconds.
Tears formed in Hyde's eyes and rolled down his cheeks as he tried to gather himself. It was an incredible showing of emotion by the running back who was suspended for the season's first three games.
"That suspension, it really hurt not being out there with my brothers because I made a mistake," said Hyde, who rushed for a career-high 168 yards and three touchdowns in Ohio State's 40-30 win over Northwestern.
It was a virtuoso performance when the Buckeyes' season looked like it could go over a cliff. Instead, they rode Hyde to their 18th straight win. Nos. 13, 14 and 15 came with Hyde sitting in his off-campus apartment, far away from Ohio Stadium, 105,000 adoring fans and 100 of his brothers.
"We all make mistakes" Meyer said,  "I hope this is a game-changer for him, even when he's done playing football."
Hyde called the suspension one of the hardest things he's ever experienced. On Saturday night, he gained some redemption in saving his team's national championship hopes and proving to his teammates and coaches that he's still the dependable running back that came up big in Ohio State's undefeated 2012 season.
"It's definitely something I've been waiting for," Hyde said. "I just kept my faith."
That's what he did at halftime, too. With the Buckeyes' trailing 20-13, Hyde lit into his fellow offensive teammates. Northwestern held Ohio State to two field goals in the half with the Buckeyes inside the red zone.
"I went in the locker room and told the offense that's unacceptable," Hyde said. "That's not us. We score points. We don't kick field goals."
In the second half, Hyde ran for 112 yards and three touchdowns. The most significant was the last, coming with less than six minutes left in the game on a seven-yard rumble.
A torrential downpour an hour before kickoff made field conditions less than desirable, so running the ball wasn't a surprise. Ohio State had 48 rushes for 248 yards. That Dontre Wilson had none of them was a surprise.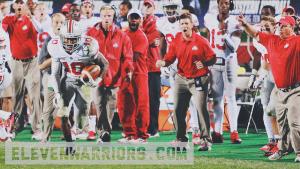 Grounded
The aerial assault did not continue. Entering Saturday's game, Ohio State had thrown 19 touchdown passes, well ahead of pace to break the single-season school record of 33 set in 1995.
But a Northwestern secondary that has given up 307.5 yards per game kept the Buckeye receivers out of the end zone. However, that doesn't mean there wasn't production through the air. Braxton Miller finished with 203 passing yards, with a bulk of those – 127, to be exact – going to Philly Brown. It was the first 100-yard game of Brown's career.
Miller has tossed six touchdown passes, while backup Kenny Guiton has thrown 13. Ohio State's 19 were second only to Oregon State until Saturday's goose egg. 
One year after being demeaned by the coaching staff, most famously by Meyer who referred to the offense and wide receivers as a "clown show" and non-functional," the unit and it's quarterback have become one of the top scoring threats in the nation.
"You guys saw how people started playing us the latter half of last year," offensive coordinator Tom Herman said. "In order for us to be who we want to be running the football, we had to make that a viable threat. So we worked our tails off to make sure we were effective, if not proficient, at throwing the ball downfield."
The passing game has already seen career and school records in the first half of the season. At Cal, Guiton engineered the longest play from scrimmage in school history – a 90-yard scoring strike to Devin Smith. One week later, Guiton threw six touchdown passes, all in the first half, to establish a new single-game Ohio State record. Miller returned the following week against Wisconsin, and all he did was a tie a career high with four touchdown passes.
The six-point plays aren't just beneficial to the Buckeyes' place on the scoreboard, they've also been backbreakers for the defense. Ohio State has six touchdown passes of at least 20 yards and eight plays of 40-plus yards. 
"I don't know if I remember this many explosive pass plays this early in the season – ever," Meyer said. "We couldn't do that last year."
Said Miller: "There's just more confidence in the guys. Last year, we didn't really know how to run routes, and I really wasn't comfortable with the playbook as much as I am right now. It's just taking time with ball placement, and getting a lot of reps with the guys. It helps a lot."
Even on an off night at Northwestern Miller was able to complete four passes for 64 yards on the game-winning drive. The production is a welcome change for Meyer, offensive coordinator Tom Herman and wide receivers coach Zach Smith. Even in an undefeated season that saw Ohio State's offense improve dramatically, 2012 still wasn't so kind to the passing game. The Buckeyes averaged well under 200 yards per game.
"It's probably the biggest thing we needed to do coming into this year," Smith said. "We needed to establish a wider arsenal of skill players to use. That was critical for us, because defenses can take away one guy, one position. But if they have to worry about five skill players every snap, everything opens up."
Eleven different players have caught a pass this season. Still, Meyer's offense is sometimes misinterpreted. Yes, it's an up-tempo system that tries to exploit mismatches, getting playmakers in space to gain large chunks of yardage. But it's also based on power and running just as frequently as throwing – 50/50, as Meyer puts it, hence Hyde's career night.
"The sky's the limit for our offense," wide receiver Evan Spencer said. "We have so many weapons and we can do so many different things. I can't even imagine all the things we can do."
Blockade
The progress at receiver doesn't stop at receptions. Ohio State's pass-catchers have also developed into valuable blockers. At Cal, versus Wisconsin and again last night at Northwestern, the Buckeyes have benefited from active receivers.
Ohio State has the nation's 12th ranked rushing offense. Miller, Carlos Hyde, Jordan Hall and a veteran offensive line are largely responsible, but so too are names like Evan Spencer, Philly Brown, Jeff Heuerman and Nick Vannett.
After the Buckeyes' 52-34 win over Cal, Meyer praised Spencer, who finished with one catch for two yards. The minimal receiving yards did nothing to deter Meyer's attitude.
"That's one of the best efforts I've ever seen a wide receiver play," Meyer said. "And I'm not talking about the ball in his hands. We tried to get it to him a few times, but his blocking of the safeties was as good as I've ever seen."
Spencer said blocking is the forgotten skill when it comes to receivers. He's made it a point to improve and make blocking a vital part of his skill set.
"I approached every practice as singling out one thing to get better at, and I just kept doing that over and over again," Spencer said. "It ended up with me having a pretty good camp and following it up with us collectively having a pretty good year so far."
Receivers are only noticed for spectacular catches and equally spectacular drops. They become invisible when they aren't making catches, and certainly, fans rarely take notice of blocking on the edge. But it was hard not to notice several big blocks that helped spring Hyde Saturday. 
"It shows we've got every-down players," Vannett said. "We don't have just receiving guys and just blocking guys. We've got guys who can do it all. That helps going against a defense, because they don't know what to expect."