After a false start in Week 4 and half the conference hitting the snooze button in Week 5, Week 6 in the Big Ten felt like the real start of conference play. Five games into the season, we can pick a team to become irrationally exuberant about or to declare a clownfraud. Come with me through this week's B1G Recap, won't you?
Michigan State (4-1, 1-0) 26, Iowa (4-2, 1-1) 14

In response to Michigan State and Iowa playing last year's fugliest game, Puntageddon seemed nigh. The 2013 game wasn't a beauty either, but MSU was good enough to pull away for the win.
For a while, a 2012 redux looked plausible: the game's first six possessions went punt, punt, turnover on downs, interception, missed field goal, punt. But Michigan State and Iowa got things going in the second quarter, thanks to MSU's Connor Cook and Iowa's Jake Rudock spreading the ball well, leading to a 14-10 Iowa halftime lead. In the second half, Cook's 37 yard touchdown pass to Bennie Fowler gave MSU the lead, and Michael Geiger made his second, third, and fourth field goals to give the Spartans a comfortable win.
After the game, I was scratching my head at Iowa's unwillingness to run. Mark Weisman led the country in rushing attempts before the game, but the Hawkeyes only ran 16 times for a piddling 23 yards. For Michigan State, hopefully this marks the end of the quarterback shuffling; the offensive turmoil could have wrecked the season, but the Spartans have to feel good about their chances of winning the Legends  Division now.
Michigan State will host Indiana, while Iowa has a week off to prepare for No. 4 Ohio State on Oct. 19.
Indiana (3-2, 1-0) 44, Penn State (3-2, 0-1) 24

Here's the day's biggest surprise: in one of the Indiana program's finest recent wins, the Hoosiers defeated Penn State for the first time ever.
Though Indiana led all day, Penn State cut it to 21-17 heading into the fourth quarter... and then the Hoosiers dropped 23 more points on PSU. Any quarterbacking controversy is settled for Indiana, now that Nate Sudfeld (23-of-38, 321 yards, 2 TDs, 1 INT) is flourishing and Tre Roberson has moved to wide receiver. Most impressive in this game was Indiana's defense, which stifled Penn State all day. Mark Murphy provided 11 tackles and Donovan Smith's forced fumble and safety gave the Hoosiers the final points of the game.
Penn State isn't reeling yet, but this loss brings a sense of foreboding: the Central Florida loss doesn't look as respectable now, and unless the Nittany Lions pull an upset they'll limp to 6-6.
The Hoosiers are now in second place in the Leaders Division with winnable games against Minnesota, Illinois, and Purdue, and have to be kicking themselves over the loss to Navy. If Indiana reaches bowl eligibility and continues to improve, Kevin Wilson might be hired away sooner or later.
Penn State hosts No. 19 Michigan next week, while Indiana tries to keep the momentum going at Michigan State.
Nebraska (4-1, 1-0) 39, Illinois (3-2, 0-1) 19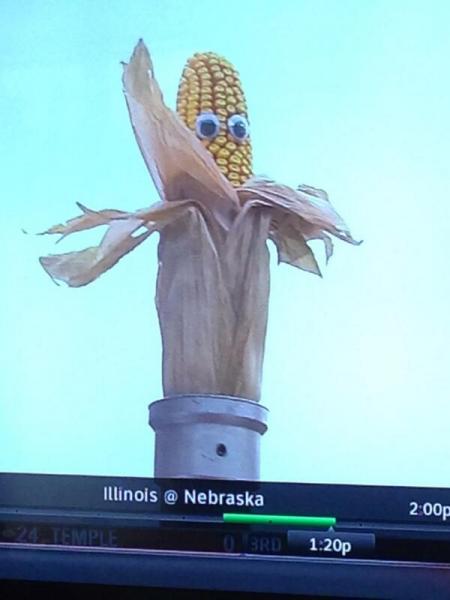 "Illinois will cover the nine point spread easily," a stupid man once predicted. "Nebraska's defense is terrible. Illinois is easy money." Nnnnnope.
Josh Ferguson's 119 rushing yards was the only bright spot for Illinois, which looked listless all game long. Nathan Scheelhaase looked lost, which is nothing new; erratic play is something we've come to expect from Illinois quarterbacks.
Nebraska ran over, around, and through Illinois: the Cornhuskers had 325 rushing yards on the day, while Ameer Abdullah contributed 225 rushing yards on his own. Tommy Armstrong Jr. played well on the few occasions Nebraska passed; he's a decent backup, although nobody will mistake him for the Ever-Efficient Taylor Martinez™.
One more note: the cute little guy to the left, who made an appearance during the game, is named Cobby. I fully endorse him as Nebraska's secondary mascot, as should you: the nightmare-borne war criminal known as Lil' Red has terrorized children for too long.
Nebraska plays at Purdue next week, while Illinois has a week off before hosting Wisconsin on Oct. 19.
#19 Michigan (5-0, 1-0) 42, Minnesota (4-2, 0-2) 13

A slow start for Michigan and a glacial pace kept the game close much longer than it should have been, but Michigan remained perfect in an easy win against Minnesota.
Fitzgerald Toussaint led Michigan with 78 rushing yards and two touchdowns. As a nice change of pace, Devin Gardner was perfectly fine, going 13-of-17 for 235 yards, one touchdown and no turnovers. It's not all great for Michigan: the Wolverines rushed for only 3.2 yards per carry, which is inexcusable against a defense as weak as Minnesota's. Al Borges's offense may be held back by its Manball tendencies, but there are other problems there. I suppose undefeated is undefeated, though.
Between Jerry Kill having a seizure for the second time in a month and the Golden Gophers possessing the worst defense in the Big Ten, Minnesota has its own issues. And while the all-powerful Maryland I can lead to fantastic drives like this:
...Minnesota's offense really isn't geared for comebacks. At least Mitch Leidner is handling the offense well for a freshman, and the Gophers only have to win two more games to be bowl eligible.
Michigan will play at Penn State next week. Minnesota has a bye week, then plays at Northwestern on Oct. 19.
Here's the deal: no, Rutgers and Maryland aren't your blood siblings. Yes, they do smell funny from being near the Atlantic Ocean, and yes, they have shabbier clothes because their biological conferences are poorer than us. But they don't know they're adopted, and the kindest thing we can do is treat them like they're real members of the family by covering their games.
#8 Florida State 63, #25 Maryland (4-1, 0-1) 0

A win here would have been enormous for the Maryland program: with Clemson down the road, the Terrapins could have established themselves as players in the Atlantic Division. Those dreams lasted about three minutes into the first quarter.
In an absolute mismatch, Florida State poured out a bowl of wrath onto Maryland. Maryland's starting quarterback, C.J. Brown, had to leave the game after taking a vicious hit while FSU's Jameis Winston was absolutely unstoppable. Winston completed 23-of-32 passes for 393 yards, five touchdowns, and one Heisman moment:
And just like that Maryland's dalliance with the top 25 is over. Maryland hosts Virginia next week.
Rutgers (4-1, 1-0) 55, Southern Methodist 52, 3OT

Freshman Mike Goodwin rushed for 149 yards including the game winner to power Rutgers past host SMU in triple overtime.
This one really should have finished in regulation, if not for Rutgers' destiny of playing a dozen close games this year. The Scarlet Knights led 35-14 at the end of the third quarter, but SMU scored three touchdowns – including a stupid difficult two-point conversion – to force overtime. After matching touchdowns in the first two overtimes, Goodwin's 17 yard run won the game for Rutgers.
Rutgers should feel conflicted about its defense: the Mustangs only threw for 7.0 yards per completion, but 484 yards passing, five touchdowns and no interceptions doesn't translate well with Teddy Bridgewater coming up. The Thursday night at #7 Louisville is the biggest of the year.
And that's all for Week 6. For the Week 7 game with the highest stakes, check out Rutgers/Louisville; for the most competitive, Penn State/Michigan; and for the best, Northwestern/Wisconsin. Until next time, be one G.