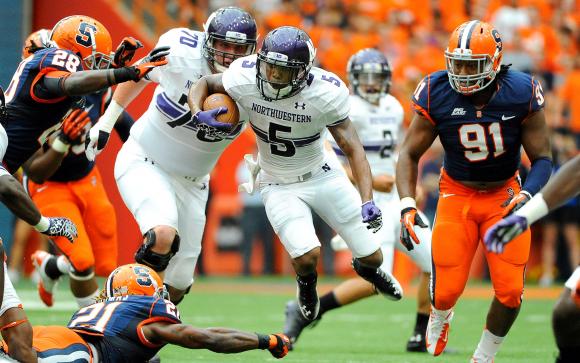 Like most red-blooded fans of a college football team from the Big Ten, I have a seething hatred for everyone else in the conference. Wolverines, Badgers, Hoosiers, Boilermakers, whatever, they're all terrible jerks of the highest caliber. Literally the only reason I ever get excited over any of their wins is if they happened to beat a team out of conference that wasn't from the FCS.
But Northwestern is different.
I probably wouldn't have been able to say that in 2004, the last time that the Wildcats beat Ohio State, but today it's hard to look at what Pat Fitzgerald has built in Evanston (especially given their history) with the types of players that he has built with and not be at least a little appreciative of what he's accomplished.
That's not to trot out the "TRUE student athlete" BS that people sometimes ascribe to schools like Northwestern or Vanderbilt or whoever. Northwestern football has boosters, just like everyone else, and I'm sure guys like Venric Mark are still getting a large fry when they order mediums at Wendy's. Northwestern is a great school with an excellent academic reputation, but that doesn't really factor in to exactly what makes them interesting.
Rather, it's more the idea that Pat Fitzgerald has been winning consistently (albeit in a bad conference) with guys who played their high school ball far under the radar of many elite programs. And it's not just that he's done this for a year or two, he's essentially made it the core of his program.
This in of itself isn't new or shocking in college football, obviously. Small schools have to make do with lesser recruits for as long as college football has been around, and it's only since the beginning of scholarship restrictions that said smaller schools have been able to make some headway. Northwestern has recently been able to bring in top 20 classes, and that's a direct result of their recent success on the field.
But let's be clear: the core of the Northwestern football team, particularly the offense, is not that of five star megarecruits who announced their college destination via a hat ceremony on ESPN. That they're as good as they are is a testament to the creativity and skill of Pat Fitzgerald and his staff to find diamonds in the rough and to, more importantly, implement a system of football that maximizes the potential of less-than-elite athletes.
"The identification of a student-athlete that fits your program, in Evanston, it starts with that character evaluation. We've got a set of questions that are married with the values of our program.... If you look at our history in recruiting, we're typically a day late, a week late, a month late in potentially offering a young person and I know sometimes that frustrates our fans but we're going to make sure when we offer a young man that's someone we truly want to become a part of our football family."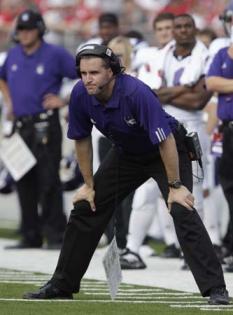 This is a nice quote from Fitz that reinforces the idealization of Northwestern having higher caliber people (rather than players) on their football team, but I think it's a more accurate statement as far as program design goes.
In other words, Fitzgerald and other coaches like him have to become the Billy Beanes of college football, coaxing out achievement and results from places that other people haven't thought to look.
There are several examples on the team: Trevor Siemian couldn't even get an offer from Tennessee. Kain Colter was turned away by both Nebraska and TCU. But probably the greatest example of this process at work is in the 2012 season of Venric Mark, who ran for maybe the quietest 1366 yards in college football history.
Mark was a two star wideout from Houston before he eventually signed with Northwestern. Scout.com had all of one article on the dude before he signed with Fitzgerald, and dozens since. Now coming off of injury, he might be the most dangerous offensive weapon that Ohio State faces on Saturday.
The point is that Pat Fitzgerald has built his team using a large amount of unknown players with a combination of patience and savvy, and it's hard not to root for these guys every weekend (except, you know, this weekend) because of how they were overlooked.
---
The irony, of course, is that none of these athletes are really "like us," unless you happened to be an FBS caliber athlete in high school and college. Trevor Siemian may have been completely under the radar as a high schooler, but he was and is an incredible football player. Mike Trumpy only got two offers from FCS schools, but that's two more than 95% of high school football players will ever see. Venric Mark may have been a skinny wide receiver in Texas five years ago, but those 1300 plus yards against FBS competition last year didn't just appear out of nowhere.
But's that's all beside the point. College football is a system of haves and have nots, and while I don't think the world will be turned on its head tomorrow, sometimes it's nice to see one of the have nots punch above their weight.
Ohio State will likely beat Northwestern tomorrow, and that'll make me pretty happy. But I'm also happy that in an era where we predict championships for teams three years in advance, televise recruiting commitments from five star athletes, and make draft predictions for players entering into their sophomore year, there are still people and teams that can surprise. Pat Fitzgerald's program continues to do just that.