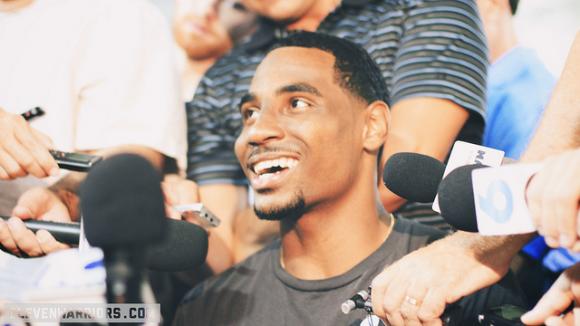 For the second straight week, Ohio State will play in the marquee game of the week. College GameDay will air live from Evanston and the 8 p.m. time slot and ABC treatment means the entire country will be watching.
Urban Meyer knows nothing of the sort, though. The Woody Hayes Athletic Center is on lockdown with no semblance of hype creeping in. But that didn't stop Meyer from saying the excitement is justified.
Northwestern is a good team, the Buckeyes' head coach said. It's two teams playing for a lot. Any time two ranked opponents square off should generate publicity. Road game against ranked opponents might worry fans, but players relish the moment and opportunity.
C.J. Barnett and Braxton Miller both said the chance to silence crowds and take over stadiums is something they look forward to each season.
Notes:
Miller is full speed and ready to go, Meyer said. Miller himself said he feels comfortable. He didn't feel limited at all last week and is 100 percent.
The defense is adapting to life without Christian Bryant. Linebacker Curtis Grant said it seems different without Bryant and that the unit is missing his leadership. But Grant added it's just a bump in the road and they'll recover.
Ryan Shazier came off the practice field wearing Bryant's No. 2. Ohio State could not confirm whether he would be wearing the number on Saturday.
Meyer said practice has been a grind this week. The team has such a short window to prepare for a quality opponent. At the same time, Northwestern has had two weeks to get ready for Ohio State. Meyer said they're being very cautious not to have injuries in practice.
Vonn Bell is a guy whose progression is going to be sped up, according to Meyer. He said they wouldn't have done it had Bryant not been injured. Now, they need him to step up. Meyer said there's no choice.
Jordan Hall is part of the gameplan and should see increased playing time, Meyer said. Hall only had one carry last week against Wisconsin.
Devan Bogard has been moved to WILL linebacker.
Meyer said Venric Mark is an extremely dynamic back that can do so many different things. He'll be tough to defend. Meyer said you have to dot your i's and cross your t's against him.
Jamal Marcus practiced on Wednesday and should be back Saturday. Special teams are big component and Marcus has been very good this year.
Miller said he's more confident in his ability as a quarterback and more confident in the wide receivers. That didn't exist last year. He said he can make a lot of throws that he couldn't a year ago. The main one he pointed out was the bomb to Philly Brown before halftime last week.
Miller said the cohesion with the wide receivers really shot off during the offseason. Last year, he said he checked down to Hyde too much when something wasn't open. Now, he's going through all the progressions.
Northwestern has struggled against the pass, allowing more than 300 yards per game. Miller said Ohio State has some packages that can exploit holes in the Wildcat secondary.
During his three-game absence, Miller said he got down at times and thought about his goal of getting to New York for the Heisman ceremony. He said it's the big games that matter, so maybe he can still make it.
Barnett said he got little joy out of the Wisconsin win because of Bryant's injury. He said the team visited him in the hospital earlier in the week. Today, Bryant was present at team meetings.
The Northwestern offense presents many challenges, according to Barnett. He said getting pressure up front will be important and possibly throw a wrench in a lot of the Wildcats' gameplanning.
Leadership became a big value on road trips, Barnett said. Veterans needs to step up.
Ohio State and Northwestern haven't played for five years. Grant said it's no problem because the Wildcat offense is similar to Ohio State's.
Grant said Northwestern's two-QB system is effective, but it makes it easier to defend since you know one is a passer and the other runs.
Kain Colter is the running QB, though he's completing two-thirds of his passes. Grant said he's able to create a lot by having that passing threat.
Grant said his own performance was OK last week, but that he is never satisfied. He said he will never became complacent. You always have to strive to improve and be perfect.