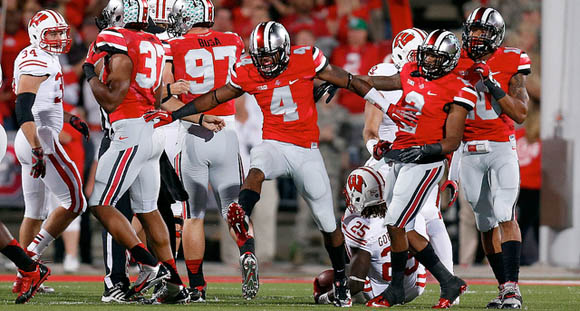 For three years, Ohio State was forced to see images of the sun-splashed Rose Bowl on New Year's Day from far-off locales — New Orleans, Jacksonville and, worst of all, Columbus. Each time, a familiar cardinal and white color scheme flashed across the TV screen.
Wisconsin entered Saturday's primetime showdown as the Big Ten's three-time defending champion. The Badgers left Ohio Stadium behind the eight ball just one game into the conference slate. The Buckeyes' 31-24 win was its third straight over Wisconsin since losing as the top-ranked team in Madison in 2010. It also put in motion a changing of the guard.
Ohio State is yet to lose a game since Urban Meyer became head coach. Seventeen Saturdays, 17 wins. But the latest may have been the most significant. The divisions will be realigning following the 2013 season, but the Badgers have become a rival and thorn in Brutus' side. 
Meyer's tenure has been a return to normalcy for the Buckeyes. They've reasserted their dominance, overpowered opponents and out-recruited all comers in the Big Ten and across the country.
Ohio State's offense has taken form into a style of unit unfamiliar to most in the Midwest (i.e. speed). The up-tempo nature is different than the usual grind-it-out philosophy that reigned supreme for so many decades in the rugged Big Ten. Now, the Buckeyes are using a no-huddle system and trying to run as many as 80 plays per game. So far, it's resulted in five wins and an average of more than 500 yards of offense.
It's a far cry from 2011, when Ohio State's offense ranked among the worst in the country. Meyer and offensive coordinator Tom Herman upped the ranking to 47th last season. The Buckeyes sit inside the top 20 in 2013, at 17th.
This season's ranking is thanks in large to backup quarterback Kenny Guiton. The ol' right-hander took over for Miller and did his best to make a quarterback controversy. But Miller's performance against Wisconsin ended any lingering doubts about his abilities.
The highlight of the night came on the final play of the first half when Miller delivered a perfect spiral to Philly Brown in the end zone. The 40-yard pass on 4th-and-2 was a gut-punch to the Badgers and sent them to locker room beleaguered and searching for answers. Just one play before the touchdown, Wisconsin nearly intercepted Miller on a lazily thrown ball.
"I told coach, 'Let's throw it again," Miller said. "I made up for it on the next throw."
The Badgers hadn't allowed a passing touchdown all season. All Miller did was tie his career high by tossing four touchdown passes. He finished with 198 passing yards and zero interceptions. Miller's 83 rushing yards pushed him past Cornelius Greene and atop the career rushing list for an Ohio State quarterback. It was a dazzling performance that provided a definitive answer to the Buckeyes' quarterback quandary – or luxury.
"What I saw on Thursday [in practice], there was no doubt who was going to be our starter," Meyer said.
There was friction in Ohio Stadium and on message boards regarding the situation behind center. But the hullabaloo never penetrated the walls of the Woody Hayes Athletic Center. Miller and Guiton have been friends throughout their careers and are Friday night roommates.
"I am proud of Kenny and the way he led the team while I was out," Miller said. "I look at him as a big brother. So no controversy with that."
And there's no denying who the Badger Slayer is. Miller is now 3-0 against the team Ohio State fans have grown to hate. Earlier in the week, Meyer referred to the Wisconsin as the King of the Big Ten. Four quarters later, his Year 2 supremacy was right on schedule.
Coaches, players and fans of opposing Big Ten schools would never admit it, but they all have one eye turned toward Columbus and the Buckeyes' football factory. Ohio State squandered good field position on several occasions and still lulled Wisconsin to sleep. It was almost as if a cat was batting at a mouse, just toying with the idea of whether to squash it or not.
It was a defining moment for the Ohio State defense and a crowning moment for linebacker Curtis Grant. For three seasons, Grant has languished, sometimes on the field, sometimes on the sideline. A former No. 2 overall recruit, Grant had difficulty adapting to the college game. But on Saturday, he finished with seven tackles and a sack that preceded Bradley Roby's interception by one play.
The Silver Bullets held Melvin Gordon and James White well under their season averages while limiting the Badgers to just 104 rushing yards. The linebacker corps, lamented by Meyer dating to November 2011, had its finest day in years. Ryan Shazier, Joshua Perry and Grant tallied a combined 23 tackles, 3.5 tackles for loss, a sack and a forced fumble.
"We started hitting them in the backfield a little bit," Meyer said. "We contained them. One of the things, the longest run from scrimmage was 17 yards. And that's not like them."
But all the good quickly went to the background when Meyer stepped to the lectern for his postgame press conference. He was clearly agitated and it became clear when he opened his mouth.
"We lost our captain," Meyer said, slamming his hand on the podium while delivering the news about senior safety Christian Bryant, a three-year starter who suffered a season-ending ankle injury. It's the most emotion Meyer has shown since coming to Ohio State.
"Just tough news," he continued, his voice cracking. "That's the hardest part of this whole job, to see that happen. My goodness. I just love that kid. That darn kid has done so much or our program, come so far. Incredible leadership skills, and he's going to be even more valuable outside of football. I love that guy. Doggone it. Hard part of the game."
Bryant is a vocal leader in the defensive huddle and arguably the team's top leader. He's productive on the field – Bryant has 22 tackles and an interception this season – but it's the void in leadership that will be missed most.
"He's our leader," Meyer said. "There's no doubt about it. He's just devastated. Concern No. 1, 2 and 3 is who is going to fill his spot, who is going to assume the leadership obligation, responsibility that he has shown. Incredible young man. Incredible. I love that guy."
Bryant was injured on the second-to-last play of the game. A trio of defensive backs – Pittsburgh Brown, Vonn Bell and Ron Tanner – is in the conversation to fill in for Bryant.
"That's huge," fellow safety and captain C.J. Barnett said. "That's my partner, man. It's kind of bittersweet. We got this win, but he went down. We're going to have to pick it up for him, find a replacement. His leadership is going to be missed. Our other leaders are going to have to carry some more weight.
"We have great depth. I think him going down just gives another guy an opportunity to step up and make plays. We don't expect a drop-off, but it's huge in the leadership part."
The Chase is nearing the midway point. Undefeated and playing at a high level, it's all systems go for the Buckeyes. They're the class of the Big Ten with few challengers standing tall. But the loss of a defensive starter who doubles as the team's mouthpiece stings on a night that represented so much good.