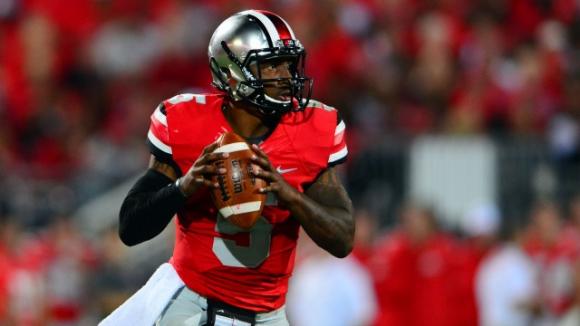 COLUMBUS – Braxton Miller jogged on to the Ohio Stadium turf more than an hour before kickoff. He showed little emotion, carrying a businesslike attitude. Four hours later, Miller triumphantly bounced around on the field where he returned after a three-game absence.
It wasn't the classic that head coach Urban Meyer believed it would be, but for Ohio State, a 31-24 victory puts them in the catbird seat of the Leaders Division – the King so to speak. 
A 281-total yard performance hushed any semblance of a quarterback controversy. Miller finished 17-of-25 passing for 198 yards and a career-high tying four touchdown passes. An additional 83 yards came on the ground, as the fourth-ranked Buckeyes grinded out their 17th consecutive win, the longest streak in the nation.
"We saw the old Braxton today once he got running around," wide receiver Philly Brown said.
Miller declared himself 100 percent and said his knee brace was simply a precaution. Before Miller took questions from the media, he thanked backup Kenny Guiton for stepping in and keeping Ohio State's offense humming. He also referred to Guiton as a big brother, saying he was proud of him.
"I've been working really hard the last couple weeks," Miller said. "I felt pretty good. My leg felt good. Energy-wise, I wasn't out of shape." 
It was clear early on that Miller was in his usual form, which is spectacular or sensational depending on who you ask. It took the Buckeyes just four plays to score their first touchdown of the night, doing so in one minute, 55 seconds.
The offense moved with efficiency, rushing for six yards, throwing for nine yards, rushing for 15 yards and then capping the drive with a Miller-to-Evan Spencer touchdown pass from 25 yards out.
Ohio State's defense set the tone on the game's first play. All week, the Buckeyes heard about Wisconsin's vaunted rushing attack. The Badgers' backfield includes the nation's active leading career rusher and the top rusher of 2013. But James White and Melvin Gordon ran into the Great Wall of Columbus in a frenzied Ohio Stadium on Saturday night.
No. 23-ranked Wisconsin went three-and-out on its first two series, totaling minus-2 yards. Not only was the run game stuffed, the Buckeyes' missed nary a tackle. The Badgers ended the night with 104 rushing yards, nearly 250 yards less than their season average. Gordon finished with 74 yards, the first time this season he's been held under 100. White had 31 yards and a touchdown.
Instead, Wisconsin went to the air. Quarterback Joel Stave had one of the finest outings of his career. To the surprise of many, it came at the expense of All-American cornerback Bradley Roby.
Stave competed 20-of-34 pass attempts for 295 yards, two touchdowns and an interception. The recipient of half those completions was the acrobatic Jared Abbrederis, who caught 10 passes for a career-high 207 yards and a touchdown.
"No. 4, he's got my vote for All-Big Ten," Meyer said of Abbrederis.
Trailing 7-0 with negative total yards, the Badgers proceeded to march right down the field behind the arm of Stave. He completed four passes on an eight-play scoring drive, culminating in a 36-yard touchdown pass to Abbrederis. The Buckeyes answered with a high-powered drive, gaining at least five yards on every play of a six-play drive. Devin Smith scored on a 26-yard touchdown pass to end the first quarter scoring with Ohio State leading 14-7.
After the opening quarter, the defenses settled down. But the scoring continued midway through the second quarter with each team scoring on three consecutive drives. The Buckeyes opened a 10-point lead on a 45-yard field goal by Drew Basil.
Undaunted, Stave continued his assault on the Silver Bullet secondary. He brought the Badgers within three points after an 11-yard scoring strike to Same Arneson made it 17-14.
It looked like Wisconsin would take momentum into the locker room, as it had Ohio State facing a 4th-and-2 from the Badger 40-yard line. Meyer elected to go for it and go for it Miller did. A breakdown in the secondary left Brown wide open in the end zone – a familiar nightmare scenario for Wisconsin in Ohio Stadium. Forty yards later, the Buckeyes had a 24-14 halftime lead. An already electric crowd reached high voltage level.
But Ohio State failed to put its foot on the Badgers' throat like it had done the previous three weeks against overmatched opponents. The Buckeyes failed to score on its first two possessions of the second half, though they did hold Wisconsin to a similar fate. Linebacker Curtis Grant sacked Stave for a nine-yard loss on first down before Roby redeemed himself for a short time by intercepting Stave deep in the Badgers' own territory.
"I didn't really get a chance to see what happened," Stave said. "Just miscommunication. We've got to make sure everyone's seeing the same thing on the field and running the routes and throwing to where you think they're going to be."
Ohio State faced little resistance, scoring seven plays later on Miller's fourth touchdown pass of the game and second to Brown. A 31-14 lead with barely more than 17 minutes remaining was thought to be insurmountable, but Wisconsin did its best to make the home fans nervous.
White scored on a 17-yard run on the ensuing drive and made it a three-point game with 2:05 left. A failed onside kick gave the third-largest crowd in Ohio Stadium history reason erupt in euphoria.
A short time later, however, Meyer was in the postgame interview room, voice cracking, delivering the news about senior safety – and captain – Christian Bryant. An emotional Meyer smacked the podium with full force
"Just tough news," Meyer said. "That's the hardest part of this whole job, to see that happen. My goodness. I just love that kid. That darn kid has done so much or our program, come so far. Incredible leadership skills, and he's going to be even more valuable outside of football. I love that guy. Doggone it. Hard part of the game."
In a sport where wins of any kind are cherished, but also put in the rearview mirror soon after the final whistle, Bryant's injury puts things in perspective for Ohio State. It also makes next week's trip to undefeated Northwestern more unnerving.